The Matrix Basically Happened At The Closing Ceremony & Twitter Was LOVING It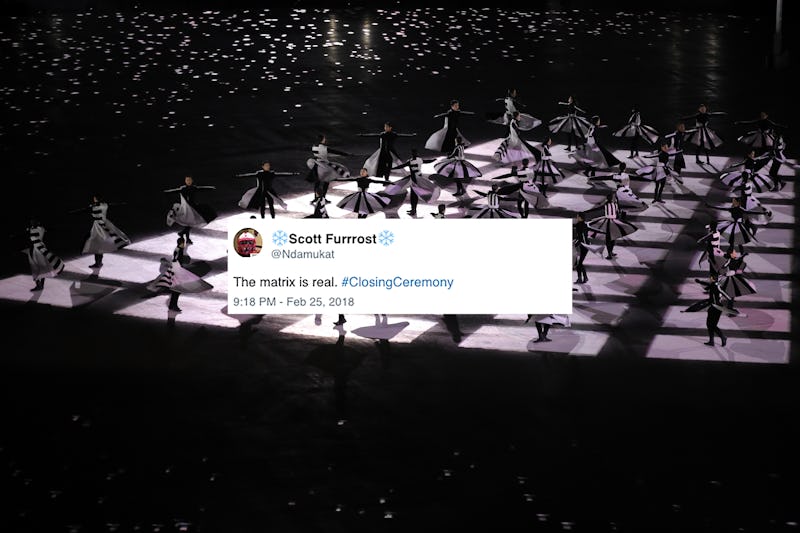 Andreas Rentz/Getty Images Sport/Getty Images
During the Olympic closing ceremony, viewers were treated to a variety of stunning performances and spectacles, from K-Pop singers EXO and CL, to another Parade of Nations, to something called "The Axis of New Time," which — to pretty much everyone on Twitter and beyond — looked like something straight out of The Matrix.
NBC reporter and former Olympian Tara Lipinski said The Axis Of New Time was "meant to express the strength to rise above obstacles." But others weren't so sure about what they were seeing. Or what on earth it meant.
According to reporter Nick Miller of The Guardian, the Axis of New Time was "a performance of lighting and modern dance, to signify... well, what I'm not entirely certain, but there's lots of flashing, which will presumably be pretty heavy for anyone with a hangover."
He went on to note the performance was "visually extremely impressive though. The entire middle, circular bit of the arena is basically being used as a giant screen, onto which is projected various forms of black and white light patterns, from a sort of swirling concentric circles effect to squares which the dancers leap about on, to an elaborate group of dots which seem to make the entire surface undulate."
In case you missed it, Miller's take on the performance was pretty spot on. Dancers, who were all dressed in black and white, danced and leaped and swirled around an ever-changing projection on the floor — a feature that's been a super trippy, super mesmerizing favorite of the Olympic opening and closing ceremonies thus far.
It was dizzying and spectacular. And kind of confusing. But, as it turns out, it did have more meaning than everyone thought. The New York Times reported that the ceremony's guidebook explained it as thus: "When the number becomes zero, the people of the future break free from the existing time and space, and arrive at a world no longer bound by gravity." Which would explain the clock, and the lights, and the leaping. Right? Maybe?
Whatever The Axis of New Time was meant to mean, it was certainly mind-bending. And Twitter agreed.