The Backstreet Boys' 25th Anniversary Photo Will Make '90s Kids Feel SO Nostalgic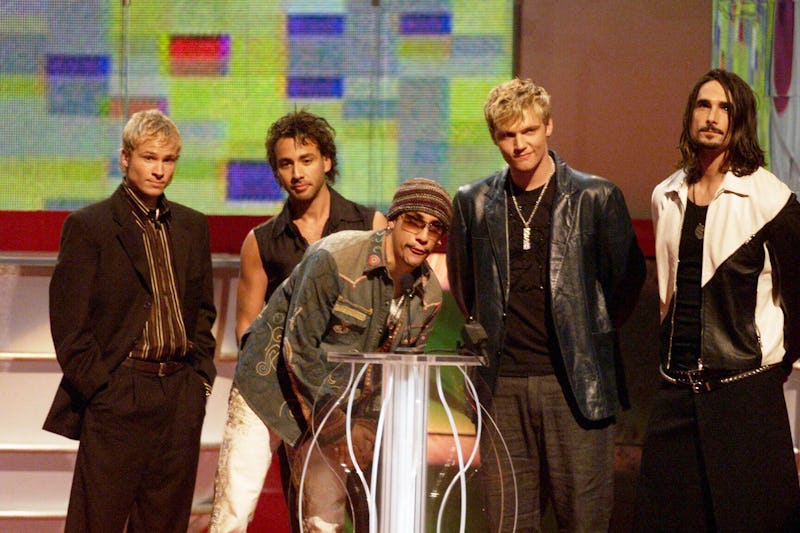 Scott Gries/Getty Images Entertainment/Getty Images
A quarter of a century ago, something happened that would change publications like Tiger Beat and Bop forever: The Backstreet Boys officially became a group on April 20, 1993. In honor of this major milestone, the group shared an incredible throwback picture on Friday. The Backstreet Boys' 25th anniversary photo, as well as the heartfelt message to everyone has supported the band over the years, is sure to make every last fan feel the nostalgia pangs.
The morning of the legendary boy band's 25th birthday, the official BSB account tweeted,
"On April 20th, 1993 we became the Backstreet Boys. If you would have told us that 25 years later we would still be making music together, we would have never believed you. Thank you #BSBArmy. Who's ready for another 25 years? #KTBSPA #BSB25"
Yes, the group has had it going on for a whopping 25 years. Brian Littrell, Kevin Richardson, Howie Dorough, AJ McLean, and Nick Carter joined musical forces two and a half decades ago. The Backstreet Boys have been together just five years shy of three decades. Whoa. Time really does fly when you rock your body right.
Ready to see a photo of the Backstreet Boys that will almost send you right over the edge of the Nostalgia Cliffs? Here's Richardson at 21, McLean at 15, Dorough at 19, Littrell at 18, and Carter at 13.
Perhaps 25 years does not seem like that long of a period of time to you. OK sure, compared to a millennium (not to be confused with Millennium), no, 25 years is not that long. But as far as the average human lifespan is concerned, 25 years is a pretty significant chunk of time. If you can watch this video of BSB (and their iconic middle-part mushroom haircuts) running around backstage in the year 1993 without wondering how and why and where the years went, then hey, maybe the passing of time is no match for you, you ageless wizard.
On May 8, 1993, over four years before their self-titled album dropped in the U.S., the quintet performed at a grad night at SeaWorld Orlando. It was their very first time performing together. Yes, recordings of this historic performance have made their way onto the internet.
OK first of all, anyone who was at this grad night has the right to brag about it forever and always. Those lucky graduating ducks got to witness BSB's stage debut years before BSB went on to be one of the biggest pop acts on the planet. It is probably fair to assume that it was a priceless experience.
And this was only the first of many mini-concerts the group played when they were just getting started. As Richardson explained in the oral history of the group that ran in Entertainment Weekly in Feb. 2017,
"We played anywhere we could. Johnny got us these school tours. One day we might be at a middle school out in the woods of Pennsylvania, the next day we might be at a high school in inner-city New Jersey. It gave us a lot of experience in terms of how to win a crowd over. We would occasionally get club gigs, though some of us were underage."
Richardson added,
"What got us signed was Johnny [Wright] would send footage that AJ's mom recorded at these schools to the record companies. We were in Columbus, Ohio, playing a Mothers Against Drunk Driving event when we got signed."
The quintet signed with Jive in 1994, they spent years touring and releasing music in Europe, they dropped the "Quit Playing Games (with My Heart)" music video in the U.S., and the rest, as they say, ain't nothing but a heartache and a mistake.