The Backstreet Boys Are Back With A New Tour & Single That You're Not Gonna Want To Miss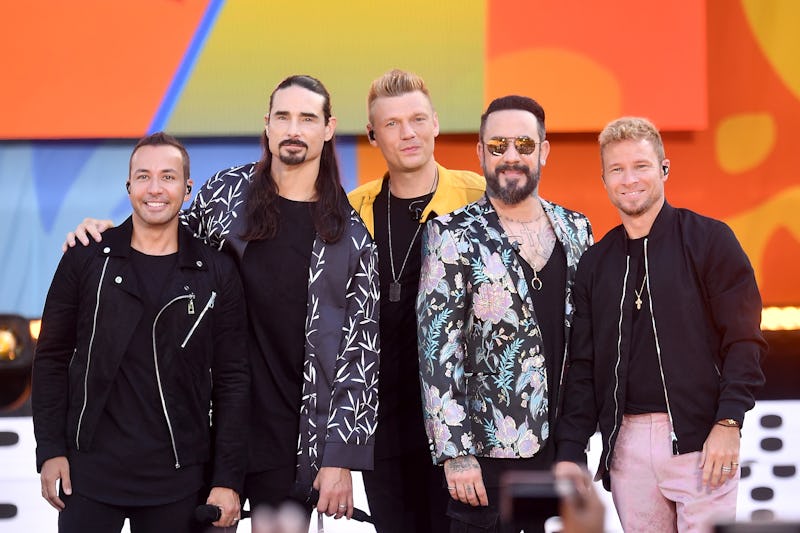 Michael Loccisano/Getty Images Entertainment/Getty Images
On Friday, Nov. 9, the Backstreet Boys made a major announcement. Despite being seemingly tied-up with their Larger Than Life residency in Las Vegas, a recent press release obtained by Bustle revealed that the Backstreet Boys will be releasing a new album, DNA, and embarking on their biggest arena tour in nearly two decades in the upcoming year.
As big as the news is, it wasn't the only surprise BSB had in store for their loyal fanbase. The quintet also released their new single "Chances," along with a music video which will help to hold fans over until their album's early year release. "Chances" is second single to come from the upcoming album and comes as the follow-up to "Don't Go Breaking My Heart," which signaled the band's first song since "Show 'Em (What You're Made Of)" nearly five years ago. The song was written by Shawn Mendes and Ryan Tedder, and those are just two of the high profile song-writers to be featured on their new album. DNA, which is set to drop on Jan. 25 and just so happens to be their tenth studio album, will also showcase the talents of Lauv (Charli XCX), Andy Grammer, Stuart Crichton (DNCE) and Mike Sabbath (J Balvin).
The Backstreet Boys have been a group for more than two and a half decades, and, in the press release, BSB member Howie Dorough discussed the ups and downs of group's evolution throughout the years. Dorough explained,
"When this group started 26 years ago — and through all the highs and lows of our career — we've had to learn it wasn't about us as individuals but about what's best for the group."
Kevin Richardson also shared a bit on insight into the album's title, adding,
"That's what I love about this album. We were able to bring all of our influences and styles into one coherent piece of work. These songs are a great representation of who we are as individuals and who we are as a group. It's our DNA. We're really proud of that."
Meanwhile, Brian Littrell offered a glimpse into what's in store for the band's future. "The journey is ongoing with us and there is so much left to do," he shared. "We're living the next chapter that hasn't been told yet, and that's exciting."
The guys, whose current Las Vegas residency Backstreet Boys: Larger Than Life will come to an end on April 27, 2019, will pick right back up and begin their touring schedule on May 11, 2019, in Lisbon, Portugal. They'll be traveling across the world until bring the tour to an end on Sept. 15, 2019, in Newark, New Jersey.
Detailing their upcoming plans, Dorough said, "Vegas has been amazing and these next set of dates are going to be a party. Then it's time for us to visit our fans all over the world."
While it's great to see the guys gearing up for a major comeback, there may be fans who are hesitant to support the band after allegations of sexual assault were made against Nick Carter. In November 2017, Dream singer Melissa Schuman claimed that Nick Carter allegedly sexually assaulted herwhen she was 18-years-old. Carter denied the allegations in a statement to Bustle, and he will not be prosecuted for the alleged assault, as the case against Carter was declined by the Los Angeles District Attorney because the 10-year statute of limitations had passed, as reported by People. His statement read as follows:
"I am shocked and saddened by Ms. Schuman's accusations. Melissa never expressed to me while we were together or at any time since that anything we did was not consensual. We went on to record a song and perform together, and I was always respectful and supportive of Melissa both personally and professionally. This is the first that I am hearing about these accusations, nearly two decades later. It is contrary to my nature and everything I hold dear to intentionally cause someone discomfort or harm."
It has yet to be seen how these allegations might affect fan engagement with the band.
As a group, it sounds like the Backstreet Boys are going to have a lot on their plates when their new music and tour drops in 2019, and fans should certainly be prepared for many more surprises to come.