'Baywatch' Features An Olympic-Worthy Cameo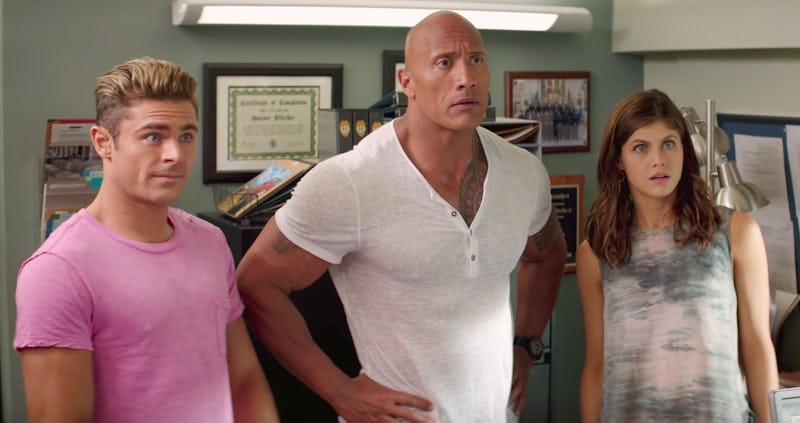 Paramount Pictures
Summer is coming, and it's bringing the new Baywatch movie with it. Dwayne Johnson, Zac Efron, and Priyanka Chopra star in the big screen adaptation of the iconic '90s television show, but it wouldn't be Baywatch without some original cast members. Baywatch cameos from David Hasselhoff and Pamela Anderson were confirmed long ago, but even though you know they're coming, they will still definitely take you by surprise. Not only that, but the cameos also give the movie a platform to pay homage to the original series, while also keeping with the new, more comedic tone of the film.
The new Baywatch movie, with its R-rated humor and elaborate plot, is a far cry from the original series. That said, some things remain the same. For example, characters Mitch Buchannon (originally played by Hasselhoff) and CJ Parker (Anderson) are back, this time played by Johnson and Kelly Rohrbach, as are characters Matt Brody (Efron), Stephanie Holden (Ilfenesh Hadera), and Summer Quinn (Alexandra Daddario). The famous red bathing suits are also back in style, as is the slow-motion running. However, if you were hoping that the Baywatch cameos would also bring back Hasselhoff and Anderson rocking their red uniforms, you might be disappointed. Spoilers ahead!
David Hasselhoff
Hasselhoff has the most prominent cameo in the new Baywatch, appearing in a few scenes. Though he is officially credited as "The Mentor" on IMDB, Hasselhoff is pretty much reprising his role as Mitch (yes, there are two Mitches), only this time he's introduced as Johnson's mentor. He shows up towards the end of the film as a photo on the keychain that holds the keys to the lifeguard tower, and then appears in the flesh to motivate Mitch to go back to the beach. Finally, Hasselhoff pops up again in a fun mid-credits scene with Johnson, where they argue over the name Mitch.
Pamela Anderson
Anderson's cameo is much smaller than Hasselhoff's, but also much more glamorous. She walks onto the scene at the very end of Baywatch, wearing a white power suit, and is introduced as the New Captain of Baywatch, coming straight from the "Hawaii devision." (Last we saw Anderson's CJ was in 2003's TV movie Baywatch: Hawaiian Wedding.) Naturally, the star is given the slowest slow-mo of all, hair-flip included, though she doesn't have any lines.
Simone Biles
Remember when Efron flew to the Rio Olympics to surprise super-fan Biles? Well, a photo from their encounter — the one where he's kissing her cheek — is actually used in Baywatch. In the film, Efron plays a two-time Olympic gold medalist who has fallen from grace, and the photo is used as evidence of his glory days.
Arian Foster & Vernon Davis
NFL fans will also spot football players Vernon Davis and Arian Foster, who play locals playing basketball by the beach and friends of Mitch.
Baywatch has a huge ensemble cast, so it's no surprise director Seth Gordon chose to keep the cameos to a minimum. Besides, Hasselhoff and Anderson have more than enough star power to keep cameo-loving audiences satisfied.