This Is The Season's Cutest But Impractical Accessory Trend & I'm Here For It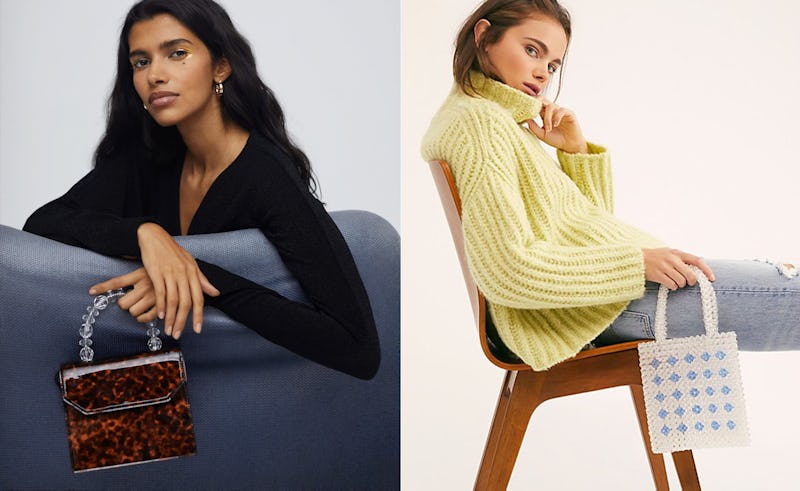 Left: Mango / Right: Free People
When my Filipina mother found out I was thinking of getting a faux pearl beaded bag, she laughed in my face and told me she couldn't believe they were coming back into fashion. For her, beaded bags were something she used to make as a kid back when she was living in the province and it was hilarious to her that I was off Pinteresting them decades later. There's no denying that this year, the beaded bag trend has well and truly exploded and it seems like it's going to be continuing well into 2019 if the high street has anything to say about it.
In fact, beaded bags were so popular this year that fashion search engine Lyst revealed that "searches for beaded bags were up 40 percent" in their annual report. The most viewed bag, the Shrimps' Antonia Queen Bag, in particular sparked a lot of attention and high street imitations. It's endured as a fashion influencer staple with different colourways coming out recently, while other brands have tried to capitalise on the hype. I managed to nab one below and my face basically sums up all my feelings about it.
Although there's a number of gorgeous faux pearl beauties out there (Topshop's below is a real winner), the trend has since exploded in different directions. Chunky beaded bags, drawstring pouches, and intricate seed beaded stunners have hit the market and the likes of Topshop, Zara, and my new favourite Free People have brought some awesome styles to the table.
There's a few options here that'll become your go-to accessory for the festive party season and a couple you'll want to bust out for literally every occasion: brunch with the girls, the office, and even a trip to Tesco. Here are a few of my favourites below.