These Are The Best Carry-On Suitcases — & They All Have 1 Handy Feature In Common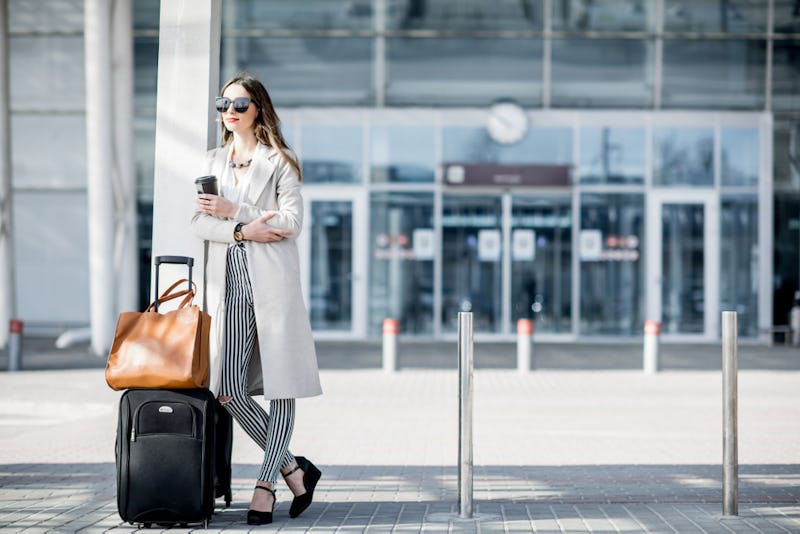 RossHelen/Shutterstock
Frequent travelers know the power of a good spinner suitcase. Thanks to their four-wheel design, they're easy to maneuver through airports, city streets — everywhere. Though it's arguably less important for your checked luggage to have four spinning wheels (out of sight, out of mind), if you're looking for a way to improve your air travel experience, you'll want to invest in the best carry-on spinner luggage.
Here's the thing. In the luggage world, "carry-on" is sort of an objective term. Different airlines have different size requirements for their overhead bins, so definitely double check your favorite airlines' websites for that info before you invest in new wheels. A good rule of thumb? Opt for a smaller bag to ensure the broadest fit, even for international travel. That might sound scary — over-packers, I hear you — but you'd be surprised what some packing cubes and a few pro tips can do. Trust me, traveling light is better than hearing those two dreaded words before you board: gate check.
To help narrow your search for the best spinner luggage, I've compiled a list of five options you're going to love, whether you prefer hardshell bags or soft ones. This list features various sizes, price points, and some incredible values. Keep reading to find your new favorite travel companion!