The Best 'The O.C.' Musical Moment Ever Involves Oliver, The Bait Shop, & Sandy Cohen Dancing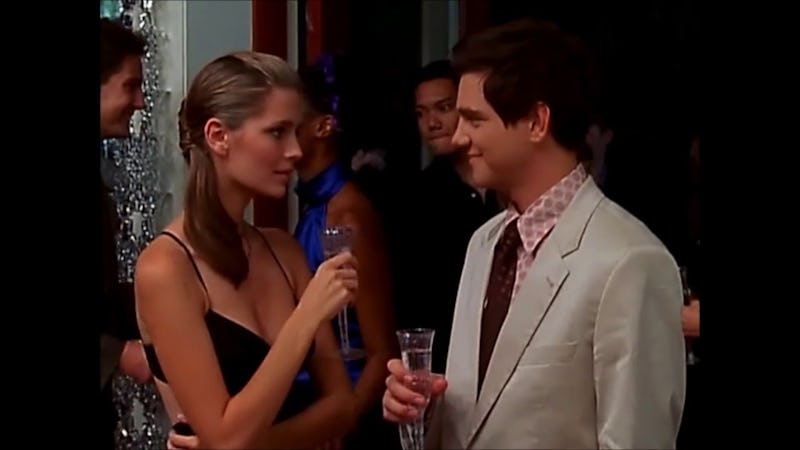 Warner Bros.
The O.C. had plenty of amazing musical moments, with tons of huge bands like The Killers and Modest Mouse somehow playing the show's modestly-sized local venue, The Bait Shop. Even Seth Cohen's all-time favorite band Death Cab For Cutie managed to be among those who stopped by the venue, although sadly Seth had to skip out on seeing them to attend a meeting about his comic book series Atomic County. While it's sad that Seth missed out on seeing Ben Gibbard sing "The Sound of Settling," the performance actually wasn't the all-time best musical moment from The O.C. No, that'd be the performance in "The Third Wheel," aka "The Rooney episode."
For those who aren't familiar with Rooney, it's the early 2000s band fronted by Robert Schwartzman, who is otherwise best known for being the ultimate teen crush in Princess Diaries and Jason Schwartzman's brother. And as The O.C.'s theme song is sung by Jason's former band Phantom Planet, it's fitting that the show would also find a way to include Rooney in an installment.
But unlike most O.C. episodes that feature performances by bands, this one's storyline fully revolves around Rooney. It begins with Ryan, Seth, Marissa, and Luke hanging out in Oliver's penthouse, as they sit on the floor eating food and listening to Rooney. After Marissa remarks that she really likes the song, Oliver tells her the band is playing The Bait Shop the next day. Seth laments that it's sold out, but Oliver promises to call the band's manager and get them all in — backstage access and all. The gang's all pumped to attend and potentially meet the band, except for Ryan, who isn't particularly excited.
But for everyone else, Rooney's appearance is a total treat. Even Hailey, who's staying with the Cohens at the time, expresses how much she loves Rooney and wishes she could go to their show. Then there's Kirsten questioning to Sandy whether they should let the boys go to their first big concert.
This causes Sandy to "inspect" the band's music, head-banging to "Sorry Sorry" in Seth's room, with Seth cutting his dad's fun dance moves short out of embarrassment. But the most hilarious part of the episode is seeing former hot-headed jock Luke get in touch with his musical side, playing Rooney's guitar backstage and then singing along loudly and off-key to their set, much to Seth's dismay.
Even though this is one of the most humorous episodes from The O.C.'s first season, Rooney also causes tons of drama for the group. In a classic Seth move, he tries to hide from Summer that he and Anna are officially dating. But by not telling her, he's forced to spend the concert with both of them instead of having his first real date with Anna. Then, there's Ryan, who is clearly upset that Marissa is spending her time at the show with Oliver, so he stands by the back of the room. He eventually feels so jealous that he decides to pull Marissa away and passionately kiss her against the wall. But instead of being pleased by the romantic gesture, Marissa rightfully calls Ryan out to leave her and Oliver alone.
Yet just when Ryan's about to play nice with him to make Marissa happy, he spots Oliver being arrested for trying to buy cocaine off an undercover cop. Ryan tries to help Oliver by calling in Sandy to get him out of trouble, but he then realizes there might be more that Oliver's hiding — sparking the intense Ryan vs. Oliver arc that dominates a large part of The O.C.'s first season.
While Rooney might not be the biggest band to play The Bait Shop, the group causes what's hands down the best musical moment of the series. Seriously, this episode was too good.