This 'BB20' Proposal Shocked Everyone — Including The Person Getting Proposed To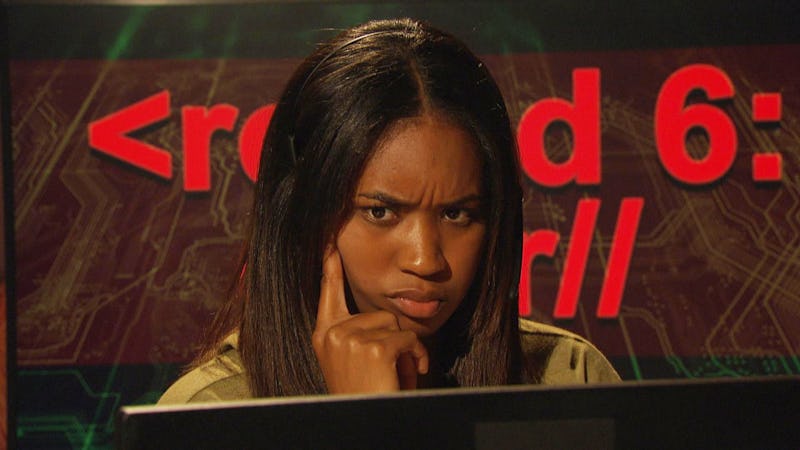 CBS
Spoilers ahead for the Big Brother 20 finale. Big Brother 20 has been filled with twists and turns, but the most surprising part of the season wasn't Kaycee being crowned winner, nor was it Tyler being announced as America's Favorite Player. After being apart from the other half of his showmance since his eviction, Swaggy C proposed to Bayleigh during the BB20 finale. An awestruck Bayleigh said yes to the 23-year-old day trader, despite only having known him for 23 days inside the Big Brother house. And Twitter's reaction to the engagement was, well... probably not what Swaggy C was hoping it would be.
Though not a romance-oriented show, Big Brother is no stranger to showmances. After all, in house in which over a dozen strangers are completely isolated from the outside world, it's only natural that some sparks would start to fly; They have nothing but time to spend with one another.
However, most couples who form in the Big Brother house usually take some time outside of the house before they get engaged. Nicole Franzel and Victor Arroyo III met during BB18 and didn't even start dating until well after the season ended. And Cody Nickson and Jess Graf from BB19 got engaged in February of 2018, about five months after their season of Big Brother ended. Swaggy C, however, apparently couldn't wait for him and Bayleigh to get off the Big Brother stage before proposing to her on live television, despite the fact that they hadn't spoken in over two months. Bayleigh may have said "yes," but more than a few fans think the proposal could've been handled better.
Like the groomsman that drinks far too much before the wedding ceremony and decides to propose to his girlfriend during the Best Man's speech, Swaggy C stole the night's thunder from BB20 winner Kaycee. After a shocking season of television, the biggest blindside of the night ended up being Bayleigh having to answer whether or not she would accept the proposal of a man who had been spending the past few months with her family without her knowledge. It was a fitting end to a season that has asked fans to "expect the unexpected," but some former houseguests don't seem to be fans of the showmance's next step.
Big Brother Season 15 winner Andy Herren tweeted that "Swaggy's proposal was not romantic; it was psychotic." And when asked about the possibility of Swaggy C proposing on Instagram Live, BB16 winner Derrick Levasseur said that he'd be surprised to see Big Brother allow a pre-jury evictee to upstage the winner — which is exactly what happened. In addition to outshining the eventual winner, Twitter account @bigbrothergossip pointed out that the proposal also sucked up the opportunity for any of the other pre-jury houseguests to provide their input on the season. Instead, Steve, Kaitlyn, Winston, and Rachel simply sat in silence for the finale.
But whether or not Swaggy C and Bayleigh's engagement is received with open arms, all that matters is that they're happy together.