The 'Big Brother 20' Houseguests Got Family Messages & Twitter Is Melting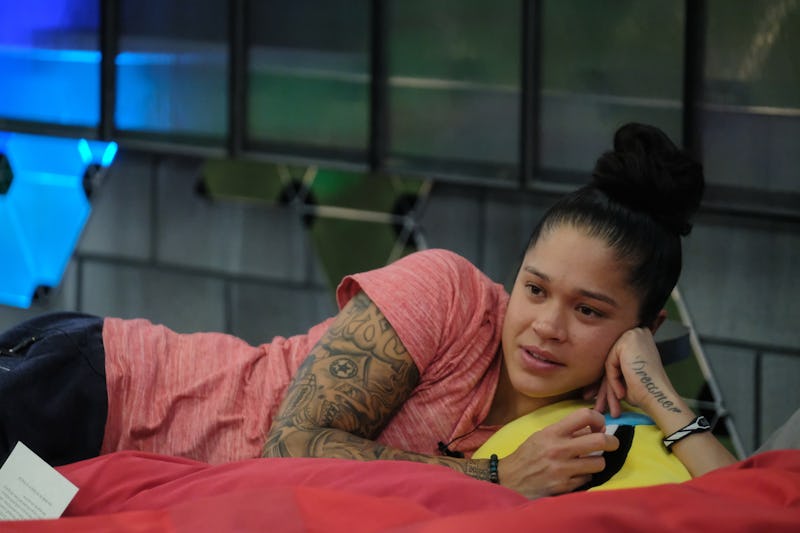 Johnny Vy/CBS
Tonight on Big Brother, the reality series showed off its softer side when houseguests were shown family messages on Big Brother 20. These were mostly encouraging messages from back home, which served to galvanize the remaining houseguests. And while some of the contestants simply smiled or cracked jokes about their siblings (like Brett), tears were also shed.
This episode was filled with emotions — between the tear-jerking videos, the dwindling number of residents, and the fact that Level 6 will soon be turning on each other. Kaycee, the current HoH, nominated Haleigh and Sam for veto. And while Kaycee told the welder that she was just a pawn and not to worry, Sam still became upset. Haleigh was obviously also disconcerted, but she seems more resigned to the fact that her days are likely numbered.
So when Big Brother began airing everyone's dispatches from home, Sam began weeping when she saw her parents and brother onscreen. Andrea and Haleigh also cried as they watched their families share encouraging words with them. "I'm absolutely the happiest, proudest father in the world," Haleigh's dad said. "You make me so happy — it's such a joy to see you each week, but it's about time for you to come home."
And while JC's a controversial houseguest, he still garnered support from BB fans when it was revealed that his family didn't send him a message. Instead, his friend Regina sent her heartfelt love. This was explained in a DR, where JC revealed that his family doesn't accept his lifestyle. The contestant was clearly upset that he didn't receive a message from them, and many fans expressed their sympathies on Twitter.
Audiences also got emotional over Tyler's message, which came from his mom and stepdad. Tyler's father died when he was 17, which audiences learned during his home visit a few weeks back. For this reason, the lifeguard became understandably upset thinking about his family. "I know my dad's watching me, and I'm doing it for him," he said in his DR while getting choked up. "I get everything from him, you know? I get all my strength from my dad." It was certainly difficult to watch him become so worked up — especially since Tyler has such a poker face in the house.
However, not everyone's messages were super emotional. Kaycee's video, while adorable, wasn't particularly tear-jerking. Her brothers and dad appeared onscreen and explained that her mom was in the Philippines. Her brothers them imitated their mom and said how proud she was of her. What's more, audiences learned that Kaycee's dad calls her Peanut, which she was thoroughly embarrassed by. And her nickname was even referenced in her BB Comic during the veto comp, where she was called The Health Nut. What's more, Brett's was mostly joke-y, with one of his sisters saying that she could smell him from there.
This entire segment reminded fans that, while the houseguests are determined to win Big Brother, they're also getting horribly homesick. Sam and Haleigh in particular appeared to really miss their families, which may either motivate or discourage them. As for Haleigh, it appears to be the former. As she said in her DR, "I was starting to burn out and not feel the fight anymore, and now I feel like it's a new day. I'm going to keep pushing and keep fighting, and I'm going to give it all that I've got."
Also some good news? Now that Big Brother is entering its final weeks, contestants will be able to see their families and friends soon — maybe even too soon for some of the houseguests' liking.