The #MeToo Movement Is Already Playing A Huge Role In Bill Cosby's New Trial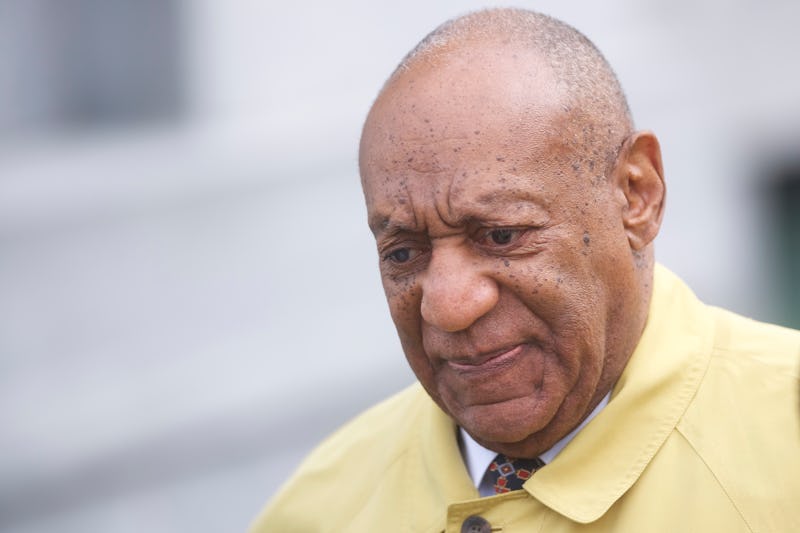 Mark Makela/Getty Images Entertainment/Getty Images
Juror selection is a tricky issue in an court case, and it gets even trickier when the case revolves around a public figure. When recent cultural upheavals then come to play a relevant role, it becomes nearly impossible. All of this is coming together in the preparation for the retrial of Bill Cosby, where #MeToo is already playing a role, according to a report from the New York Times.
Cosby's first trial ended in a mistrial in June of 2017 because the jury couldn't agree on whether or not he was guilty of sexual assault. While The Philadelphia Inquirer reported at the time that a spokesperson for Cosby's team would consider a hung jury to be a "win," the district attorney immediately pledged to retry Cosby on the same charges.
Between now and June of 2017, however, the #MeToo movement rocked the nation in myriad ways and left many people thinking differently about the prevalence of sexual assault and sexual harassment. As the revelations rolling in about alleged sexual harassers and abusers in Hollywood and elsewhere played an outsized role in the whole movement, it's certainly relevant when it comes to a sexual assault charges facing a prominent and once well-loved comedian.
Or, at least, this seems to be what the defense believes, according to the New York Times' report that they are asking potential jurors about their stance on #MeToo.
In the last trial, one of the main questions the jury couldn't agree on was whether or not Cosby's accuser, Andrea Constand, was a trustworthy witness. She claimed that he had drugged her and then sexually assaulted her, but Cosby and his team claim that it had been a consensual sexual encounter. What Constand described was similar to the allegations that dozens of other women made — that Cosby had drugged them and then sexually assaulted them. Cosby has denied being a sexual predator, but in a 2007 deposition he did admit to obtaining quaaludes, or sedatives, with the aim of using them to seduce women.
A retrial of the same case will by necessity include a lot of the same information and witnesses, but there are going to be a few different circumstances for this second run of the Cosby case. #MeToo's effect on the nation's psyche has so far been significant, if only because it showed people — often for the first time — that seemingly isolated cases where sexual assault victims were coming out were actually not so isolated at all.
"Since Cosby's first go-round, all courtroom participants — jurors, attorneys, judge — have been immersed in an intensive course on sexual violation, including the kind of sexual assault inflicted by mentors," Deborah Tuerkheimer, a Northwestern University law professor and former prosecutor told the New York Times. "The ways in which we evaluate the credibility of survivors has also shifted in important ways, from a default to doubt, to a greater willingness to believe."
A more concrete difference, then, is the fact that the judge is allowing five of Cosby's other accusers to testify, besides just Constand. In the first case, only Constand and one other accuser, Kelly Johnson were allowed to take the witness stand.
Taking all of this into account, it makes sense that the defense would be brining up #MeToo as the two teams evaluate potential jurors. So far, the prosecution and the defense have only agreed on one juror, a man who said that he didn't know anything about the case and that he knew about #MeToo, but wouldn't let it cloud his perception of the case. According to the Washington Post, a majority of the 120 potential jurors had already made a decision about Cosby's guilt and thus had to be struck from the pool. It's likely, then, that jury selection will take a significant amount of time.