Kendrick Lamar & SZA's 'Black Panther' Song Will Get You Even More Pumped For The Movie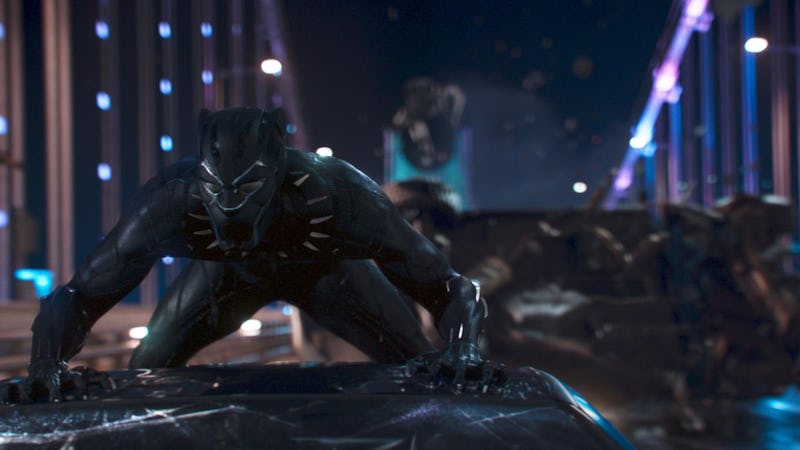 Walt Disney Studios
Black Panther finally hits theaters Feb. 16, and if that sounds like too long for you to wait then there is only one way to pass the time. That is, listening to the soundtrack, which comes out on Feb. 9. The Black Panther end credits song is the only track that's been released, and it's the newly minted fan-favorite, "All the Stars", by Kendrick Lamar and SZA. The song already has a killer music video that will put you in the mood for Black Panther (cinematographer: Rachel Morrison) as it pays homage to African culture in a gorgeous way.
The music video for "All the Stars" is directed by Dave Meyers "& the little homies," and it opens with a striking image of a sea of arms waving side to side. Suddenly you see Lamar riding on a wooden boat on top of those arms — seemingly held up by them — with his eyes stoically set straight ahead. After that you see a series of settings in line with Black Panther's themes and setting. There are queens wearing gold headdresses, much like Angela Bassett's in Black Panther, and crowds of people wearing traditional Igbo caps, plus so much more — including Lamar walking through the woods with a crowd of panthers and SZA dancing among stars.
The scenes are breathtaking, as are SZA's vocals and Lamar's rhymes, and hearing this song at the end of Black Panther makes the whole viewing experience feel complete. Luckily, you can listen to the song now — on repeat, until the movie gets released in theaters.
As if Black Panther itself weren't enough, the entire soundtrack promises to blow your mind. That's because Lamar produced the album, and he raps on five of the tracks. The other artists contributing to the soundtrack are equally as exciting as Lamar (and SZA, of course). The track list includes songs by Schoolboy Q, Khalid, Swae Lee, 2 Chainz, Saudi, Future, Vince Staples, James Blake, Ab-Soul, The Weeknd, Travis Scott, and more. It really is a stacked soundtrack, and it only adds to the excitement about everything Black Panther.
Because "All the Stars" has a slow rhythm to it, it's the perfect song to play during the end credits of Black Panther; after the movie, you will need something with a chill beat to listen to as you process everything that you've seen. You can take the time while it plays to gather yourself and shake off your goosebumps that inevitably appeared throughout the film while waiting for the post-credits scenes that every Marvel movie includes.
Because Black Panther sadly isn't out yet — though you don't need to be reminded of that depressing reality, sorry — you can get a similar goose-bump effect from the striking music video. Many people already have, which they've taken to Twitter to describe.
Black Panther is the most exciting movie to come out in years, and the fact that it has a mind-blowing soundtrack only cements it as such. With the film's cast full of talented Black men and women, plus its celebration of African culture, Ryan Coogler's movie is set to make history. This films recognizes that everyone deserves to see themselves as a hero — and a super genius like Black Panther's younger sister, Shuri (played by Letita Wright).
This is an incredibly exciting time for entertainment in many ways, and that's largely due to Black Panther's revolutionary filmmaking. It's as if "All the Stars" have aligned to make this a must-see movie, from its start to its credits — and, in the tradition of Marvel films, even afterwards.