The Song In 'The Book Of Henry' Trailer Is Super Creepy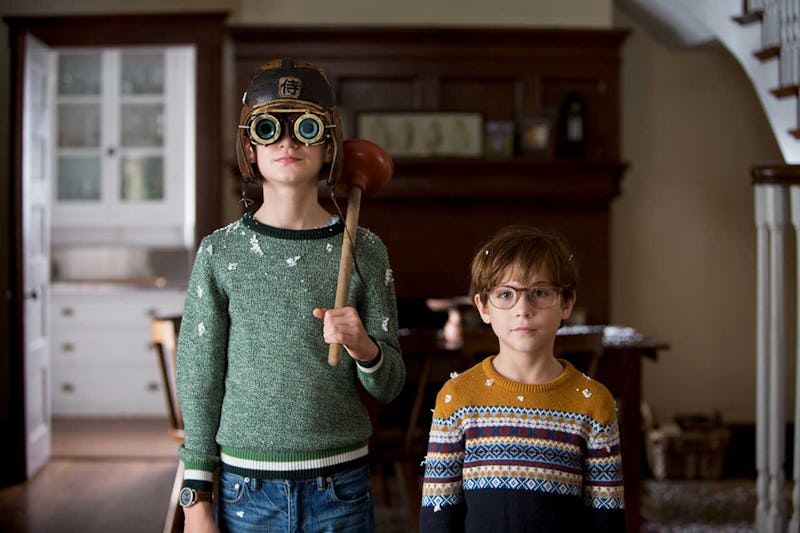 Focus Features
What do you do between directing giant Hollywood blockbusters? You take time out of your busy schedule to direct a small coming-of-age drama instead, apparently. According to the trailer for The Book Of Henry that dropped this Thursday, that's exactly what director Colin Trevorrow has done. But what might at first have seemed like a quirky little family dramedy soon turns into something else entirely, thanks in no small part to the creepy Book Of Henry trailer song.
When the trailer begins, we meet Henry, a gifted youngster played by 14-year-old Jaeden Lieberher (of Midnight Special and the upcoming IT). He lives with his younger brother Peter (Tremblay of Room) and their single mother Susan (Watts), and he pines after the girl next door, a young dancer named Christina (Ziegler). It's with the introduction of Christina that the trailer undergoes a jarring tonal shift from the cutesy introduction of precocious young Henry into something altogether different. You see, Henry is convinced that Christina's stepfather, police commissioner Glenn (Breaking Bad's Dean Norris) is hurting her, and he concocts a scheme to save her.
This scheme involves elaborate Rube Goldberg-ian machines… but also a sniper rifle? Suddenly, The Book Of Henry seems less like a family-friendly adventure and more like a dark thriller about abuse and revenge. This change in tone is helped by the song that starts underscoring the trailer about midway through. The innocuous strings and piano suddenly give way to a song called "Thousand Eyes," by Icelandic indie folk-pop band Of Monsters And Men.
The song is from the band's second studio album, 2015's Beneath The Skin, and, if it sounds familiar, there's good reason: it was previously used in the Jessica Jones trailer. Interestingly, both The Book Of Henry and Jessica Jones are about protagonists with special gifts using those gifts to take down a man who uses his position of power to abuse women.
"I lie awake and watch it all," the song goes. "It feels like thousand eyes." In The Book Of Henry, the title character and his family are able to see what's going on between Christina and her stepfather; all they have to do is look out their window and watch. The only question is, will they be able to stop it in time?
Find out when The Book Of Henry opens in theaters on June 16.