Abbi & Ilana's Final Season Of 'Broad City' Will Be Here Before You Know It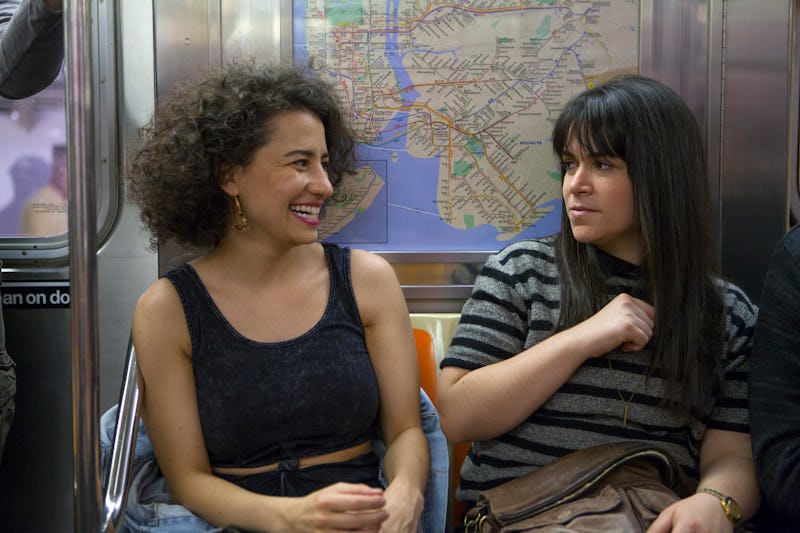 Comedy Central/Linda Kallerus
Yas, queen: Comedy Central announced the Season 5 premiere date for Broad City on Thursday, Oct. 25. In a bittersweet YouTube video called "Sprint to the Finish," stars Abbi Jacobson and Ilana Glazer appear winded in a door frame, after the video shows a hilarious clip compilation of the hijinks-prone besties running frantically in various scenes from the comedy's past four seasons. (Oh, and true to form, there was a "smoke break" added in the middle, naturally.) There was still the stinging realization for fans that this will be the last chapter for (fictional) Abbi and Ilana, too, though, of course.
"OK, Season 5 premieres January 24," a panting Jacobson announces in the video. Adds an equally "fatigued" Glazer: "10 p.m. It's so good." (The time is applicable for both ET and PT, by the way.)
The duo, both of whom star in and also co-created the series, first broke fans' hearts, announcing that Broad City would end with Season 5 back in April. In their statement to The Hollywood Reporter at the time, they explained their decision:
"Broad City has been our baby and first love for almost ten years, since we started as a web series ... It's been a phenomenal experience, and we've put ourselves into it completely. Broad City's always had a spontaneous pace and feeling, and ending after Season 5 honors that spirit. We are very excited to bring new voices and points of view to Comedy Central and continue our collaboration together in new ways."
Although the premiere is still a few months away, the ending of Broad City was planned long ago, Jacobson previously revealed to Variety. "We always knew what would happen in the last scene," she said in an August interview. "We didn't have the whole season written, we didn't have all the details, but we knew how it was going to end." (Jacobson added that the final season is now completely written, however.)
What can fans look forward to from the half-hour comedy's swan song? Admitting that Broad City is "changing creatively," Jacobson also revealed to Variety that with "undeniable things happening in the world that you can't really ignore," Season 5 will tackle both the good and the "sh*tty things" that Abbi and Illana are going through and feeling.
And yes, that still includes some political commentary — to an extent anyway. "We couldn't stop talking about it; It's still there in Season 5, but not as blatant at all," Jacobson added to Variety of the series, which, in Season 4, bleeped every reference to President Trump. As Jacobson further explained:
"We don't talk about him, once. That's the new thing: just not mentioning his name. Ever. It's not funny anymore. It never was, really, but we don't know how to make fun of it. And this season, because it's the end [of the series], we're really just focused on [Abbi and Ilana]. There's not even a ton of guest stars."
In addition to Hillary Clinton's 2016 cameo in Season 3, other past Broad City guests have included: Tina Fey, Amy Poehler, Shania Twain, Seth Rogen, Kelly Ripa, and Adam Levine.
For her part, Glazer also recently previewed Broad City's final season to The Wrap: "I feel like we always try to write the funniest [story], but heading toward the ending is going to be pretty heavy, and everyone is going to know it when the season starts ... There's a lot of growth in the upcoming season."
Fans need not worry that just because Broad City is ending in 2019 that they've seen the last of Jacobson and Glazer either. Jacobson is voicing Princess Bean in Netflix's animated series Disenchantment, releasing a collection of essays ("I Might Regret This," due out October 30), in addition to working on an Amazon comedy based on the film A League of Their Own. Meanwhile, Glazer has been on tour with fellow comedian Phoebe Robinson for their Yas Queen Yas tour.
The women also inked a first-look deal with Comedy Central's parent company, Viacom, and already have three projects in development — though they sadly won't actually appear in the shows. On their roster for Comedy Central: an animated series called Mall Town USA, a live-action comedy, Platinum Status, and a D.C.-based coming-of-age show, Young Professionals.
While fans now have the final Broad City premiere date, at least it's clear that there's plenty more Abbi and Ilana comedy brilliance yet to come.