One 'Broad City' Star Gets Her Princess On In A New Netflix Animated Series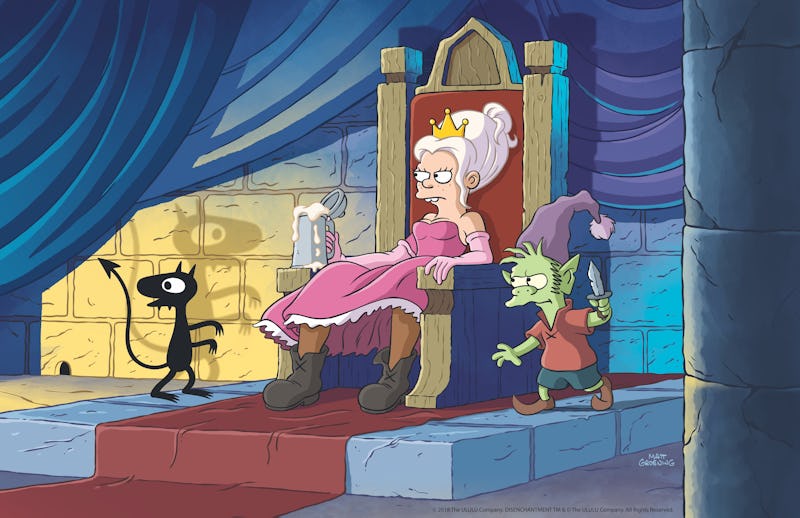 Netflix
One of the joys of watching an animated show is figuring out which stars voice the characters. Broad City fans will rejoice when they realize that Abbi Jacobson voices Princess Bean in Disenchantment, Matt Groening's new Netflix series. The animated comedy from the creator of The Simpsons follows the rebellious and hard-drinking Princess Bean of Dreamland, who refuses to be married off and goes on a debauchery-filled journey of self-discovery with her elf Elfo and demon Luci. And when the first 10 episodes of the 20-episode Season 1 premiere on Aug. 17, you'll be able to hear and see Jacobson's feminist influence on this adult cartoon.
Deadline reported that, at the summer Television Critics Association press tour, Jacobson explained what drew her to the role of Princess Bean. "I would have auditioned for anything with Matt's name on it. I didn't know how great this would be," said Jacobson. "Bean is a different princess. She's flawed and gets f*cked up. I find it so relatable." But Groening and executive producer Josh Weinstein at San Diego Comic-Con credited Jacobson for making the character even better. "Abbi took what we considered very feminist lines and made us realize how mild we were. She kicked it into another level," Groening told Bustle at a roundtable.
While the Upright Citizens Brigade (UCB)-trained Jacobson is best known for being one half of Abbi and Ilana on Broad City, her list of roles outside her and Ilana Glazer's web series-turned-Comedy Central show has grown. And you can expect to see Jacobson pop up in other projects much more since the forthcoming Season 5 will be the last for Broad City.
If you enjoy watching Jacobson take on a new role in Disenchantment, you might want to see what else this actor has done besides Broad City over the years. Because not only will it make you appreciate her voice work in Disenchantment more, but it might just help you deal with the inevitable end of the acclaimed comedy she created.