Bustle's Editors On Kim K & Planned Parenthood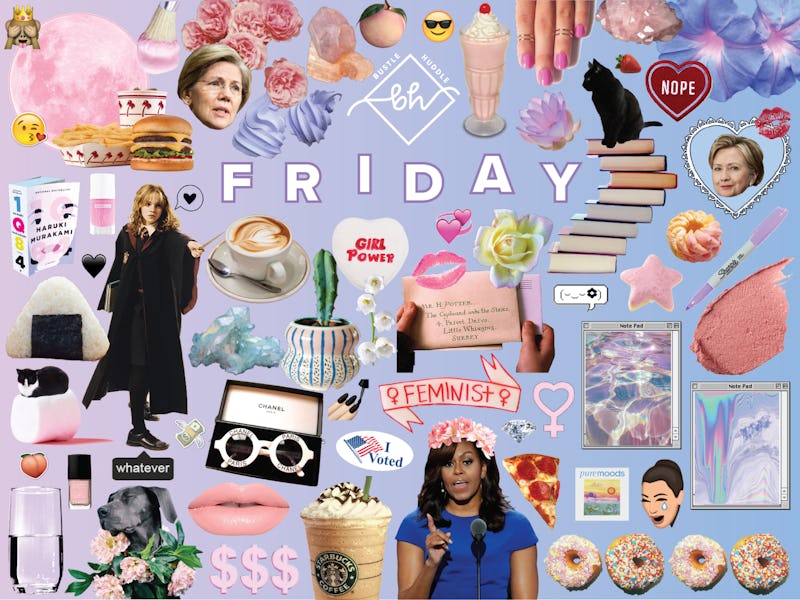 It's officially the first Friday of 2017, which means you've successfully made it one week post-2016. Congrats! It hasn't been easy, though. Most of us are still getting used to getting back to work (will we ever really be used to it?!) or, honestly, just trying to keep our resolutions going One. More. Day. (By the way, we can help with that.) So you *deserve* to celebrate this weekend. Kick back, relax, have a few cocktails, and get ready for the Golden Globes on Sunday. But before you do, here's what Bustle's editors were talking about today, Jan. 6.
The GOP + Planned Parenthood
In a news conference Thursday afternoon, House Speaker Paul Ryan confirmed that Planned Parenthood's federal funding could be cut by February, a move that's part of the GOP's efforts to repeal Obamacare. Planned Parenthood's response? "So let's call this attack what it really is: An attempt to shut down a health care provider for political reasons."
What This Means For You: Cutting Planned Parenthood's federal funding also means cutting womens' access to contraception, STI and UTI treatment, mammograms, and pap smears. (According to its website, only 3 percent of all of Planned Parenthood's services involved providing abortions.) So, yes, you really might want to consider getting that IUD before Trump's inauguration.
Kim Kardashian + KUWTK
For the first time in three months, Kim Kardashian has broken her silence since being robbed in Paris, France. In a trailer for the next season of Keeping Up With the Kardashians shared by E! News, Kim recalls the incident to sisters Khloé and Kourtney Kardashian. "They're going to shoot me in the back," she says through tears. "There's no way out. It makes me so upset to think about it."
This emotional trailer comes the same week as Kim's official return to social media, where the celeb has been sharing sweet family memories that seem to signify a fresh start in 2017.
Shopping Break: Love Shark Tank? Then you *need* these weird but genius products in your life ASAP.
Fort Lauderdale + Shooting
Sad news out of Florida today. A shooting at Fort Lauderdale Airport has left at least 5 dead and multiple people injured. According to ABC News, law enforcement sources claim the shooter was taken into custody after the shooting.
Shortly after the news broke, President-elect Donald Trump spoke to Florida governor Rick Scott about the incident. No information about the shooter's identity or motive have been released to the public yet.
Some Happy News: Michelle Obama delivered her last speech as First Lady (okay, that's not the happy part) today and it was just as emotional, empowering, and hopeful as you'd imagine it'd be. Watch the full speech right here:
Netflix + The Magic School Bus
What a week for '90s and '00s nostalgia! After it was announced on Thursday that The CW was officially working on a Charmed reboot, we learned today that Netflix is officially rebooting The Magic School Bus. Yes, we originally heard about this project back in 2014, but producer Stu Stone recently opened up about the reboot and stirred up excitement all over again:
It's a very top secret field trip that Miss Frizzle is taking the kids on. I'm a little bit old to be in the fifth grade, so I'm not here to say that I'm officially in Miss Frizzle's class, but I will say that I went to the classroom and I saw some of my old classmates there. I also ran into some new kids — there's a lot of new kids and generations on the show. Just like the original series when Miss Frizzle has friends, they were usually voiced by celebrities. There are tons of cameos, I know that there are big stars that want to be involved in this.
WTF of the Day: You know the saying, "If you have nothing nice to say, don't say anything at all"? Well, apparently Donald Trump doesn't, tweeting about the apparent low ratings of the new season of The Celebrity Apprentice. Sigh.
What to Watch: The 2017 Golden Globe Awards are this Sunday, January 8, at 8 p.m. EST. Jimmy Fallon's hosting and this is the one awards show where the celebs actually get to eat and drink, so it's sure to be fun. (Psst, here's who's nominated.)
Here's What To Expect This Weekend: Whether you're prepping for a Netflix marathon, *finally* trying that new restaurant with friends, or bravely going on a blind date, here's what you can expect this weekend, based on your zodiac sign.
Images: Dawn Foster, Chelsea LaSalle, Alyssa Foote