The Cast Of 'Stranger Things' Looked Totally Casual On The MTV Movie & TV Awards Red Carpet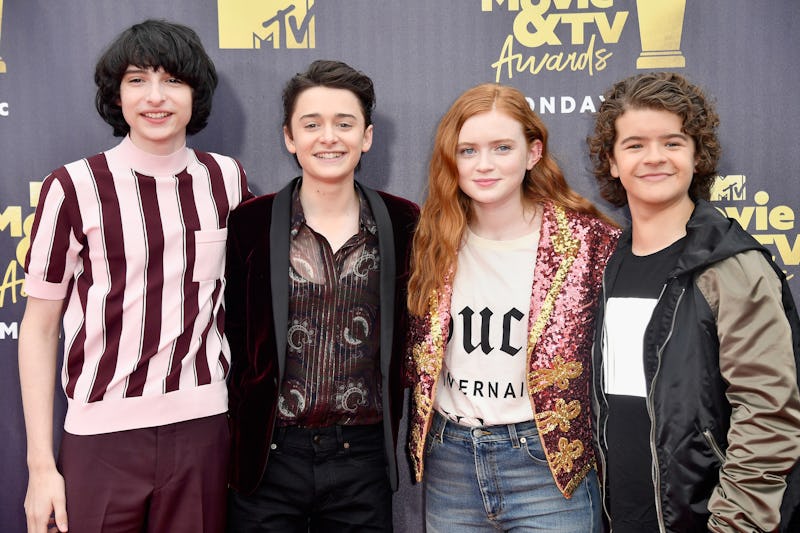 Frazer Harrison/Getty Images Entertainment/Getty Images
Netflix is taking over the world of cable television, and the cast of one of its hit shows is taking over red carpets. At least when it comes to flawless style, they are. During the 2018 MTV Movie & TV Awards, the cast of Stranger Things looked like their typical fashion forward selves with a bit of a casual spin. It's just proof that no one can ever say seeing these actors on the red carpet isn't exciting.
While the show won't actually air until Monday, June 18, the young actors walked the carpet tonight, but they were missing their co-star Millie Bobbie Brown. Why did she not appear? It's actually a pretty painful reason. According to a video posted to her Instagram account, Brown split her knee cap (which is apparently a thing and sounds ultra painful). She was given orders by her doctor to rest which means no red carpet walking for her. She did, however, wish her co-stars luck and sent them her love.
Just because Brown wasn't there doesn't mean that cast members like Gaten Matarazzo, Finn Wolfhard, Dacre Montgomery, Sadie Sink, and Noah Schnapp didn't totally crush it as usual. After all, this cast is tight-knit, and any time they're together, it's an event. The MTV Movie & TV Awards are no exception.
On the carpet, the stars of the show didn't coordinate their outfits, but they did all work together to make one stylish group of stars. They seemed to take a more casual approach to fashion at this show with both Matarazzo and Sink rocking jeans with some ultra cool jackets.
Totally laid back, right?
Sink's glittering jacket is honestly everything.
While Finn Wolfhard didn't rock jeans, he's definitely got an ultra cool and retro 1960s vibe that looks great on the carpet.
As for Noah Schnapp, he also seems to be rocking a pair of low key black pants, but hello, to that awesome burgundy, velvet jacket.
As for Dacre Montgomery, how cool is he in all white?
With their individual styles, they all look amazing on the red carpet together.
What is the group at the show for, though? They're one of two nominated pieces that are leading the pack of nominees. They're tied with Marvel's Black Panther for the most nominations. Both come in at a whopping seven nominations that fans will have voted for when the show airs.
What are just a few of the Stranger Things nominations? The major nod for them has to be for Best Show where they're up against major hits like Riverdale and Game of Thrones. Then, of course, there's the individual nominations where Millie Bobbie Brown is competing against other actors like Issa Rae and Maisie Williams for the Best Performance award. Of course, you can't forget their ensemble award nomination for Best Team. If nothing else, their red carpet appearance proves that they definitely deserve to win that golden popcorn.
The odds of them taking home trophies actually seems pretty good given their previous track record at the award show. Last year, they were nominated yet again for Best Show and took home the award. Millie Bobbie Brown was also nominated for best actor, and she also got to leave with a shiny golden popcorn. It certainly seems like the results could be the same this year.
Regardless of whether or not they win one of their whopping seven awards that they're nominated for tonight, the cast of Stranger Things totally crushed the 2018 MTV Movie & TV Awards red carpet, but now that these young actors have been in fans' lives for a while, that's really not a demigorgon sized surprise.