Millie Bobby Brown Won't Be At The MTV Movie & TV Awards For A Super Legit Reason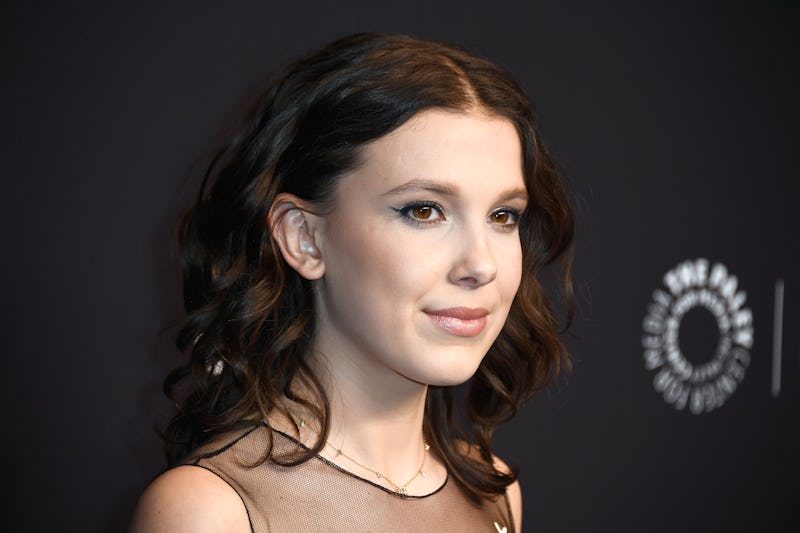 Frazer Harrison/Getty Images Entertainment/Getty Images
Eleven won't be appearing with her squad this weekend, but she has an understandable — and painful sounding — reason. On Friday, June 15, Millie Bobby Brown revealed she won't be attending the MTV Movie & TV Awards after she split her kneecap. The 14-year-old Stranger Things star shared the news of her injury on Instagram in a message where she called the accident a "milestone" since she had never broken a bone before.
Brown told her Instagram followers,
"I've never actually broken a bone except for now. I have split my kneecap, so from the doctor's orders, he told me to rest up and that means that I won't be attending the MTV Awards this weekend. I hope Gaten [Matarazzo] and Caleb [McLaughlin], Finn [Wolfhard], Sadie [Sink], and Noah [Schnapp] have the best time and I love them so dearly, so I wish you guys the best and I'm sending my luck with you, and I'll be there in spirit."
The Stranger Things star hasn't shared any details about how she injured her knee, but here's hoping she has a speedy recovery. And, hey, just because she can't make it to the MTV Movie & TV Awards that doesn't mean the possibility of her taking home a Moon Person is off the table. In fact, Brown is nominated for two awards — Best Performance in a Show and Best Kiss (alongside Wolfhard). Stranger Things is nominated for seven awards total.
Season 3 of Stranger Things began filming in late April, and given that it's only early June, the wrap date is likely still a ways off. As a result, fans have to be asking themselves how Brown's injury will impact filming. Eleven is a physical character, and in the previous two seasons the actor has been involved in big action sequences. That's unlikely to change in Season 3. Could the show possibly write her injury into the story (just imagine Hopper freaking out over El getting hurt)? Or will they take this opportunity to let Brown focus on less physically demanding scenes as her knee heals? Right now, nothing is certain, aside from the fact that Brown needs to take things easy for a while.
Whatever course the team takes in terms of working around the young star's injury, one thing is certain, this show has an amazing cast, and Brown will no doubt be surrounded with support as she recovers from this particular milestone. Here's hoping her co-stars give her a shout-out if the show takes home any awards this weekend, because Brown deserves some love this week. (The MTV Movie & TV Awards are taping this Saturday, June 16, and they're set to air on MTV, Monday, June 18.)
Stranger Things Season 3 isn't expected to premiere until 2019. However, a few bits of information about what's ahead for Hawkins have been revealed. The show is welcoming three new stars to the cast: Maya Hawke as the edgy Robin, Jake Busey as Hawkins Post journalist Bruce, and Cary Elwes as the town's mayor. Additionally, Season 2 scene-stealer Erica (Priah Ferguson) will have an expanded role in Season 3, along with her own group of friends.
It would have been nice to see all of the Stranger Things kids together again at the MTV Movie & TV Awards, but Brown's health has to come first. The 14-year-old is always so giving with her fans, and her support of her co-stars comes through loud and clear in her Instagram video. Even though she can't be there in person, it sounds like Brown will be rooting on her Stranger Things family from her couch (hopefully with her leg propped up and a big bowl of popcorn nearby).