The Cast Of 'The Handmaid's Tale' Kept It Beautiful In Blush At The Emmys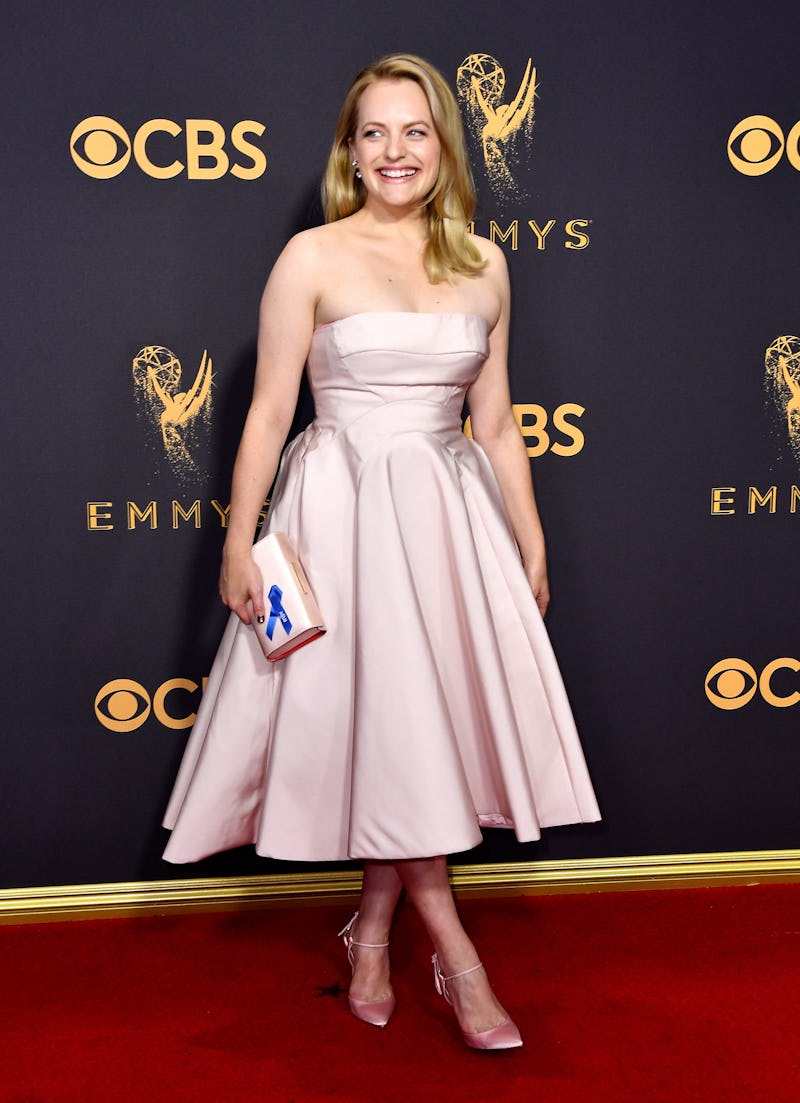 Frazer Harrison/Getty Images Entertainment/Getty Images
With an incredible 13 nominations, it's no wonder the cast of The Handmaid's Tale took over the Emmys red carpet, and it's no surprise they looked great doing it. Fans have come to expect big things from the stars of the show — especially when it comes to fashion — and these ladies did not disappoint.
Elisabeth Moss, the star of the thought-provoking show, has somewhat of a reputation for turning it out on the red carpet, so fashion fans were pretty excited to see her look. Whether she's wearing a little blue dress at the Tony Awards, a gorgeous red gown at the SAG Awards, or something metallic at the Golden Globes, Moss has a way of effortlessly pulling off any style, while adding her own spin to each look. In the past, she's rocked a hot pink lip, bleach blond hair, and a super short cut. And all of it has looked decidedly her.
Fashion loving viewers also had an eye out for Samira Wiley, who was nominated for Supporting Actress in a Drama Series. At the 2015 Emmys, Wiley put herself on the fashion map by walking the red carpet in a gorgeous hot pink gown. And at the SAG Awards earlier this year, she wore a gorgeous gown: a gold floral tea-length dress which she paired with dark lipstick.
Of course, we can't forget Alexis Bledel, who's nominated for Guest Actress in a Drama Series. She recently made a political statement at the Creative Arts Emmy Awards — which are a prelude to the Emmys — earlier this month by wearing a blue ribbon in honor of the ACLU.
With all that potential, these stars were sure not to disappoint. Take a look for yourself.
First up, we had Yvonne Strahovski on the red carpet. The actress, who was surprisingly not nominated for her role as super scary Serena Joy, looked incredible in her gorgeous red gown. She announced to E! News that she recently got married over the summer, so congrats to her!
Next, we got to see Moss, who kept the blush theme going in a soft pink dress. She matched her makeup to her look, with pinks on her eyes, lips, and cheeks. Oh, and pink shoes. And a pink clutch. And, to top it all off, a blue ACLU ribbon.
Love this look, ribbon included.
And then (are we seeing a theme here?), we had Wiley in even more pink. How good does she look? With the high color, geometric cut out, and pretty metallic clutch, her whole look was a fave.
The actress walked the red carpet with her wife, Orange Is The New Black writer Lauren Morelli. How cute are they?
Then, there is the always lovely Alexis Bledel, who looked amazing but definitely threw off the blush theme. Obviously, the ladies didn't plan to match, so it totally wasn't an intentional slight.
That said, there's something cool about Bledel standing out from the pack in a black strapless dress, with bejeweled floral design.
And, last but not least, there was Ann Down, who stars as Aunt Lydia. She didn't keep with the blush theme either, but who cares? After winning an Emmy for Outstanding Supporting Actress in a Drama Series, no one was preoccupied with her fashion. While the powerful actress looked every bit the winner on stage, everyone was way more focused on her beautiful acceptance speech.
With tears rolling down her cheeks, she thanked The Handmaid's Tale author Margaret Atwood, her husband "Larry," her cast mates, and then commented on how grateful she was to win such a prestigious award after acting her whole life. How amazing is that?