Alexis Bledel's 2017 Emmys Dress Is An Edgy Pick — PHOTOS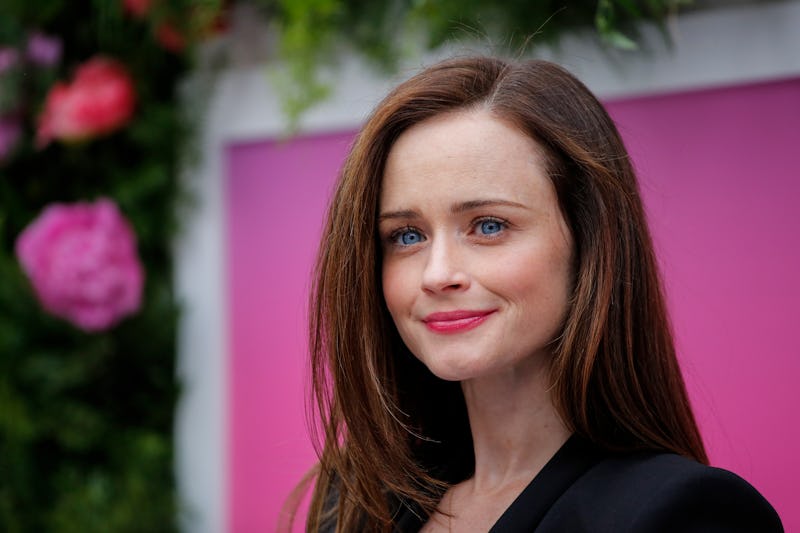 KENA BETANCUR/AFP/Getty Images
Alexis Bledel won fans' hearts the moment Gilmore Girls started airing in 2000. But while her breakout role as sweetheart Rory Gilmore is certainly one of her most memorable, her heart-wrenching role in The Handmaid's Tale has been much praised. And Bledel's 2017 Emmys outfit was fitting for an actress who's clearly up for digging into deeper, more difficult roles as her career continues.
Bledel went into the Emmys ceremony on Sept. 17 having already won the award she was nominated for: Outstanding Guest Actress In A Drama Series, which she nabbed at the Creative Arts Emmys Awards ceremony. It's Bledel's first award win, and according to Deadline, her acceptance speech, in which she thanked costars but also brought up The Handmaid's Tale's partnership with Change.org, was meant "to encourage us all to take action, sign up, speak up and stay awake."
Like Rory Gilmore, Bledel has had a noticeable style evolution, and she showed off a chic, classical look at the Sept. 15 Emmy Performer Nominees Cocktail Reception. She walked the red carpet in an eye-catching red-and-black dress, which according to Just Jared is a Scanlan Theodore piece.
Fans knew to be excited for Emmys night, and Bledel didn't disappoint. Check out her red carpet look for the 2017 Emmys below.
E! News's Glambot captured this long look at Bledel's lovely dress, which, when compared to the outfit she wore at the Sept. 10 Creative Arts Emmys ceremony, a long-sleeved vintage piece with detailed beading — not to mention the blue ACLU ribbon she sported — and to her Scanlan Theodore piece, is a clear example of how varied Bledel's style can be.
This dark dress is one of the more understated of the night, with simple, elegant metallic detailing on the bodice and waist. Bledel also wore minimal jewelry, another difference from her look on Sept. 10, where she sported long, dangling earrings.
Here are some onstage snaps of her ensemble.
Many of the Sept. 17 acceptance speeches are bound to be eloquent and graceful, but Bledel's, given on Sept. 10, has been getting some major press — much like earlier comments she made about The Handmaid's Tale. It's clear she's examined the real-world versions of the show's heavier world-building, where it depicts the gritty, exceedingly misogynistic reality of Margaret Atwood's dystopia.
In January 2017, she told Vanity Fair that, "[The Handmaid's Tale] brings to light different injustices that perhaps we're even experiencing currently when it comes to rights and freedoms. I think that, whew, it just makes it all the more heavy doesn't it? I'm certainly proud to be part of a story now more than ever that focuses on female characters and certainly is likely to spur many conversations about women's issues."
Despite her lauded performance, Bledel admitted to being nervous about being "the weakest link" in the Handmaid's Tale cast. As Vox points out, Bledel wasn't often treated as a serious, talented actress even as Gilmore Girls — and her Rory Gilmore — was sweeping up a healthy fanbase. Even during the press run for the Netflix exclusive Gilmore Girls revival A Year in the Life, Bledel didn't seem to score much positive press. But her sharply emotional performance as Ofglen, especially during devastating moments, and now her Emmy win for that performance, is marking her as someone not to be overlooked.
As another Bustler pointed out, Bledel's outfit at the Emmys ceremony kinda threw off the blush theme her costars had going, but it doesn't matter. Her edgier style at the Emmys gave her the air of seriousness and maturity her role in The Handmaid's Tale deserves.