This 'Charmed' Reboot Actor Has A Message For The Original Cast That Fans Will Want To Hear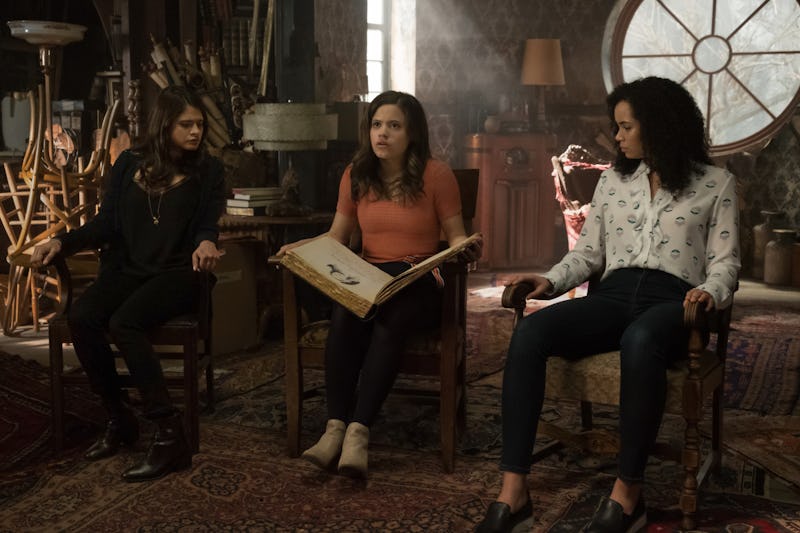 Katie Yu/The CW
While there are a great many number of reasons to be excited for the Charmed reboot (a diverse, inclusive cast, showrunner Jennie Snyder Urman), the original cast members and some fans have been critical of the new CW series. Yet, Ser'Darius Blain said that the cast of the Charmed reboot wants original cast members to return to the series. Speaking with Entertainment Tonight, Blain said he doesn't want to feud with original cast members. The actor, who recently portrayed football player Fridge in Jumanji: Welcome To The Jungle, stars as a potential love interest for Madeleine Mantock's Macy, the eldest sister, in the reboot. Through his conversation with ET, Blain made it clear that he just wants the original and reboot casts of Charmed to get along.
The 31-year-old Blain spoke with ET at the Celebrity Connected event for the MTV Movie & TV Awards on Friday, June 15. "Honestly, it's sad for me," he said when asked about the backlash against the rebooted series. "I don't like that there's so much discord between the old and the new. I wish we could just come together, find a happy medium and all be happy."
The original cast voicing their disapproval of the Charmed reboot dates all the way back to 2013 when Alyssa Milano and Rose McGowan tweeted about it. Both dismissed the idea of a reboot at the time, back when the new series was just in development. In January of 2018, when the reboot finally became a reality, Piper actor Holly Marie Combs tweeted that The CW show was "capitalizing on our hard work." And when the trailer for the new Charmed premiered in May, Combs told HuffPost that she didn't understand "what is fierce, funny, or feminist in creating a show that basically says the original actresses are too old to do a job they did 12 years ago."
According to ET, Blain thinks that one of the reasons for the outrage may be because former shows have been revived with their original casts. (See: Will & Grace, the upcoming Murphy Brown, and the already-canceled Roseanne.) "I think old fans are afraid we're going to completely forget what was built before us or not going to pay homage to it and it's very much the opposite," he said.
Blain will play scientist Galvin in the new Charmed, who has a crush on Macy. TVLine reported that as the oldest sister with the power of telekinesis, Macy is most comparable to Shannen Doherty's Prue from the original series. While Prue had some love interests during her three seasons in the original, including her high school sweetheart Detective Andy Trudeau and auctioneer Jack Sheridan, Blain's Galvin doesn't really have a counterpart. "I'm excited to bring in a new fan base for Charmed and to surprise and shock the old ones as well — bridge the gap between both," Blain said. "Maybe I'll get some superpowers!"
The actor also revealed another reason he is so excited by this role to ET. "I was 12 when the original came out, so I started watching way back then," Blain said. "My cousin was addicted to it too — we had to watch Buffy The Vampire Slayer and Charmed every week — and I really got to love Piper, Prue, and Phoebe. They were always getting into something crazy and saving the world, so we're going to do a lot of the same in this one, but give it our own mark as well."
"We're not trying to replace them at all," Blain added. "I wish them all nothing but the best and hope we get to see each other at Comic-Con or something — hang out, grab some drinks! I hope they don't think we're trying to take their legacy or anything because it's not the case. If we could have them cameo, we would not say no. We're actors — we just want to play!"
To Blain's optimistic point, Combs and the other OG cast members may change their minds once they see the show. "I hope the new show is far better than the marketing so the true legacy does remain," Combs told HuffPost in her May interview. "Reboots fare better when they honor the original as opposed to taking shots at the original. Reboots also do better when they listen to a still passionate fan base which is what it's all about, isn't it? That's why we do reboots. The fans are why we all get to do what we do. So we wish them well and hope for success."
If what Blain says is true about the new cast paying homage to what was done before, perhaps the uproar about the Charmed reboot will die down once it premieres this fall. Because just think how glorious it would be for fans if these two casts presented a united, magical force of good.