Why 'The Chilling Adventures Of Sabrina' Almost Didn't Become A Netflix Series — Seriously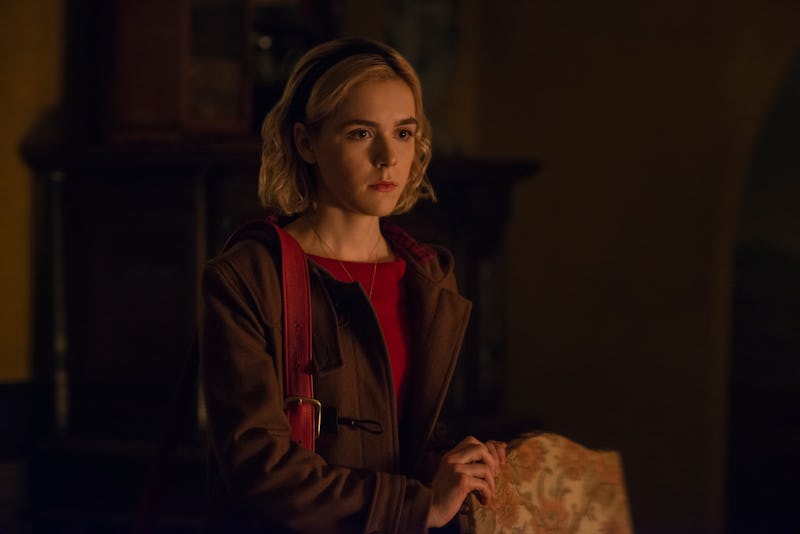 Diyah Pera/Netflix
For those looking forward to joining Sabrina's chilling coven, know it almost didn't happen. Apparently, The Chilling Adventures Of Sabrina almost didn't become a Netflix series because Sabrina, the teenage witch, was originally headed for Riverdale. And if Sabrina Spellman had, she would have turned Riverdale into a horror show — quite literally.
In an interview with Entertainment Weekly, The Chilling Adventures Of Sabrina's showrunner Roberto Aguirre-Sacasa revealed that he originally planned to have Sabrina join Riverdale, where he's also the showrunner. "During season 1 of Riverdale — before Riverdale exploded and found its footing as sort of a noir, crime, pulp show — we had said, 'Maybe season 2 will be like [the comic] Afterlife With Archie," Aguirre-Sacasa said mentioning the Archie comic he started writing in 2013 that focuses on a zombie apocalypse in Riverdale.
Aguirre-Sacasa said the plan was originally to do "a big genre switch" with Riverdale Season 2. "It will be horror, and it will be Afterlife and Sabrina could come and be the antagonist,'" he continued. "There was even a time when we talked about the Season 1 cliffhanger being the arrival of Sabrina." So why did he change his mind? Well, because this huge change didn't seem like it fit the direction Riverdale was headed, which is Twin Peaks meets 90210 with way more zaddies.
In his opinion, it seemed as if Sabrina deserved her own zip code. "It felt like there was a separation between Greendale and Riverdale — magic should exist in Greendale," he said, "but not in Riverdale. That was the thought."
At one point, Aguirre-Sacasa told EW, that his thought was also that Sabrina would be a "low-budget horror movie" from Blumhouse, the production company behind Get Out, who ultimately passed on his idea. Don't worry, he agrees that Sabrina's story is much better told through seasons of TV than just one movie. Now fans will get a chance to see this witch come to life when the first season of The Chilling Adventures Of Sabrina, which is based on the 2014 comic of the same title written by Aguirre-Sacasa, starts streaming on Oct. 26.
As a teaser, the new Chilling Adventures Of Sabrina trailer gives a sneak peek at Sabrina celebrating her Sweet 16, which also happens to be the day in which she has to choose between the witch world or the human world. Yes, it's safe to say Kiernan Shipka's version of Sabrina is going to be much darker than Melissa Joan Hart's. (And yes, Hart is totally into the idea of this new Sabrina.)
This Sabrina might be different, but the show still focuses on her coming of age, not unlike what Archie and his gang are going through over in Riverdale. The only difference is, Sabrina has to not only deal with her raging hormones, but the horned demon who is trying to coax her into the dark arts. From the looks of the Chilling Adventures Of Sabrina it's clear we're not in Riverdale anymore — and that's just the way Aguirre-Sacasa wants it.