The 'Roseanne' Spinoff Isn't Going To Mention Trump, But It'll Still Feel Political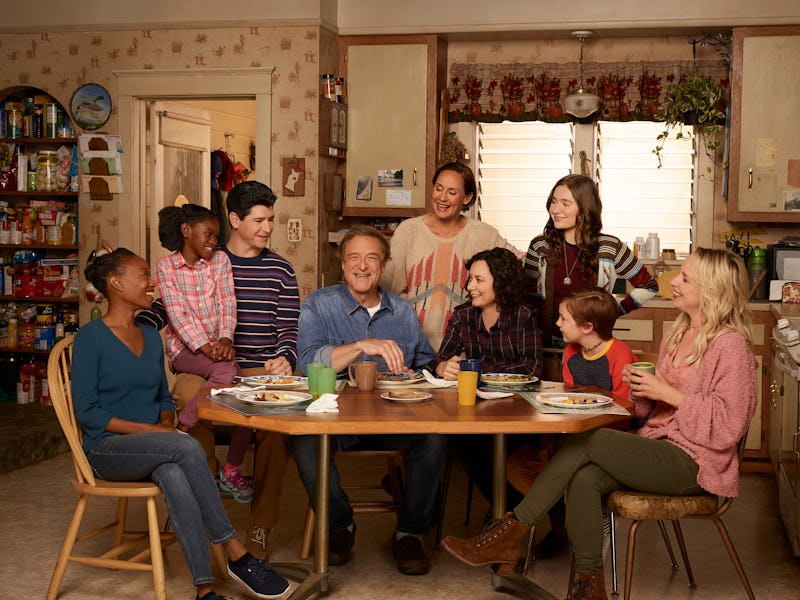 ABC/Robert Trachtenberg
While it's hard to say exactly how the spinoff of Roseanne is going to change without the presence of the show's titular character, all signs point to things evolving into something much bigger and better for the Conner family and its viewers. With its premiere date now right around the corner, executive producer Bruce Rasmussen revealed to Variety that The Conners won't make reference to Trump going forward and it's a modification that will probably make for better storylines for many of its dynamic characters.
Though the show proved to be a ratings success for ABC when it premiered back in March, the Roseanne revamp was continually shrouded in controversy due to the fact that Barr and her on-screen characters were both Trump supporters. Despite its discussions about the 2016 election, health care, and gender nonconformity, which proved to be popular with many, there were a great deal of cringe-worthy moments and comments on the show that made some viewers feel uncomfortable with its context. Matters would only become worse when racist tweets were posted by Barr about President Barack Obama's former advisor, Valerie Jarrett ultimately causing the show to be cancelled in May. After axing the show, and parting ways with Barr, the network created The Conners, which which will pick up where it left off sans the show's original creator and star.
As show-runners move forward with the series' beloved narrative, Rasmussen promises that it will continue to address important social and political topics just as it has in the past, but — this time — without Barr's pro-Trump influence. In a recent discussion with Variety, he explained:
"We're writing in the same way we wrote last year about the economic things. If some of those feel political, they're political, but we're not doing any more of the Trump stuff. It's more about working-class people and how they live their lives. If that comes off as political in spots then that's how people will perceive it."
Following her firing, Barr agreed to part ways with the show and is reportedly not benefitting financially from the spin-off, per a statement from ABC. That said, it is immediately unclear how the show will handle the departure of the show's wise-cracking matriarch in its return. People notes that during an interview on Brandon Straka's YouTube show, "Walk Away," Barr made claims that her character would "die of an opioid overdose."
Rasmussen would also address the topic during his chat with Variety. However, he was sure to steer clear of providing any spoilers for the show's Oct. 16 debut, sharing:
"We want people to watch the show and see what happens and how we [wrote Roseanne off]. You don't want to be flip about how you do this. A lot of people cared about that character and it's separate from whatever feelings they had about the person and her political views and the things she said. We wanted to honor that character. People can have their opinions after that."
In June, a statement announcing the upcoming 10-episode season explained that The Conners will show the family come together "after a sudden turn of events" as they collectively find "common ground through conversation, laughter and love." The release goes on to say that the series "will continue to portray contemporary issues that are as relevant today as they were 30 years ago."
With the current social and political climate, it is certainly important to have discussions which will help to create positive change. And if that can be done without promoting oppressive ideologies, The Conners may prove to be a must-see.