Fans Can Finally Listen To The Hilarious 'Crazy Ex-Girlfriend' Season 4 Theme Song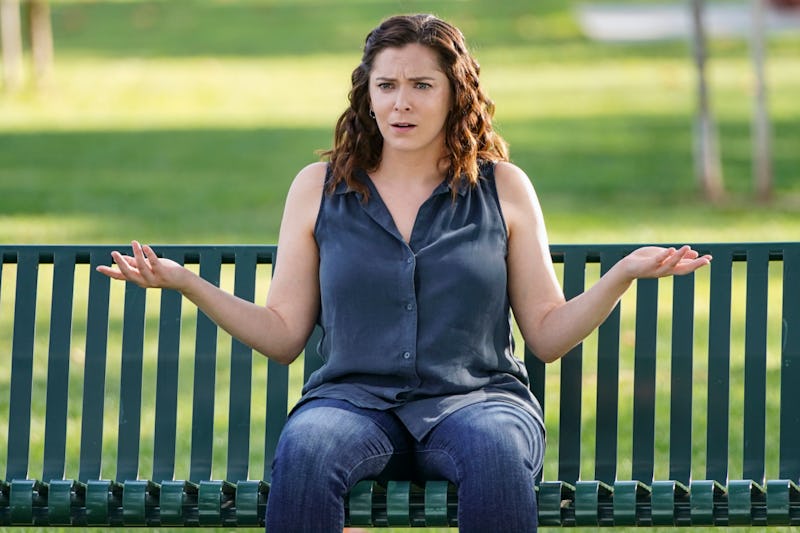 Tyler Golden/The CW
Crazy Ex-Girlfriend has delivered some phenomenal songs throughout these past four seasons, however, a few of the most memorable numbers have occurred not during the episode, but rather during the intro. And apparently the final season is going to be no exception. The Crazy Ex-Girlfriend Season 4 theme song has been released and it introduces a brand new Rebecca Bunch that proves to be a little difficult to describe or summarize.
The opening theme songs to Crazy Ex-Girlfriend have always provided a bit of a teaser as to what the new season would be about. For example, Season 1 offered some context into Rebecca's decision to move from New York City to West Covina, though her persistence in saying that she didn't move to be with Josh ("It just happens to be where Josh lives, but that's not why I'm here") only reaffirmed that she was lying to herself just as much as everyone else. Season 2 was all about being in love, as the show allowed Rebecca and Josh's relationship to fully bloom. Then Season 3 took a much darker turn as Rebecca faced the consequences of her actions and came to terms with mental illness.
Cut to the fourth and final season and the theme song goes back to being playful — first introducing a Rebecca who's got her life all figured out — before cutting back to the less glamorous Rebecca (our Ms. Bunch) who is sitting on a park bench trying to figure out what's next.
The song goes on to try and describe our Rebecca while flashing back to moments from past seasons. She's "spunky, sweet, a generous friend," but then she can also be kinda mean. In the end, it's discovered that Rebecca is too complicated to try and summarize or make fall into any particular niche. (You could say that the situation is a lot more nuanced than that.) It's a fitting final theme song for the show and further proof of just how self aware the series is.
During San Diego Comic-Con this year, Rachel Bloom, who plays the titular character, teased out what the new theme song would be, even going so far as to sing a little of it out loud for the audience, which can be seen in a video provided by Vulture editor Jordan Crucchiola. "Meet Rebecca! She's the coolest girl in the world! Wait, wrong Rebecca," Bloom sang to the crowd while adding that "the camera realizes we're looking at the wrong girl and we pan over to me in the part."
Bloom went on to describe the rest of the scenario in full, but seeing it play out on-camera truly brings the message home. All of us can relate to not loving every single aspect of ourselves, and you know what, that's totally normal. But now Rebecca is ready to show the world who she really is, flaws and all. It may not be a future shrouded in hearts and glitter, but at least this new Rebecca feels comfortable in her own skin.