'The Cry' Star Jenna Coleman Explains Why Being a Good Mom Is So Subjective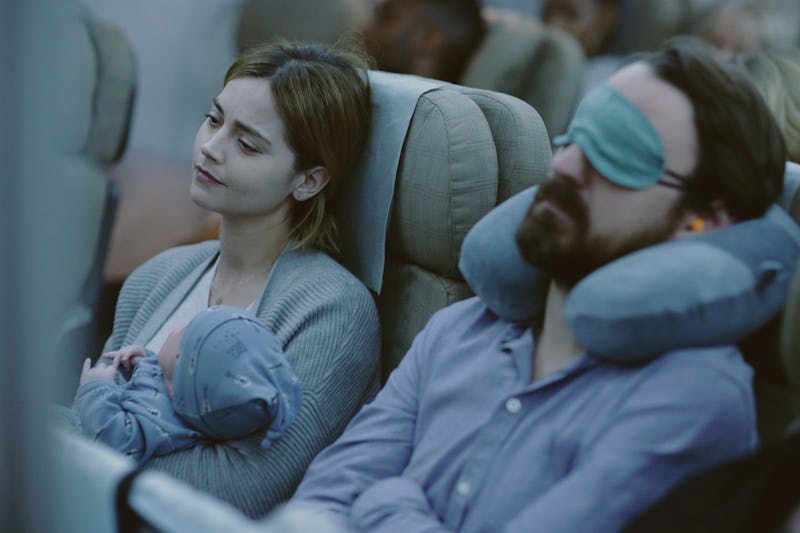 Sundance Now
Spoilers ahead for The Cry Episodes 1-4. It's no secret that motherhood is difficult, but in movies and TV, the more grueling aspects are often glossed over in favor of pleasant depictions of happy, made-up moms pushing bespoke strollers around the park. In The Cry, which premiered Nov. 8 on Sundance Now, Jenna Coleman plays an overwhelmed new mother named Joanna. She struggles to get through the day with her son, Noah, and getting out of the house is an uphill battle.
Her postpartum depression is traumatic enough before Noah seemingly disappears while she and her boyfriend Alistair (Ewen Leslie), are traveling in Australia. And if that whole ordeal weren't enough, she can't even grieve privately. The police begin investigating the child's disappearance, and as a result, Joanna becomes a public figure exposed to all of the criticism that involves. What follows is a thoughtful interrogation of the pressure on new mothers and the Greek chorus that's quick to speak out at any misstep.
"There's a lot, a lot of judgment," Coleman tells Bustle over the phone of how mothers — and particularly her character — are perceived when something goes wrong. It's no secret that Joanna is the subject of vitriol in the series: She's arguably perceived as a homewrecker, an evil stepmother, a liar, a bad mother. In Episode 2, audiences see Coleman's character reading internet comments about herself, and while this is never a good idea, it's doubly true in her case. "What about the mother, Joanna?" one woman posits online, suggesting she killed her child. "Cold eyes." In Episode 3, a commenter claims she's lying, citing her body language during a news conference.
And although Alistair should be criticized just as much as Joanna, the characters in The Cry only seem to be concerned with picking apart Joanna's parenting skills. This is most obvious on the airplane from Scotland to Australia: Joanna is desperately trying to pacify Noah, who is crying uncontrollably. Several passengers register complaints with the flight attendants while Alistair sleeps right next to her, undisturbed.
That said, neither is Joanna the picture of maternity. Before Noah goes missing, it's clear that she's frustrated and overwhelmed by the sheer responsibility of parenthood. And while Alistair wants to regain custody of his daughter, Chloe, Joanna's not so sure. "What I loved about the character, as well, is we don't set her up as purely the victim," Coleman says of Joanna. "Like, she's completely flawed. I mean, she leaves her child in a different room and falls asleep and leaves him crying on his own. So we introduce her as not a perfect mum at all."
Joanna, too, is terrified that she's a bad mother and calls her best friend, Alexandra (Asher Keddie), to ask her as much. And while it's revealed in Episode 3 what really happened to Noah, audiences later learn that it was really Alistair's fault, not hers. But he allowed Joanna to believe she'd killed her own child, and she's tortured by what she believes is blood on her hands. Meanwhile, Alistair's negligence is really to blame. On top of all that, Joanna's forced to grieve on camera and pretend that her baby's been kidnapped. "[S]he has to be completely emotionally raw but also suppressed because... she's living with this secret and this guilt and also dealing with such grief," Coleman explains. "So it's kind of like pushing someone to the end of what they can cope with but also suppressing it and trying to hold it together."
Although Coleman's not a mother herself, she recalls asking her friends about their experiences, which informed her show-stopping performance. "I was just asking all the questions, you know — 'What does lack of sleep do to you?' 'What are your emotions doing with your hormones after you've had a baby?'" she recalls, explaining that you can't have a cup of tea while holding a baby in case any of the hot contents spill. "You know, just tiny details of stuff that you don't consider before you have children," she says. "The extent of the tiniest things that change your everyday life."
The Cry isn't Coleman's first time playing a mother onscreen. The actor also plays the titular queen in the British series Victoria, in which her character has several children. "Motherhood and maternity bras has been my year this year, it seems," the actor jokes. And while these two mothers are from completely different time periods, Coleman cites something interesting from her turn as the English monarch. "I think what really stuck to me is in Victoria, after [she had] a baby, she was forced to lie down for months," she says. "We call that confinement, where it's so her body can recover, and she can recover. I mean she hated it, because she wanted to go back to work the next day."
However, the Doctor Who actor points out that nowadays, women are expected to recover almost instantaneously. "[I]t's kind of like, you can have a baby, be at home six hours later, and your husband is back at work within two weeks... and then you just carry on," she says.
However, it's not always as simple as that, and it's evident that Joanna has a difficult time "carrying on." In Episode 1, she decides to take Noah for a walk, which leaves her exhausted. "I see women out with their babies walking around like it's nothing," she laments to Alistair. "I never even saw them before Noah. Now I look at them like they're marathon runners. I just want to yell out at them, 'You're amazing!'"
So although Joanna clearly struggled, does Coleman think that her character was a good mother? "I mean, what really defines a good mother?" the actor challenges. "I think that's maybe one of the problems of society." She adds that motherhood often has an ethereal quality to it — that women are supposed to feel enlightened and happy when that's obviously not always the case. "But I think given our society and given pressures and given... mothers who want to work, I think maybe we need to take a look at what we think is a good mother," she says. "How can you define those terms, when it's so individual for everybody?" Perhaps that's exactly the point.