Twitter Agrees That The 'Bachelor' Dads Were The BEST Part Of Hometown Dates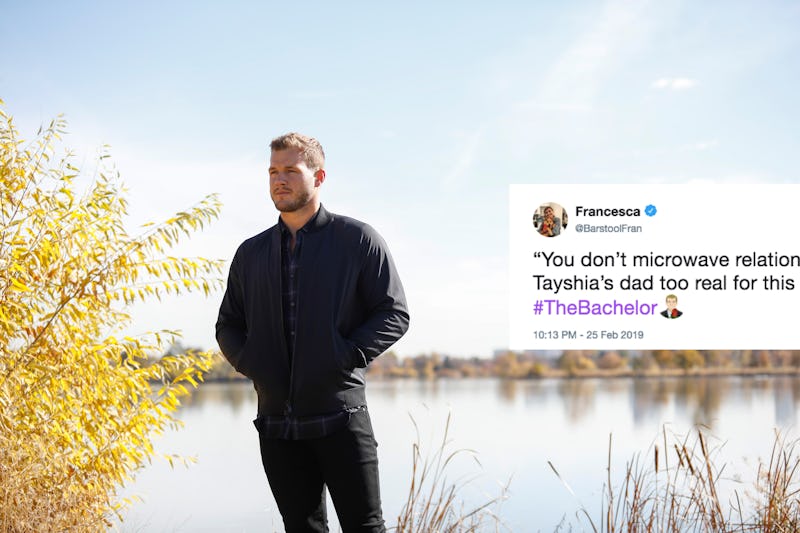 ABC/Josh Vertucci; BarstoolFran/Twitter
For weeks, Colton Underwood and his Bachelor contestants have been traveling around the world together. But during hometown dates, their relationships became a lot more real, since families got involved. This experience provided viewers with some new standout characters: the fathers. Yup, the dads on The Bachelor were fans' favorite part of hometowns. Their daughters all wanted those roses from Colton, but what did the dads think? For the most part, they were not so sure.
Maybe they just haven't seen this show before. It's also possible that they just didn't think their daughter would get to this point in the "journey." The dads probably thought their kids would just go away for a couple weeks, score some Instagram followers, and peacefully post discount codes for detox teas without getting engaged to someone whose phone number they didn't even have.
And then there was Colton, asking all four dads about marrying their daughters. Of course, he pretty much had to do that. This is how the show works, but are you truly asking one person for a blessing if you're asking three others for the same exact thing? It's debatable.
Even so, Colton navigated the hometown dates as best as he could, even with the reasonable doubts from the women's dads and other family members. No one can blame the dads for being skeptical. Nevertheless, they managed to bring the most endearing moments to the episode. It was a dad takeover on Bachelor Twitter on Monday night.