The 2017 Oscars Broke An Overdue Record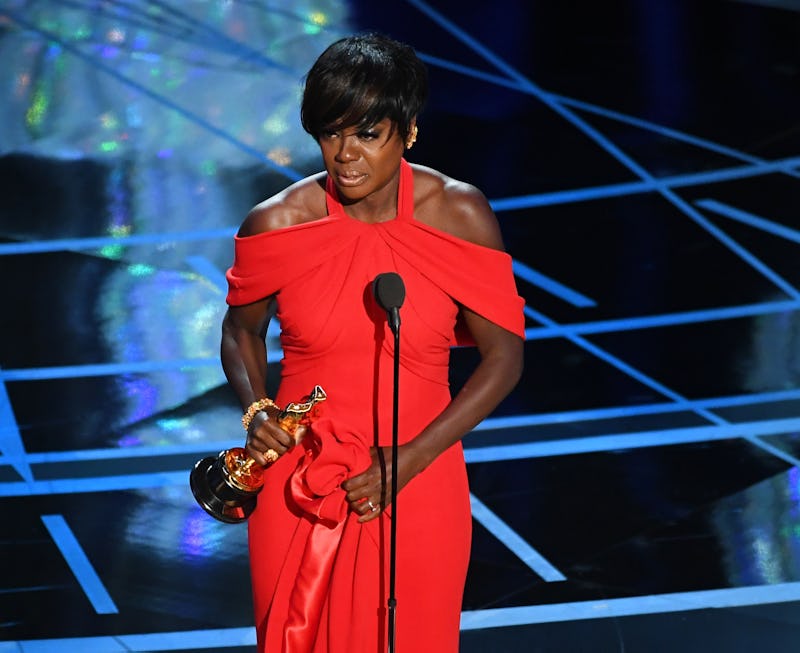 Kevin Winter/Getty Images Entertainment/Getty Images
Sometimes record-breaking wins at awards shows come with lots of fanfare and excitement. Other times records are more surprising because it's taken so long to break them. For example, as Vulture pointed out, the record for the most black Oscar winners in one year is only three, making even four a record-breaking shock.
During the 2017 Academy Awards, within just an hour and a half, three black winners had already been awarded: Mahershala Ali as a Supporting Actor in Moonlight, Viola Davis as a Supporting Actress in Fences, and Ezra Edelman for documentary O.J.: Made in America. So when Barry Jenkins and Tarrell McCraney went on to win Best Adapted Screenplay, it meant that 2017 had the highest number of black winners to ever take home statues on Oscar night. Then there was Moonlight's Best Picture win upping that number further.
This was all thrilling, especially after two years without a single acting nominee of color, and several big behind the camera snubs, like Ava DuVernay's work on Selma. But this also demonstrated that progress is incredibly slow — while there have been dozens of black nominees in the Oscars' nearly 90-year history, no more than three have ever been awarded in the same year. Vulture pointed out this record on Twitter, which rather starkly served as a reminder that while things like April Reigns' #OscarsSoWhite campaign have served to raise awareness on how few people of color are nominated every year, there's still a long way to go.
Let's be real: It's about time that this record is not only broken, but shattered completely. There's so much more to do after this one record is broken — for example, there's more than just black artists who deserve more representation. Other artists of color have been continually ignored or overlooked, and once again there's no female directors nominated. Queer, trans, and/or gender-nonconforming artists have also been overlooked for years, and got a shoutout from McCraney during his portion of the speech.
And while it's shocking that it's taken this long to break the record for black winners, after 89 award ceremonies, this year should be used to take a real step forward in making sure the Academy Awards work towards honoring both more diverse nominees and actually giving them some awards.