Dictionary.com's Word Of The Year Is A Major Jab At Ivanka Trump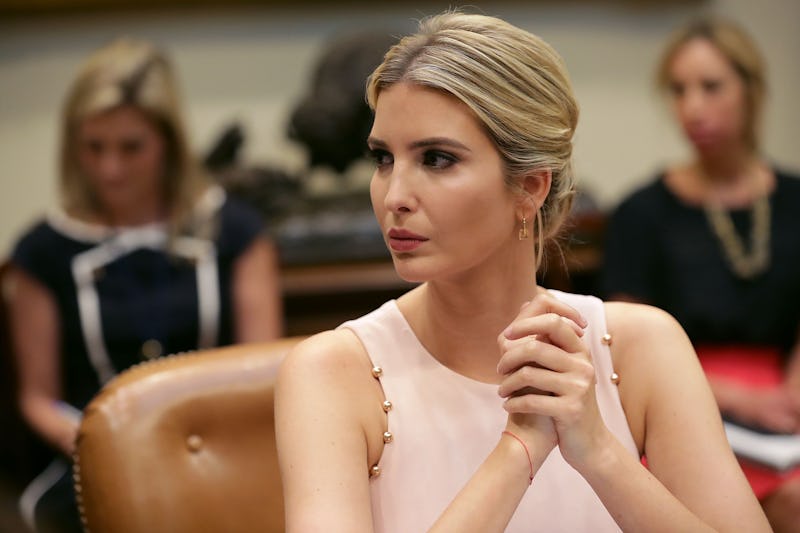 Chip Somodevilla/Getty Images News/Getty Images
Each year, Dictionary.com chooses a "word of the year," a word — backed up by search data — that simply defines the past year. On Monday, the digital dictionary announced that it has chosen "complicit" as Dictionary.com's 2017 word of the year. Look out, Ivanka Trump.
"Complicit has sprung up in conversations about those who speak out against powerful figures in institutions, and those who stay silent," Jane Solomon, a lexicographer at Dictionary.com told the Associated Press.
The word is possibly most easily recognized as being used to define Ivanka Trump, the daughter of President Trump who many thought would use her power to denounce some of the extreme and xenophobic (fun fact: "xenophobia" was Dictionary.com's 2016 word of the year) policies that her father proposed. When she stayed silent as he called for a ban on Muslims and to build a wall along the Mexican border, people started calling her out.
Saturday Night Live introduced a "new fragrance" called "Complicit" for Ivanka Trump on a March episode, which caused the first spike Dictionary.com saw in searches for the word — according to its word of the year announcement page, the day after the SNL sketch aired, Dictionary.com saw a 10,000 percent increase in searches. The fake perfume commercial called it, "the fragrance for the woman who could stop all this, but won't."
Ivanka herself ultimately responded to critics who called her complicit by suggesting she didn't know what it meant. She told Gayle King on CBS This Morning:
If being complicit is wanting to be a force for good and to make a positive impact, then I'm complicit. I don't know that the critics who may say that of me ... would do any differently than I'm doing. So I hope to make a positive impact.
After this interview aired in April, the website saw an 11,000 percent increase in searches.
Dictionary.com defines complicit as "choosing to be involved in an illegal or questionable act, especially with others." In its announcement of the word of the year, Dictionary.com responded specifically to Ivanka's definition of it, stating:
As many of you know from looking up the definition of complicit, there's nothing positive or good about it. In fact, being complicit is decidedly negative, as it means that a person is involved with someone or something that's wrong. Whatever your politics, this meaning is not up for debate.
In fact, after Ivanka initially said she didn't know what complicit meant, another well-known dictionary responded to help her out. Searches for complicit also spiked on Merriam-Webster's website. The dictionary company let Ivanka know that it defines complicit as "helping to commit a crime or do wrong in some way."
In announcing the 2017 word of the year, Dictionary.com also made a salty joke at President Trump's expense, initially declaring that "covfefe" had been selected, before saying jk, jk.
But while the website had some fun with the announcement on Twitter, in its post, it made clear that this is no joke. Dictionary.com listed ways that complicity has hurt the United States this year, pointing out the following ways people have been complicit this year:
"EPA chief Scott Pruitt has been complicit in his refusal to acknowledge that humans play a primary role in climate change."
Regarding the sexual assault and harassment allegations that have rocked the United States these past few months: "These powerful men could not have harmed so many people for so many years without the complicity of their associates and the established practice of 'turning a blind eye' to misconduct."
"President Trump's statement following the events in Charlottesville in August, in which he said 'both sides' were to blame, showed his complicity with ideologies that promote hate, especially directed toward marginalized groups."
Regarding "fake news" that was able to permeate social media platforms during the 2016 election: "To what extent are these companies complicit in the propagation of propaganda, fake news, and disinformation?"
Dictionary.com ended on a call to action, saying it was most inspired to choose the word because of people who refused to be complicit, citing the Women's March, the #TakeAKnee protests, the #metoo stories, and resignations from the Trump administration.
"It's a word that reminds us that even inaction is a type of action," it wrote. "The silent acceptance of wrongdoing is how we've gotten to this point. We must not let this continue to be the norm. If we do, then we are all complicit."