'Dimension 404' Puts Familiar Faces In Weird Worlds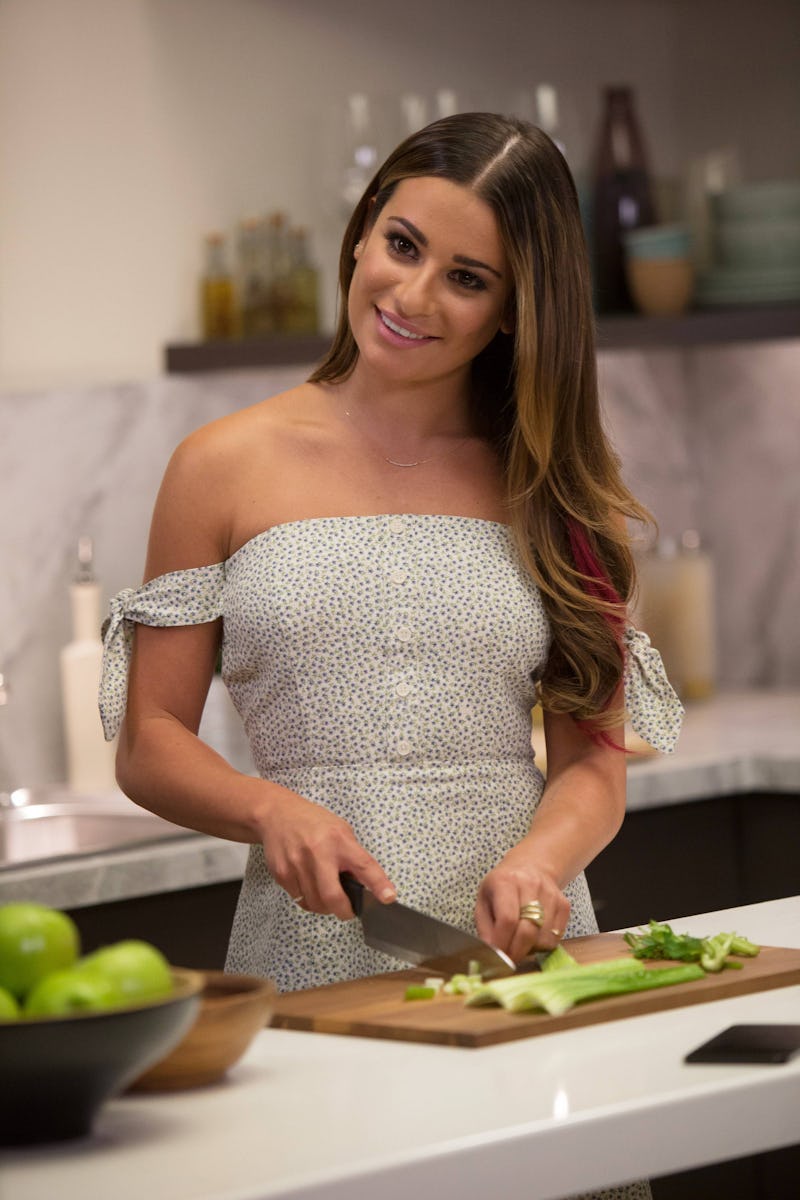 Michael Moriatis/Hulu
Hulu is dipping its toes into the "technology-inspired anthology horror"-genre popularized by Black Mirror with Dimension 404, and it has collected a wide assortment of recognizable actors and actresses to bring these twisted tales to life. And much like Black Mirror, the cast of Dimension 404 is made up of both already established actors and up-and-comers to help guide viewers through this new, sinister worlds. Despite the similarities, Dimension 404 differs in that while Black Mirror collects some of the UK's best dramatic performers, Dimension 404 takes a much more light-hearted approach and has cast some of America's most esteemed comedic talents to fill out the cast.
Fans of the popular Youtube channel Rocketjump likely recognize many of the behind-the-scenes faces responsible for Dimension 404 — but the team behind the popular Youtube channel reached out for some big mainstream talent to help bring their vision to life on Hulu. The cast of Dimension 404 ranges from stars of some of television's biggest sitcoms to alt-comedy icons and a very special inclusion of a living nerd legend. Dimension 404, being an anthology series, tells a new story with a new cast every episode — so while few actors stick around for more than one episode, that means there are plenty of opportunities to give different actors a chance to shine. Here's a look at some of the faces you'll see when you visit Dimension 404.
Lea Michele
The former Glee star is no stranger to horror, having recently played a major role in Scream Queens, but Dimension 404 will be the actresses' first foray into science-fiction. Michele plays Amanda, a woman who finds herself on a peculiar dating app that may encourage you to have an Appless April.
Constance Wu
Constance Wu is known for being the best, mostly through her stellar performance on Fresh Off The Boat and her passionate, unyielding Twitter presence. Now, Wu will be able to add her performance as military psychologist Jane on Dimension 404 to reasons why she should be cast in literally everything.
Joel McHale
Joel McHale may be confused by technology in his starring role on The Great Indoors, but on Dimension 404 he's all too familiar with modern technology. McHale plays "Mr. Maker," the man behind a popular dating app with some unique implications.
Megan Mullally
Mullally does goofy better than just about anyone on the planet, as evidenced by her scene-stealing performances on Will & Grace and Parks & Recreation. Oddly enough, Mullally plays against type in Dimension 404 as a "no-nonsense military commander" who leads the charge to the future of technology in warfare.
Robert Buckley
Buckley is no stranger to science-fiction television, currently playing Major Lilywhite in iZombie, and is bringing his charm to Dimension 404 in a distorted love story with Michele's Amanda.
Ashley Rickards
If you recognize Rickards, it's likely from her lead performance in the recently-ended and supremely funny MTV sitcom Awkward. Rickards' Dimension 404 character is confronted with the opportunity to go time-traveling with a childhood cartoon idol, which may actually end up being just as awkward as the sitcom that she's most known for.
Sarah Hyland
Sarah Hyland is used to dealing with ridiculous and absurd antics as Haley Dunhpy on Modern Family, but in Dimension 404 she'll be dealing with a much more sinister type of absurdity when she goes to visit a movie theater offering a sinister "Cinethrax" experience.
Patton Oswalt
The beloved comedian and self-professed cinema buff Patton Oswalt is a perfect fit for Dimension 404, and it's no surprise that he'll be featured heavily in the episode that takes on movies. Oswalt plays the uncle of Sarah Hyland's character, who accompanies her on a mysterious "Cinethrax" movie experience, and discovers it to be much more than he ever could have expected.
Mark Hammill
For a show as proudly nerdy as Dimension 404, there's no better catch to get to play the series narrator than Luke Skywalker himself. Hammill delivers the shows intro, explaining the nature of Dimension 404 in a nod to the grandmother of all sci-fi anthology shows, The Twilight Zone.
Much like how many of the actors and actresses that appeared in Black Mirror went on to become recognizable film and television stars, Dimension 404's cast has some up-and-coming talent that could blow up after appearing on this stateside anthology. The series doesn't rely on new talent, though, and has plenty of established actors who are certain to bring some weight to the odd world of Dimension 404, which is streaming now.