This New Documentary About Women Running For Office Will Leave You So Inspired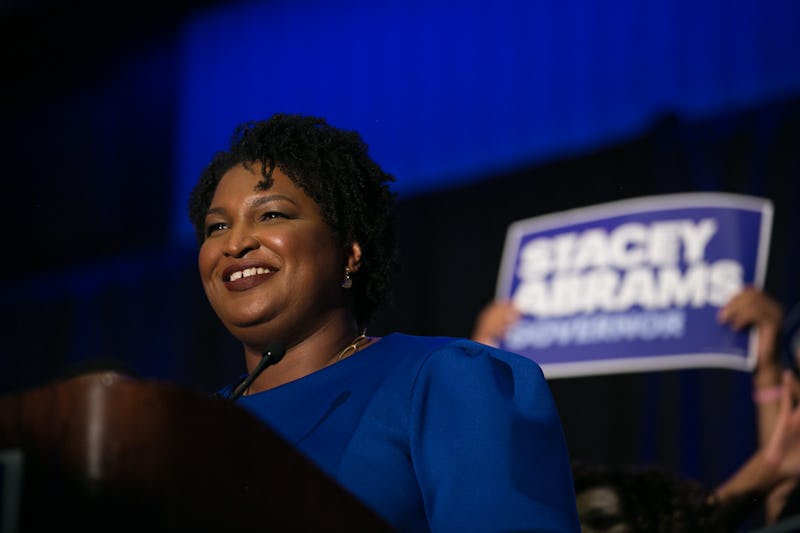 Jessica McGowan/Getty Images News/Getty Images
For many women around the country, Nov. 9, 2016 was a day of mourning. Witnessing the results of the prior day's election, when a capable female politician lost to a man who made no attempt to hide his own misogyny and racism, was a crushing experience for many of us. But it also created a spark. Since the 2016 election, an unprecedented number of women have decided to run for office, and a new documentary called She's the Ticket follows five women for whom Trump's win was the instigating moment in their own campaigns.
Directed by Nadia Hallgreen, She's the Ticket is a docu-series that is up for award consideration at SeriesFest this June within the Colorado festival's digital shorts series competition. The series details the political aspirations of Stacey Abrams, Laura Moser, Jennifer Carroll Foy, Christine Lui Chen, and Crystal Murillo, following them as they hit the campaign trail in hopes of changing history. All five women come from different backgrounds and are at different points in their careers, but they share similar goals. The series is amplifying voices that need to be heard, much in the same vein of SeriesFest, where it will be shared. The festival itself is featuring a panel dedicated to female showrunners along with offering a scholarship to "nurture the power of strong, independent female storytelling in television and film."
And the women featured in the doc are doing some incredible things. If Stacey Abrams wins her run for Governor of Georgia, she'll make history, as no African-American woman has ever been elected to serve as a state governor. Abrams already has an impressive life; she's a tax attorney, the first woman to lead in the Georgia General Assembly, and the first African-American leader in the state's House of Representatives — not to mention a celebrated romance novelist. Though she keeps her political and erotica pen names separate, she's not ashamed of her second career. "I'm perfectly comfortable talking about this income tax exemption and this really sexy guy that I wrote into a book," Abrams says in the documentary.
Laura Moser, meanwhile, became Internet famous for a moment any parent can relate to. When at the White House for a Passover seder, her daughter had a meltdown in front of then-president Barack Obama. The image went viral, but Moser's daughter, Claudia, has become more than just a meme. She's the inspiration behind Moser running for Congress in her home state of Texas. "God grant me the confidence of a mediocre white man," Moser says in the doc's trailer, evoking the popularity, and power, of the web once again.
Then there's Jennifer Carrol Foy. After a landmark Supreme Court case forced the Virginia Military Institute to finally admit female students, Foy was one of the first women to attend and graduate from the prestigious military academy. Now, the public defender is running for a seat in Virginia's House of Delegates, having won the Democratic primary by just 14 votes, while also pregnant with twins. No big deal.
Another inspiring woman is neuroscientist and healthcare expert Christine Lui Chen, who is running for the State Senate in New Jersey and has healthcare high on her list of priorities. Having had a husband who is a cancer survivor, Chen knows how important access to healthcare is for all.
And finally, there is the youngest of the group, 23-year-old Crystal Murillo. A Mexican-American, she felt motivated to take action upon hearing Trump's campaign commentary about immigrants and his determination to build walls rather than bridges. Murillo is starting out small at the city council level in her home town of Aurora, Colorado, but don't be surprised to see this young woman's name rise higher and higher in political circles.
She's the Ticket reminds us all that, even when things feel hopeless, and when higher political offices seem out of touch or out of reach, there are women at every level trying to make change. And if the election results sparked a fire in you too, there's always something to do, from running for office yourself to supporting any of these amazing women in their campaigns.
If you're in Colorado, you can catch She's the Ticket at SeriesFest from June 22-27. Otherwise, you can watch these five women in individual episodes online at Topic. But the most important thing you can do is get out and vote this fall. The midterm elections are when some of the most important races are decided, and two years into this presidential term, we women of America have to make our voices heard.
Bustle is sponsoring SeriesFest Season 4, which takes place in Denver, Colorado, on June 22-27, 2018.