Here's What Prince Harry Likely Said To Meghan In That Sweet Moment At The Royal Wedding Altar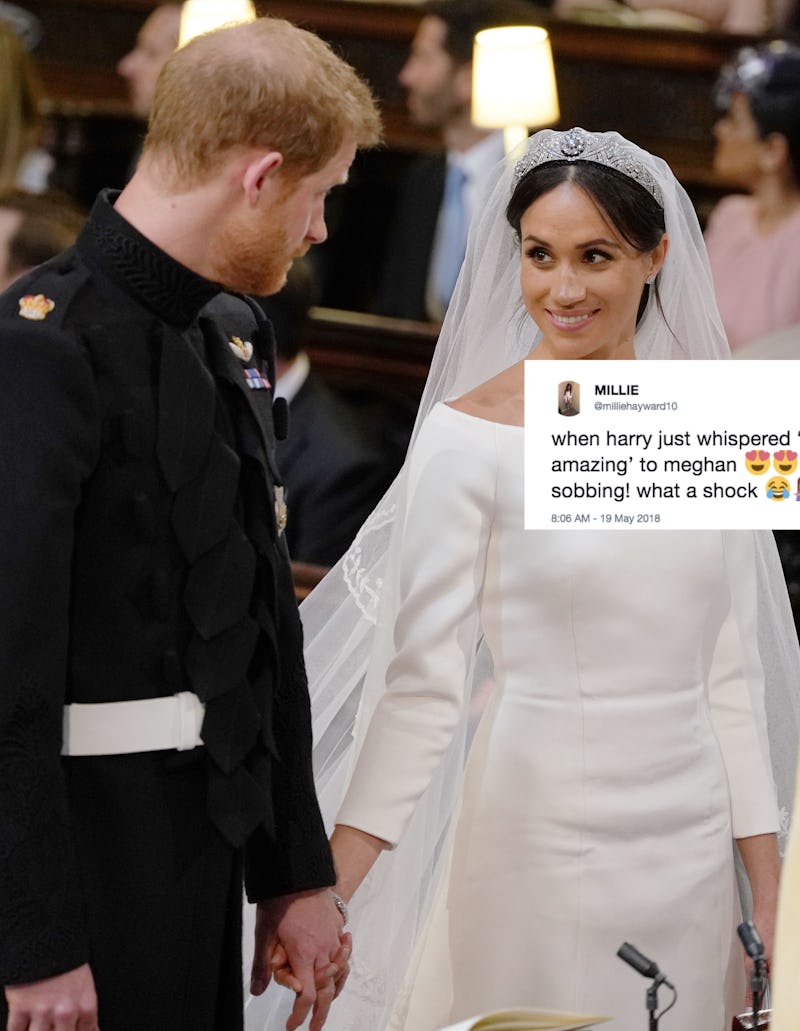 WPA Pool/Getty Images Entertainment/Getty Images; milliehayward10/Twitter
All eyes were on Meghan Markle as she walked down the aisle on Saturday, May 19. And of course, that included her soon-to-be husband's. But what did Prince Harry say to Meghan at the royal wedding altar? The couple exchanged a sweet moment that had all of Twitter talking. Let's investigate what he might've whispered that spurred a smile on the former Suits actor's face.
Ever since Markle began her walk down the aisle at St. George's Chapel at Windsor Castle, Harry appeared unable to contain his excitement — but in the most endearing way possible. Twitter was gushing over how sweetly he looked at his partner, in total awe of her presence (and likely that beautiful white gown). It's once they were standing side-by-side that the whispering began, showing that even in a crowded room, at a ceremony streaming all across the world, it's as if they were the only two there.
Considering the quiet convo was a special and very brief moment between the couple, it's impossible to know exactly what he uttered, but don't worry, here's a thorough investigation of the moment that may go down in royal wedding history (or in the very least, royal family fans' hearts).
The General Consensus Is...
Most people are hopping on the theory that Harry whispered, "You look amazing" to Markle. The way his mouth moved, it's definitely a strong contender for what exactly the compliment may have been.
There Were A Few Other Possibilities
Some believed he uttered other complimentary phrases instead. Beautiful? Gorgeous? Twitter demands answers.
But He Wasn't The Only Whisperer
Apparently, Markle mouthed "hi" to Harry when they finally joined together at the front of the church. Ugh, so sweet.
Uhhh, This Theory Is *Something*
There's also a solid group of people on Twitter convinced Harry actually uttered, "I'm sh*tting it," expressing his nervousness in a very, very casual way. Of course, anything is possible, but it also might not be the most likely. You could argue that he just didn't open his mouth wide enough or fully enunciate, making it difficult to lip read. (Or you can also rewatch this clip a dozen times until you figure it out.)
Others Were In Awe Of It All
They were just taking in the whole sweet moment, and appreciating it — even if they had no idea what was being said.
And Some Needed Answers, Stat
It's really hard to be nosy when people whisper, you know? (But of course, considering how much of their lives takes place is in the public eye, Harry and Meghan do deserve a moment of just sharing sweet comments among themselves.)
BBC May Have Figured It Out
This GIF includes close-captioned footage from BBC, who aired the royal wedding live. However, if you watch it in slow motion, you could make the case for the "I'm sh*tting it" theory that Twitter just can't get enough of.
With news of the royal wedding taking over Twitter on Saturday, you may have thought you heard the last of that Yonny vs. Laurel debate that took over social media the entire past week. However, it looks like it's back — just in a new form. The "You look amazing" vs. "I'm sh*tting it" altar saga is the latest Yonny vs. Laurel (which is also just a 2018 version of the blue/black vs. gold/white dress debate of 2015).
So basically, this pop-culture moment will go down as super memorable and sweet — but you won't be able to convince the other side of anything different. Everyone is going to stand by their very strong opinions, and only Harry and Meghan know the truth.