Here's The Famous Witch You Should Dress Up As For Halloween, Based On Your Zodiac Sign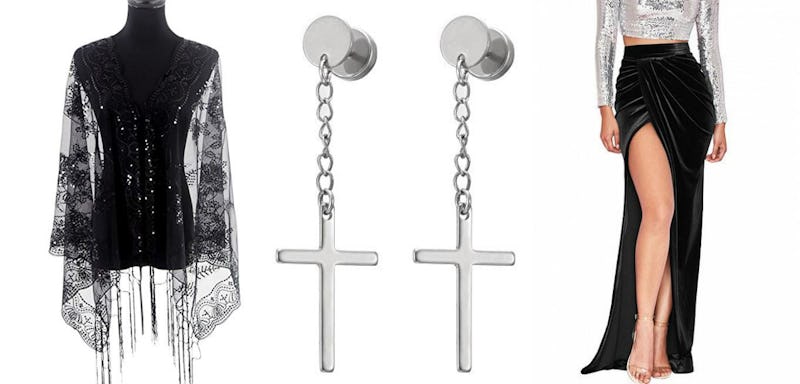 Amazon; Staying Summer
Mirror, mirror, on the wall, what's the most iconic Halloween costume of all? Ahem, you really don't need a magic mirror to tell ya that one — the answer is a witch costume, duh! It's easy to throw on a black dress and a witch hat and call it a day. But why be basic when you can dress in an iconic witch Halloween costume and pay homage to the girl power of famous witches past? From the classic Wicked Witch of the West to the badass ladies of American Horror Story: Coven, pop culture has been littered with mystical and bewitching ladies who practice witchcraft, both dark and light. And thankfully for you, there's no need to consult a crystal ball to decide which witch is which (say that five times fast) when it comes to a costume selection — I can tell you exactly what witch you should dress as for Halloween, based on your zodiac sign. This is gonna be fun, my dear witch sisters.
So, will you be a good witch or a bad witch? Only your zodiac sign will tell. And no matter what your sign, get ready to summon up the most mystical, magical, witchy vibes you can muster, as every witch on this list is worth diving into head-first with a creative DIY costume. So grab your coven, embrace the magical girl power of the witch archetype, and use your zodiac sign to guide you to the iconic witchy Halloween 2018 costume of your dreams.
Aries: 'Supreme' Witch Fiona From American Horror Story: Coven
Little Black Dress With Sheer Sleeves, $29, Promgirl; 14th & Union V-Neck Chiffon Poncho, $14.98, Nordstrom Rack; Wrist Length Lace Gloves, $4.95, Lingerie Diva; Anna Felt Panama Hat, $39, Urban Outfitters.
Aries are natural-born leaders with wills of steel, so naturally the 'Supreme' of American Horror Story: Coven's group of witches in New Orleans is the perfect costume for the zodiac's ram. Channel witch Fiona in sexy, sheer black dresses and accessories and an attitude to boot.
Taurus: Sabrina Spellman From Sabrina The Teenage Witch
Plus Size Sheer Floral Mesh Twofer Top, $24.90, Forever 21; Wine Bellatrix Burnout Velvet Bell Bottoms, $52, Dollskill; MUHU Black Velvet Choker, $7.99, Amazon; Folkmanis Black Cat Hand Puppet, $22.49, eBay/kcdohs.
Sabrina Spellman embodied the quintessential '90s teen style. Chokers, butterfly clips, and velvet galore, she combined these trends with a witchy twist as she came into her own as a full-fledged witch herself. Just like a Taurus, Sabrina is independent and determined, so channel the witchy teen with a fun costume. Don't forget her beloved kitty, Salem!
Gemini: The White Witch From The Chronicles Of Narnia: The Lion, The Witch And The Wardrobe
Forest Fantasy Crown, $15, Dollskill; Lantern Sleeve White Pocket Maxi Dress, $28.43, Rotita; Clear Bridal Faux Fur Wrap, $10.90, Amazon.
Gemini, I know you have the charisma to pull this off. This badass witch, portrayed by Tilda Swinton in the Chronicles Of Narnia: The Lion, The Witch And The Wardrobe film, is pretty freaking evil, not gonna lie — but Gemini, with your power of duality, you can balance out her iciness with some warmth, too. Channel the mystical and elegant snow queen in all white and faux fur, plus her classic golden warrior crown.
Cancer: Samantha From Bewitched
Compania Fantastica Chambray You Stay Mini Dress, $65, Modcloth; Forum Novelties Jumbo Pearls, $2.99, Sears; Mod Headband, $20, Free People.
Samantha, the classic sitcom witch from Bewitched, loves playing house in the suburbs with her mortal husband — serving us all the perfect Cancerian domestic goddess vibes. Wiggle your nose to cast a spell, Cancer, and dress in your best 60s retro for a fun and simple Bewitched look that's perfect for your sign.
Leo: Winifred 'Winnie' Sanderson From Hocus Pocus
Winifred Sanderson Dress - Hocus Pocus, $39.99, Spencers; Winifred Sanderson Wig Deluxe - Hocus Pocus, $19.99, Spirit.
Just like you, Leo, Winnie is fiery, feisty, and loves to be the center of attention. Plus, she uses black magic to stay forever young. Not saying you'd do the same, Leo, but it'd be nice to have the outside match your forever-youthful spirit, right? Channel the cult classic Hocus Pocus vibe with star sister Winnie's iconic witchy look.
Virgo: Hermione Granger From Harry Potter
Black Gryffindor Robe, $49.99, Spirit; Box Pleat Mini Skirt, $12.90, Forever 21; Boxy High-Low Shirt, $14.90, Forever 21; Adult Harry Potter House Costume Tie, $4.99, Target.
Just like a typical Virgo, Hermione is always on top of her sh*t and number one in her class. This girl has had her act together since day one. Seriously, though, Harry who? Channel your favorite Gryffindor gal with Hermione's classic Hogwarts uniform. And don't forget your wand!
Libra: Elaine From The Love Witch
Thalia Sodi Bell-Sleeve Shift Dress with Necklace, $44.75, Macy's; Women's Black Bouffant Wig, $13.99, Candy Apple Costumes; LC Lauren Conrad Filigree Teardrop Earrings, $14.99, Kohl's.
No one loves to be in love like a Libra does, so The Love Witch herself, Elaine, is the perfect ultra-stylish costume choice for our Libran witches. And by the way, if you haven't yet seen The Love Witch, drop everything you're doing (this article, Halloween costume planning, work, anything) and watch this incredible, witchy, aesthetic-AF film ASAP.
Scorpio: Nancy From The Craft
Noisy May Sheer Split Detail Maxi Dress, $23, ASOS; Biker Jacket, $19.99, H&M; Mandala Crafts Gothic Studded Choker, $9.99, Amazon; Circle Screw Earrings With Dangle Cross, $9.99, Amazon.
TBH, I have to at least partially credit this film with my lifelong, deep-rooted fascination with all things witchcraft (and yes, Scorpio is all over my birth chart). This fully iconic '90s movie made wannabe-witches out of teen girls everywhere, and there was no fashion icon quite like Fairuza Balk's character Nancy, the head-witch-in-charge of the teen coven. Passionate, powerful, and a just little dark, she's got Scorpio vibes written all over her. Scorpios should channel her nostalgic witchiness via a perfect The Craft Halloween costume.
Sagittarius: Paige From Charmed
Shimmer And Shine Headpiece, $20, Etsy/theblackfeather; Crew Neck Velvet Crop Top, $8, Shein; Black Velvet High Waist Thigh Split Maxi Skirt, $23.99, Staying Summer.
Sagittarians are wild and free spirits just like Paige, the youngest (and most powerful) of Charmed's "Power Of Three" sisterly-witch triad. She's highly independent, worldly, and extraordinarily gifted, making her a perfect costume inspo for a spiritual and philosophical thinker like you, Sag.
Capricorn: Wicked Witch Of The West From Wizard Of Oz
Fantasy Makers Paint Palette, $5.99, wet n wild; InCharacter Women's Witch Costume, $71.24, Amazon; Adult Witch Broom, $3.99, Wholesale Halloween Costumes.
With your dark sense of humor, Capricorn, you can bring the best energy to perhaps the most classic witchy icon of the past century: The Wicked Witch of the West. This classic look became the gold standard for witch costumes for years to come. Plus, she is a woman on a mission and pulls all kinds of clever tricks on Dorothy and her crew — so clever, in fact, this witch might just be a fellow Cap herself.
Aquarius: Stevie Nicks-Inspired Witch
Lace Bell-Sleeves Dress, $12, Forever 21; MissShorthair Women's Mesh Sequin Wedding Cape, $15.99, Amazon; Lawliet Womens Wide Brim Velvet Hat, $15.99, Amazon.
All hail Stevie Nicks. While she may not technically be a witch (despite her style and witchy Fleetwood Mac anthems leading the world to believe otherwise), she's been a fashion icon for decades now thanks to her signature ultra-witchy, boho style. She's even described as a "famous witch" by Misty Day on American Horror Story: Coven. Aquarians will easily channel Nicks' creative, one-of-a-kind style. Nicks paved the way for witchy fashionistas everywhere (just as Aquarians naturally set trends!), so channel the "Gold Dust Woman" with your costume.
Pisces: Melisandre 'The Red Witch' From Game Of Thrones
V-Neck Long Sleeve Belted Maxi Dress, $29.99, Oshoplive; Liz Wig Game Of Thrones Cosplay Wig, $24.99, Amazon; Necklace Of Melisandre, $14.99, eBay.
Dark, mysterious, and deeply in touch with her spiritual side, Melisandre is the perfect costume for a sensitive, intuitive sign like Pisces. Channel the so-called Red Witch with a flowing red dress, long red wig, and witchy, GOT-style accessories.