The Season 2 'Freakish' Characters Shake Up The Show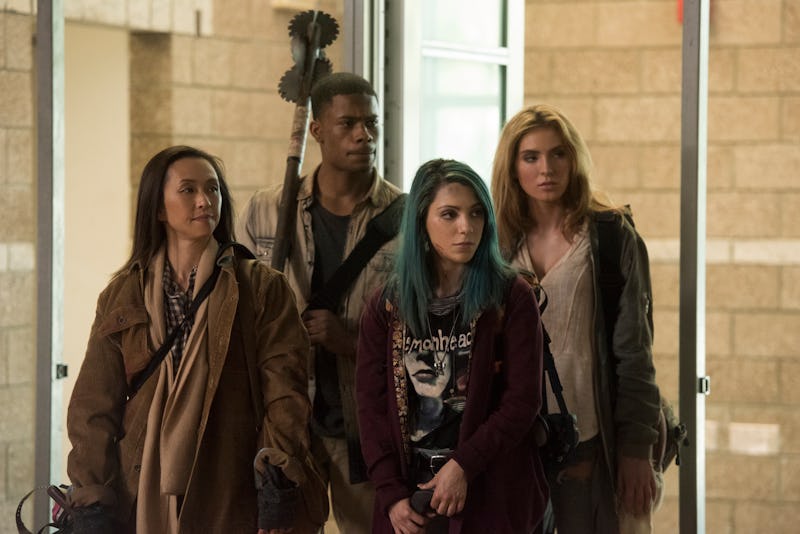 Rachael Thompson/Hulu
Freakish Season 1 thrust the students of Kent High headfirst into a zombie apocalypse, tracing their fight for survival after a chemical plant exploded and unleashed an army of half-dead creatures. It was a tense and treacherous ride, and by the end, they were left reeling by the loss of one of their own. When the show returns, they had to do more than soldier through their grieving: the Freakish Season 2 cast introduced a fresh crop of survivors, and that meant new faces, new opinions, and new drama.
Though down a main character — a dying Natalie (Degrassi's Aislinn Paul) sacrificed herself to the "freaks" to save the others in the Season 1 finale — there are several returning players. Barrett (Tyler Chase), Diesel (Adam Hicks), Grover (Leo Howard), LeShawn (Melvin Gregg), Violet (Liza Koshy), and Zoe (Meghan Rienks) all still fended for their lives while mourning the death of their friend. Except now, they had to deal with a host of newcomers — as well as a few people from their past — as relationships are tested, trust is earned (and broken), and threats continue to close in around them. But before you dig into another round of zombie-infested scares, get to know the new cast members below.
Jake Busey
Veteran actor Jake Busey (Ray Donovan, From Dusk till Dawn: The Series) takes on the part of Earl, a ruthless survivalist and avid hunter who saw an opportunity to prove his mettle when the plant exploded.
Tati Gabrielle
Best known for her turn as The 100's Gaia, Tati Gabrielle joins Freakish as a character named Birdie.
Brant Daugherty
Brant Daughtery — who fans may recognize Pretty Little Liars' Noel Kahn — portrays Jake, a brother figure for Birdie and a Keller Chemical experimentee. He was previously a soldier, and has become Earl's righthand man, but his allegiance is first and foremost to Birdie; He's determined to get her out of the valley and on to a new life.
Saxon Sharbino
Fresh off a turn in Netflix's American Vandal, Saxon Sharbino boards the cast as Anka, a smart but manipulative troublemaker ready to stir the pot. She'll do anything to get ahead, but remains fiercely protective of her brother, though she's often bothered by his inferior intellect.
Ryan McCartan
Liv and Maddie alum Ryan McCartan plays Anka's older brother Oliver, a rich kid who's mostly skated by on his family's prestige and his own charm. He's always been able to trust his sister, but the apocalypse sheds light on secrets that threaten their bond.
Niki DeMartino
Newcomer Niki DeMartino will tackle the role of Sadie, a recent Kent High transfer student with a jaded attitude. She ignores almost everyone, but soon begins to develop romantic feelings for Diesel (Adam Hicks), unaware that he's still grieving Natalie's death.
Jordan Calloway
On the heels of his stint as Riverdale's Chuck Clayton, Unfabulous vet Jordan Calloway comes to Freakish as Zane, a part-time college student and security guard at Keller Chemical who leads a group to safety after the explosion. He has a reputation as a player, but is still in love with his ex-girlfriend, Violet (Liza Koshy). Despite their volatile relationship, he's determined to woo her back, even though she has feelings for Grover (Leo Howard).
Amanda Steele
After appearing in web series Guidance, YouTuber Amanda Steele makes her television debut as a sweet, kind girl named Hailey. Earl saved her life and acts like she owes him, but all she wants is to get out from under his thumb and be with Birdie, who she's in love with.
Arden Cho (Teen Wolf), Joy Osmanski (Santa Clarita Diet), and Vine star Crawford Collins are also slated to appear.