The Full Text Of Rob Kardashian's Blac Chyna Instagram Rant Will Shock You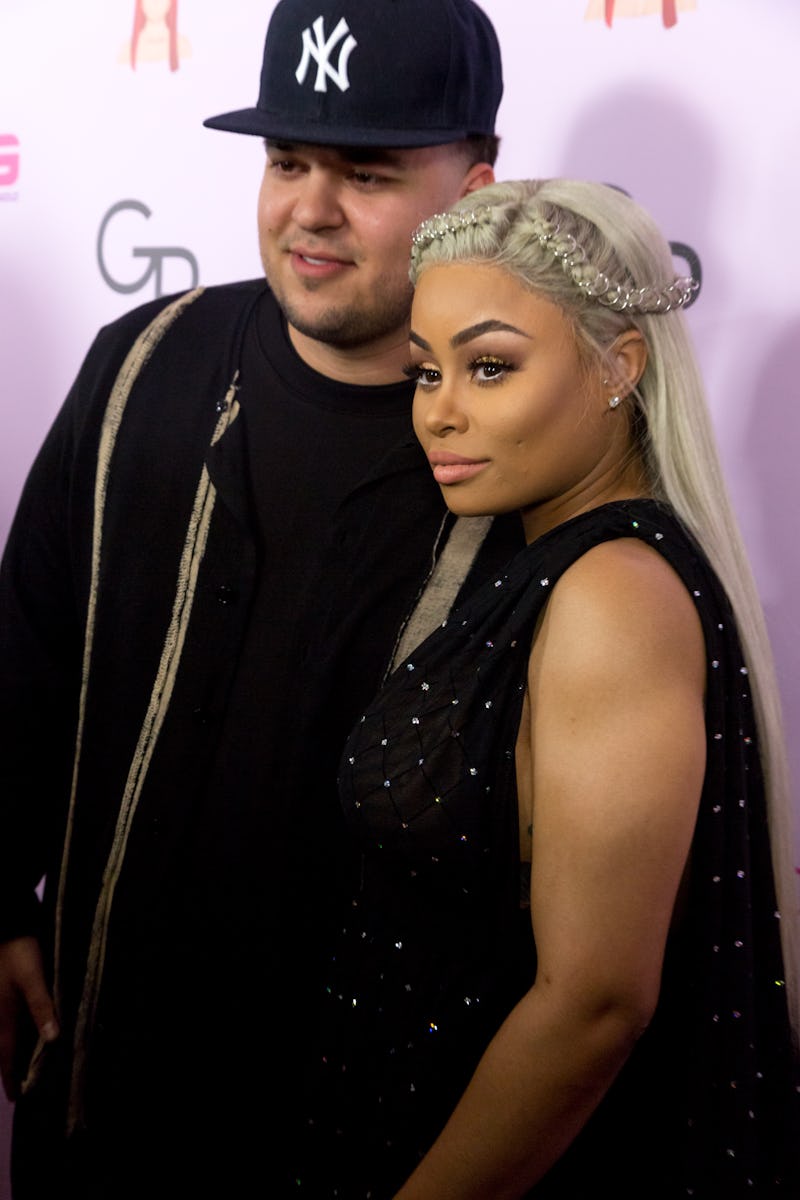 Greg Doherty/Getty Images Entertainment/Getty Images
On the morning of July 5, Rob Kardashian shared a string of disturbing Instagram posts addressing his turbulent relationship with on-again, off-again girlfriend Blac Chyna. Among the claims made in the full text of Rob Kardashian's Blac Chyna Instagram rant are that Chyna cheated on him with multiple men and did drugs while caring for their daughter. (Bustle reached out to their reps for comment, but did not immediately receive a response.)
UPDATE: Blac Chyna's lawyer told ABC News in a statement "We are considering all legal options and recourses at this time." Bustle has reached out to Kardashian for comment, but did not receive a response at the time of publication.
UPDATE #2: Kardashian's lawyer told TMZ in a statement that Kardashian's actions were a "spontaneous reaction that he regrets" and that they will not be contesting the restraining order. "Rob's only concern is for the well-being of baby Dream," the statement finished.
EARLIER: His comments appear to come in response to explicit videos and photos Kardashian claims Chyna sent him the day before, one of which he made public on Instagram. He also shared several now-deleted nude photos which he claimed were of Chyna.
"Hahahaha Chyna just sent me this video saying happy 4th of July what a crazy person," Kardashian captioned a video of what appears to be Chyna kissing another man. "Come spend time with your daughter instead of f*cking me and then this dude right after. U need help."
Kardashian then included a photo of a man he claims is at the center of the drama, writing:
"And this the dude that posted a pic in the same bed Chyna and I made our baby in. The house that I pay for. That robe i prob paid for. Imma send u messages from this dude asking to link with me or he gonna expose Chyna if I don't help him get money cuz he can't handle the bills to take care of Chyna. Lol. I pay lambo. Ferrari. Down payment on the rolls. Downpayment on your moms car. I pay your mother since u won't even call your own mother back in months. I prob spent a million alone in the past 2 months. 90K necklaces. 70K watch. The Ferrari that u pretend u got yourself. Chyna I hope U find help and to this corn ball , u thirsty as f*ck for hitting me and begging to link with me and if I don't help u get money then u gonna expose Chyna. Bro go back to your son who is at home instead u out here fucking someone that everyone fucks including me. Lol. Clown. She everybody's and it's been that way. The disrespect in the bed that my baby daughter lays in. Chyna u literally lost on this one."
He then shared a series of screenshots from the notes app on his phone, in which he made several unsavory accusations about Chyna's behavior:
"The saddest part is I knew about all this and didn't say a word or speak on anything because I actually Love Chyna genuinely until she just sent me a video of her and this man kissing in her bed with my daughter and her son in the house. The same day she sent me pic of her p*ssy and saying i can come f*ck her soon. The same exact day I had 250K of jeweler dropped off to the house. I never been so disrespected by a Woman and I support everything she does until this stuff. Just sloppy and messy and the disrespect. Thank God for my daughter but I will never allow my daughter over to that house that I pay for with all the drugs and alcohol that goes on. I got receipts for days and I'm gonna keep going and I don't give a f*ck. The girl told me today she gonna have a third baby daddy and she also told me today she wants to have more kids next year in June. And she sending me videos of her and other man with our babies in the house. And then this thirsty ass dude posting selfies in the house I pay for and bed I made my baby in damn shame."
"And here comes to the drunk and on drugs Chyna. More receipts to come of all the drugs that were dropped off to her house yesterday including 100 bottles of Moët Rose she asked me to get her. U will never see Dream again unless you stop the alcohol and drugs and cocaine and X and E. lol. That's called a party pack. When was the last time u realized your daughter been with me instead of that crazy house that u bring men in and out. I never been this disrespected in my life by a woman. A woman I just paid 16K rent and Ferrari I just bought and lambo and 400K in jewelry. Damn."
In response to the allegations, Chyna claimed in a handful of since-deleted Snapchat videos that Kardashian had abused her, while Kardashian continued his tirade on Instagram. He wrote:
"Thank God I pray every single day multiple times for God to show me the way and he showed me. The same day Chyna sends me pics of her p*ssy saying I can have it soon. The same day I sent my jeweler to drop off my 250k jewelry. Same day my babies are in the house and I find out this. Thank You Lord! Thank You Dad for showing me. I had my daughter out of love but this woman left the second I paid for her body surgery and then she was out. Chyna please get help."
"And just so u know this is just one of the many of the men Chyna been doing this with. I got receipts for days and when it comes to doing drugs and f*cking dudes in the bed my daughter lays I don't play. So I don't care that this is the mother of my child. I told Chyna a million times even after seeing and knowing this that I still will support and be there for her but I can't take this anymore so yes I'm being petty with this woman is fakes like we all good on Father's Day and begged me to go and staged the paparazzi to be there in front of her house and at Disneyland. I'm done with this woman thank God for God ! Showing me the light !"
Kardashian went on to allege that Chyna was only with him "out of spite" because his younger sister, Kylie Jenner, dated Chyna's ex-boyfriend Tyga, with whom Chyna has a son:
"I'm a savage and I always have been and I always will be and I don't give a f*ck. All u may think my daughter may see this one day and I hope she does cuz this isn't love. I never want my daughter to be raised by a woman like Chyna who cheats and does drugs and alcohol with my baby in the house. Chyna been like this long before me but I chose to love all of her cuz I don't judge. But second the baby was born she got body surgery I paid for and was gone from me and dreams life. She only could breast feed for 4 weeks because she wanted to drink alcohol so bad. My daughter is the best thing that happened to me and she will know that Chyna did this out of spite not love cuz she mad my little sister took her baby daddy. Thank u God and my Dad for watching down on me and showing this. Damn I spent millions on this girl in less than a year and a half and she f*cking dudes who hit me begging for money or they gonna expose her. Too late man. And I never once spoke out on any of this because I respected and loved Chyna until she started going on social media talking lies and trying to make me look crazy when she the one sending me videos of her f*cking another dude in my house and my bed our daughter and I lay in !"
Finally, Kardashian posted a screenshot of an alleged text conversation between Chyna and another man, writing:
"This was just yesterday again this girl is f*cking way too many fools at the same time I just can't no more. But u all hit up Chyna lol. I just found out too she just f*cked one of her best friends dudes. I will never allow my daughter to be around dudes coming in and out of her house. She had sex with 3 guys in 3 days in the same bed under the roof I pay for with my daughter there. That is why I feel so disrespected. And now I'm done with this person having a child out of spite for the rest of my life thank God. Thank God for the constant messages of Chyna asking me for a party pack which included cocaine, molly and X. Get it together for your daughter. It was your daughters first 4th of July yesterday and u chose drugs and sex in our bed rather then spending it with your daughter for her first 4th July."
The back-and-forth between Kardashian and Chyna is only the latest development in their tumultuous and quite public courtship. Since beginning their relationship last year, the pair have frequently aired their disputes on social media, but this is by and large their most troubling exchange yet. As of now, it's unclear if any of their allegations have merit, but hopefully they can resolve the matter in a safe, calm, and more private manner moving forward.