Blac Chyna Posts More Snapchats About Rob Kardashian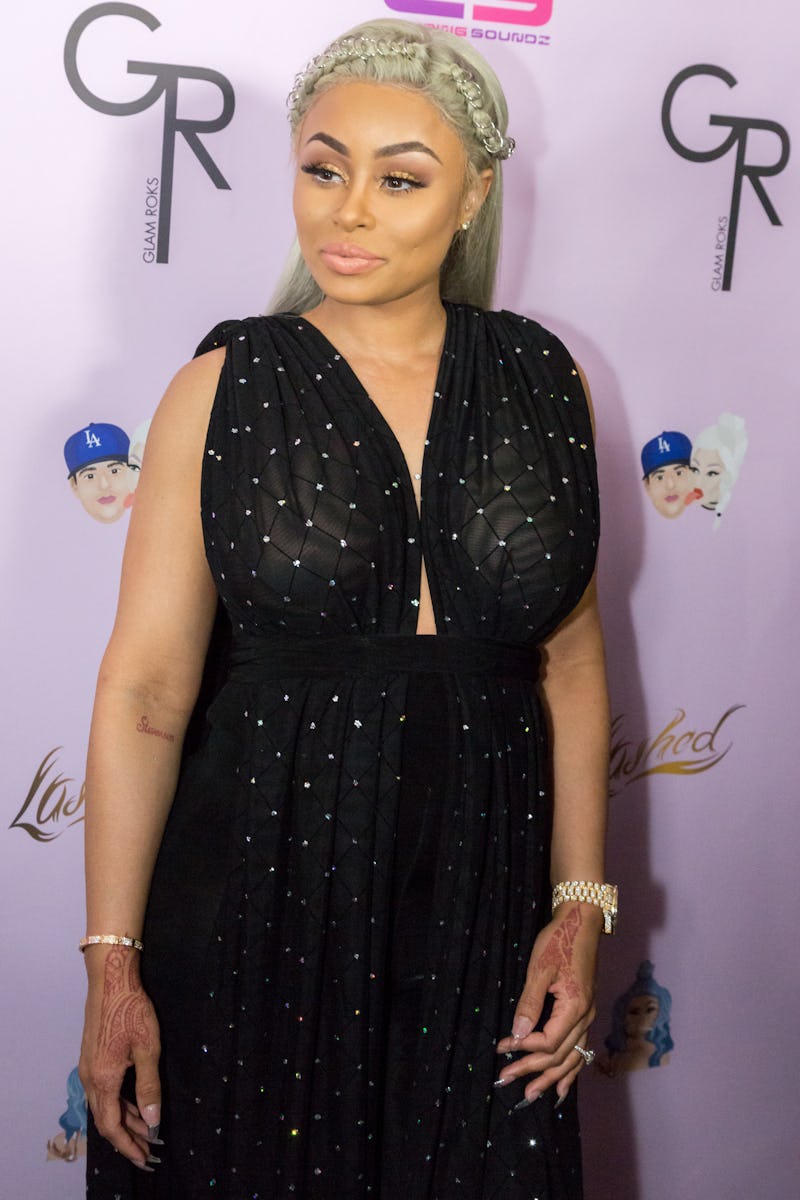 Greg Doherty/Getty Images Entertainment/Getty Images
The calm of a Wednesday after a holiday was broken when Rob Kardashian's Instagram posts about Blac Chyna hit the internet, alleging all kinds of disturbing behavior on her part and including several disturbing explicit photos. But less remarked upon were Blac Chyna's Snapchats about Rob Kardashian, the first of which contained only text. Within that text, Chyna accused Kardashian of allegedly physically abusing her. Bustle has reached out to representatives of both for comment on all the claims, but have yet to receive a response. Now it appears that original Chyna's Snaps may have been removed from her account, but she has posted others since then.
UPDATE: Blac Chyna's lawyer told ABC News in a statement "We are considering all legal options and recourses at this time." Bustle has reached out to Kardashian for comment, but did not receive a response at the time of publication.
UPDATE #2: Kardashian's lawyer told TMZ in a statement that Kardashian's actions were a "spontaneous reaction that he regrets" and that they will not be contesting the restraining order. "Rob's only concern is for the well-being of baby Dream," the statement finished.
EARLIER: Containing two black screens with white text, Chyna's original Snaps were made up of one paragraph accusing Kardashian of alleged abuse and another solo sentence that seemed to hint at the future. "Rob u did all this," the first message began before going on to include the claim that Kardashian not only beat her but that she was allegedly told to keep quiet about it because of his last name. These Snaps appear to have since been deleted for whatever reason, and the serious allegations that have been made in them still have yet to be directly addressed by Kardashian in any of his Instagram posts.
However, he does imply in his fourth text-based Instagram post on the subject that Chyna started the argument, stating he "respected and loved Chyna until she started going on social media talking lies and trying to make me look crazy." And yet Complex has reported that the model posted her Snaps "in response" to Kardashian's accusations about her behavior.
And the Snaps didn't end there, as Chyna later uploaded two videos of her arm covered in diamonds and jewelry. One video was simply that, while the other one was captioned "LOL." Fans on Twitter were quick to speculate that these jewels were the ones that Kardashian was claiming to have recently bought for her.
But, as the couple continue to attack one another on social media, the worst may yet be to come.
Editor's Note: This article has been updated from its original version.