The 'Game Of Thrones' Cast Has A Group Text That's Definitely Full Of Season 8 Spoilers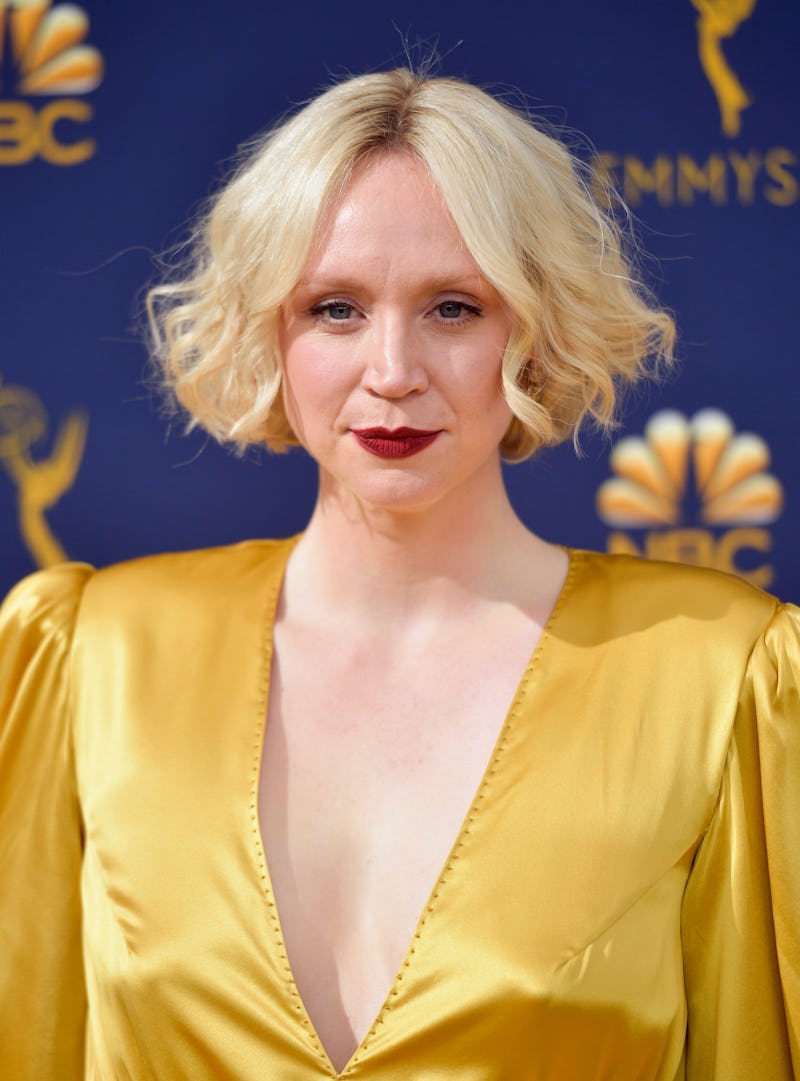 Matt Winkelmeyer/Getty Images Entertainment/Getty Images
How does the Game Of Thrones cast cope with the end of filming? With emojis, obviously. On the 2018 Emmys red carpet, Gwendoline Christie revealed the Game of Thrones cast's group text is their support group now.
"How do you know about the group text?" Christie asked a Variety reporter on the carpet — who asked just based on an assumption. Fans always hope that groups of actors as cool as the Game of Thrones cast are as tight knit IRL, and it turns out, they are! "It's fairly consistent," Christie said of the group. "Obviously, now that we've finished it's taken the form of a kind of support group. But it's very nice to be in touch with each other and know what's going on."
Can you imagine how much Game of Thrones gold is in that group text? They need a support group for a variety of reasons. Not only are they not forced to hang out at work any more, but they know so many secrets! The text chain is probably the only way they can keep from bursting.
Christie wouldn't give up too many of the group text contents, naturally, but she did say they also discussed the Emmys, but more on a "when are we meeting for drinks" level than a "who are we wearing and who's taking home trophies" level. Other cast members at television's biggest night include nominees Peter Dinklage, Nikolaj Coster-Waldau, and Emilia Clarke.
Check out the interview below:
Game Of Thrones completed filming Season 8 in summer 2018, and while there's no release date from HBO at this time, the fact that this show is ending has finally started to hit. In an interview with the Evening Standard, Christie said that she cried for two full hours after she wrapped the series. "It truly was the most incredible thing that happened to me," she said of the experience.
"I know how generic it sounds but it just was," Christie said, "in every sense of the word, incredible that that part should come along, made for me in a way that none of my friends would've identified for a second. They saw all of the fighting, the physicality, the fact that it was a character who was constantly being described as ugly. None of the people who knew me could understand why I would want to play that part."
In the meantime, we've got to find out more about this group text. Do you think they share Game of Thrones memes of their own characters? Mock each other with embarrassing reaction gifs? It's no surprise that the cast hangs out. They've been spotted at various events together, including Kit Harrington and Rose Leslie's wedding earlier in 2018. Sophie Turner and Maisie Williams are #mophie BFFs with matching tattoos to boot.
Lucky for fans, while there's still so long to wait before Game of Thrones Season 8, the cast is around to help us pass the time with appearances at events like the Emmys. Lucky for them as well, it seems, if this support group text says anything.