The 'Game Of Thrones' Finale Won't Please Everyone, According To Bran Stark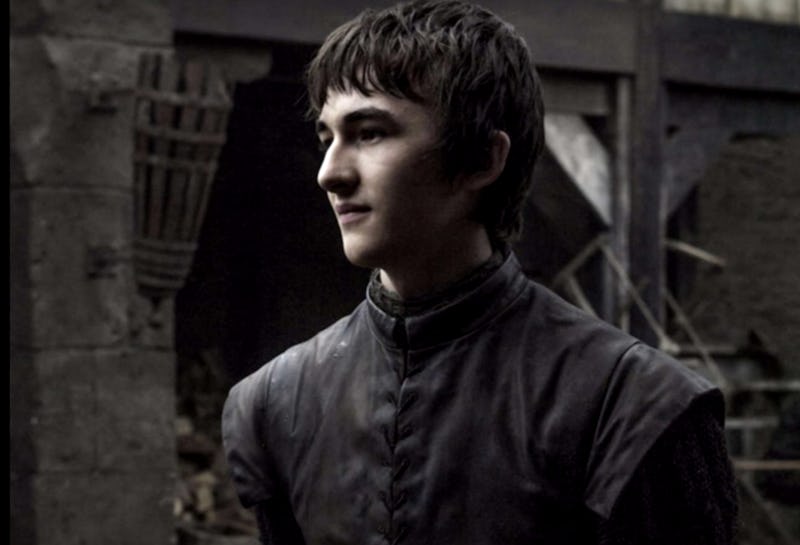 HBO
The eighth and final Game of Thrones season is still some time away, but at least one of the actors believes it'll be worth the wait. In an interview with The Hollywood Reporter, Isaac Hempstead Wright said the Game of Thrones' finale won't please everyone, though it will "hit hard." While the performer, who plays Bran Stark in the series, was referring to his own feelings about saying goodbye to the award-winning fantasy, his sentiment can also be applied to the fans who are waiting with bated breath for the grand finale, which might not even premiere until 2019. And don't worry faithful viewers. Even though Hempstead Wright believes it would be impossible to please everyone with the final Game of Thrones episode, he has confidence that the writers know exactly what they're doing.
"We're all so confident in the way this story goes and the message it gives and how the whole story arc works," the actor told THR. Though he acknowledged that some fans complained about the previous season's pacing, Hempstead Wright argued, "Season 7 was a marvel in terms of epic, fast-paced, exciting storytelling." He then explained that it'd be impossible to get everything right for every person, but that, as long as the creative team "does justice" to the story, that is all that matters.
According to the actor,
"As long as we can reconcile with ourselves that we're happy with how it ends, it won't matter what anyone else thinks, really. As long as we feel we've done the story justice, and have done justice to George [R. R. Martin's] universe and [series creators] David [Benioff] and Dan [D. B. Weiss's] vision, then that's really all we can hope for. It won't go the way some people want. It will be too happy for some people, or too sad, or too whatever. That's the nature of an ending."
So maybe don't put too much weight into all those fan theories based on hairstyles or the theory that made Anna Kendrick upset just to think about.
Hempstead Wright isn't the only person involved in the show with this view, though. Alan Taylor, who directed the penultimate Season 7 episode, told Newsweek after his installment aired:
"You've got a [dragon] that's bigger than a [Boeing] 747 [plane] with seven people riding on its back, and you're worried about the speed of a raven being believable. OK, obviously, we're not doing our jobs correctly for you, but it seems to be working for a lot of other people."
Ultimately, Hempstead Wright believes that final season will be handled correctly. "Nothing more is coming, and the certainty of it being over will definitely bother people," he said. "But overall, I think we're going to smash it."
Even if the Game of Thrones ending is absolute perfection, it'll still feel like a loss when the culture juggernaut goes off the air. Since it debuted in 2011 on HBO, the series has been declared the world's most popular show by Time, all while growing into one of the most feminist shows on TV.
The end of the series, however, hits a personal note for Hempstead Wright, who was only 11 years old when he was cast as Ned Stark's second-youngest child. Hempstead Wright explained:
"I think it will be when we get to this time in 2019, when we're usually expecting the phone call organizing flights for the next season, that it will be very sad and it will be very real: This doesn't exist anymore."
Fans of Game of Thrones might grumble about the tiny details, but they're likely just as excited as Hempstead Wright, and just as saddened, to see how it all wraps up. Luckily, there are still the spin-off series to look forward to.