'Game Of Thrones' Season 8 Is Almost Finished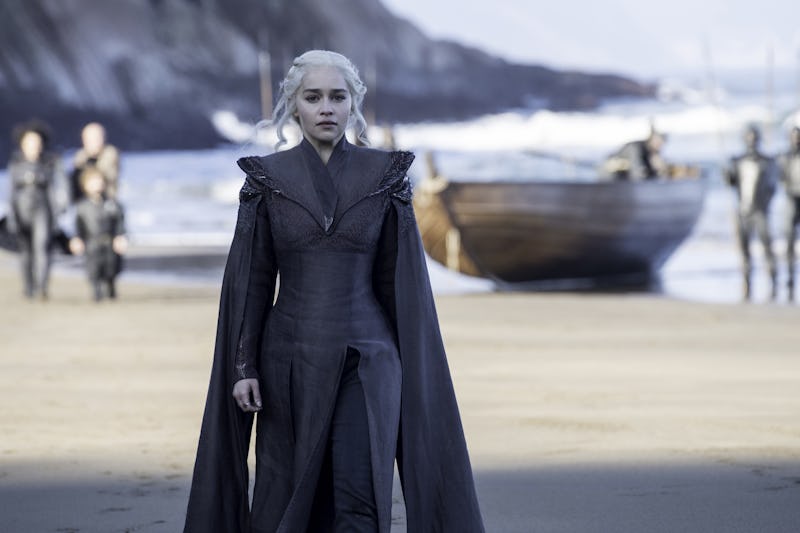 Macall B. Polay/HBO
Given the delay in getting the seventh season to the screen, coupled with the fact that Game of Thrones Season 8 — the show's last — still doesn't have an air date, fans may be starting to worry that showrunners David Benioff and D.B. Weiss are encountering some George R.R. Martin-esque roadblocks in their journey to bring their hit fantasy series to a satisfying conclusion. But according to a new story on the show's production from Time, the final season of Game Of Thrones may actually be further along than fans think.
"We know what happens in each scene," Weiss told Time about the script for the show's very last episode, which he and Benioff were busy putting the finishing touches on when the publication visited the set in Belfast last March. This probably comes as a relief to viewers who were dismayed to hear recent reports that HBO was unsure of when Season 8 would premiere — and that the network was even entertaining the idea of delaying the final batch of episodes until 2019.
And indeed, such a delay may very well still happen. HBO has yet to confirm or deny anything when it comes to specific dates. But fans should at least be relieved to know that if Season 8 is pushed back a year, it will likely be due to the sheer scope of the production, and not due to any sort of creative blockage on the part of the writers.
Just how are Benioff and Weiss skating to such a seemingly smooth ending, when Martin has been stuck working on the sixth installment in the series, The Winds of Winter (not even the last of the proposed seven books) for the past six years? Part of the reason Martin's pace slowed down so drastically when he hit the fifth book, A Dance With Dragons, was the complicated web of storylines, and how he had to figure out how to get a bunch of disparate characters and plots to all converge in Meereen at roughly the same time — a dilemma the author has referred to as the "Meereenese knot."
Benioff and Weiss managed to sidestep this problem by completely eliminating several of the characters involved in the "knot" (Quentyn Martell and Victarion Greyjoy, most notably) and revamping and speeding up other storylines, like Tyrion's. It's these kinds of divergences — and their ability to execute the divergences with confidence — that have allowed Benioff and Weiss and the rest of their writing staff to arrive at a conclusion much more rapidly than Martin himself.
Although Benioff and Weiss say they met with Martin in 2013, between the second and third seasons of the show, to map out the "ultimate developments" of the saga, they have found themselves departing more and more from that plan as they go on.
"Certain things that we learned from George way back then are going to happen on the show, but certain things won't," Benioff told Time. "And there's certain things where George didn't know what was going to happen, so we're going to find them out for the first time too."
The cast has noticed the showrunners' newfound confidence as well. Benioff and Weiss have "become much more protective over the story and script," said Nikolaj Coster-Waldau, who plays Jaime Lannister. "I think they feel this is truly theirs now, and it's not to be tampered with. I've just sensed this last season, that this is their baby."
This separation from the source material is probably for the best for everyone involved. Not only does it allow the writers to shrug off things that weren't working in Martin's source material and move at a faster pace; it also means that fans will get to enjoy the story twice in two totally different ways — rather than simply reading a written version of what had already played out onscreen when (if?) The Winds of Winter and A Dream of Spring are finally published.
That said, just because the writing has been relatively quick for Benioff and Weiss doesn't mean it's been easy. Along with the normal challenges of bringing any series to a close, the showrunners also have to deal with some of the most massive expectations ever built up in TV history.
"Medication helps," Benioff quipped when asked how they deal with the weight of fans' anticipations. "I'm not saying we don't think about it," Weiss added. But "the best way to go about it is to focus on what's on the desk in front of you, or what sword is being put in front of you, or the fight that is being choreographed in front of you."
Judging by the Season 7 trailers — which tease a series of surprisingly climactic events for a show that's only entering its penultimate, and not ultimate, season — the writers will have plenty of swords and fights to distract them while they're filming Season 8. Now, if only the fans had something to distract them from wondering when Season 8 will arrive…
Oh, look at that, seven shiny new episodes premiering next month. Praise R'hllor!