Violent Sexual Crimes Are Rampant In Thrillers. But What About The Healing Process?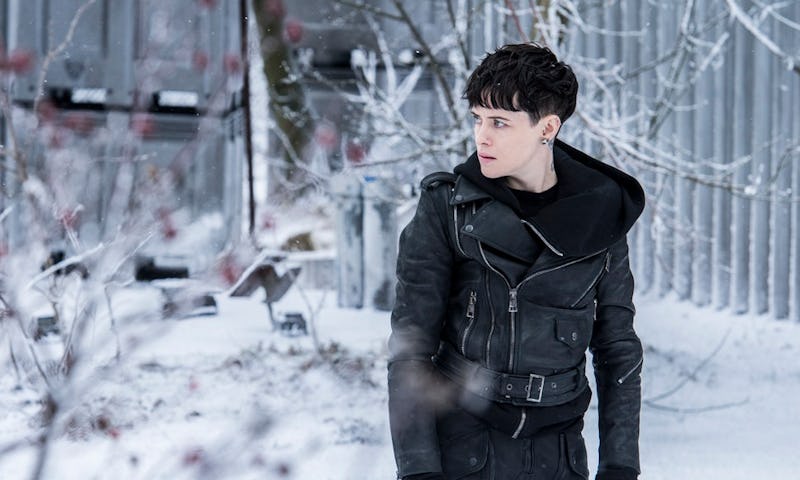 Reiner Bajo/Sony Pictures
The Girl With The Dragon Tattoo is one of my favorite thrillers. It galvanized the world in spite of — or perhaps because of — its unflinching look at violence against women. Though Stieg Larsson's Millennium Series, which has been written by David Lagercrantz since Larsson's death in 2004, has many critics, I find there's a lot to love about it. The series contains five books and follows unpredictable heroine Lisbeth Salander and dedicated journalist Mikael Blomkvist. The plots are generally compelling and suspenseful, and it's easy to see how these two characters spawned a global franchise that is still going strong. (The latest movie adaptation of the series, The Girl in the Spider's Web, just came out in theaters this November.)
One of the best parts of the novels, to me, is how beautifully uncomplicated sex is for the two main characters. Throughout the books, they fall in and out of bed with each other and numerous other partners. Emotional intimacy is something they both struggle with, but the sex? Not so much. It's an easy sexuality. Lovely and fun. Everyone orgasms. It's just great.
Well, except for the rape.
In the first novel, The Girl with the Dragon Tattoo, Salander is the victim of a brutal assault. She gets revenge on her rapist, but that's pretty much the end of her own healing process. If she does much healing that isn't revenge-related, it's not shown in the book.
When it comes to sexual violence, everyone's "After" is different; there's no singular experience. I wanted to explore this further, which is why when I set about writing the "After" for my own complicated heroine, Nora Watts, I made her sexuality an important part of the narrative. There's sex, but it's carefully considered. Her sexuality is inevitably tied into her trauma and substance abuse issues. These are tough themes to explore. Sometimes I curse the day I decided to live in this woman's head, but I did and now I get to share a different picture of an "After" — one that isn't all that easy. One that breaks my heart. There's a passage in the second book in the series, It All Falls Down, that goes like this:
"Vaginas are stronger than you'd think. They can be stroked. Petted. Filled. Hold onto or expel unwanted objects with a surprising muscularity. They can shed uterus linings and combat disease with the militant efficiency of CD4 cells. They can be locked away, waiting for the love of a good man or even a decent night of romance. They can also be cosmetically rejuvenated, revitalized or surgically reconstructed after trauma. And I can lock this reconstructed vagina away forever, paid for courtesy of the Canadian taxpayer, or I can finally take it out for a real test ride. Just this once. To see how it takes the turns."
I wrote this passage because I wanted to look at this instance when Nora makes the active decision to give herself permission to be sexual again, because she's met a someone who opens her up musically. This is the way to her heart, and into her pants. But even here, her body is an abstraction, an alien thing to be taken out for a ride. It is a stranger to her. There's a dissonance between her body and mind — a result of the trauma she's been through. When the body has been violated, how does one move past that? How does one regain control?
This kind of exploration isn't just happening in my writing; it's happening on a political, social, and cultural level, as evidenced by the #MeToo movement, which was founded by Tarana Burke in 2006 and revived last year after the Harvey Weinstein accusations went public. What makes the #MeToo movement so revolutionary is that it isn't about the abusers. It isn't about the Harvey Weinsteins, Larry Nassars, and Bill Cosbys of the world. It's about finding support in a community. It's about healing. But healing doesn't come without a cost, and #MeToo acknowledges this.
These days, there appears to be a real backlash against #MeToo: one of the most famously accused men Brett Kavanaugh was confirmed to the Supreme Court while his accuser Dr. Christine Blasey Ford has been forced to move four times and has hired a private security detail as a result of the death threats she receives on a regular basis. Other men have responded to accusations of predatory behavior with legal actions. Some people are scared that #MeToo is making it too hard to date. I've heard arguments that the movement has gone too far, but I would say that it hasn't gone far enough. There is serious work to be done to address gender violence in our society.
In my own life, this work begins with how I deal with rape culture in my writing. I want the thrillers I write to take a hard look at justice, and healing, and to examine how to make these two things possible for victims. I'm inspired by other writers who are also tackling this subject, regardless of genre.
Despite the objectification of women that you can still find in some mysteries and thrillers these days, I do think crime fiction is doing great work to address gender violence. Some of the most popular crime writers today are women, and they're rejecting the misogynistic male gaze that has permeated the genre in the past. A major theme in female-driven crime fiction is rape culture and portrayals of female sexuality.
In my own series, when the reader meets Nora in the first book, The Lost Ones, she has closed herself off to sex. However, as she is forced to confront the traumatic events of her past, she allows herself to be a sexual being for the first time in years. In the second book, It All Falls Down, she opens herself up even more to the possibility of not just sex, but intimacy as well. In the third (coming fall 2019), the progression is more aggressive. Her sexuality isn't easy and uncomplicated after trauma, but it is compelling to consider and write. I would love to write Nora into some of the breezy sex that is the hallmark of the Millennium series, as well as so many other action-driven thrillers, and maybe one day I can.
I owe a lot to the Millennium series, especially the first three books. I was inspired by them, tore through them quickly, and was frankly shocked that Stieg Larsson's crusade against rape culture became so popular. Larsson put a spotlight on a difficult conversation, but when it came to addressing the aftermath of trauma, especially healing, the books were incomplete. I'm thankful that these days we have crime writers like Denise Mina, Jessica Knoll, Sarah Hilary, Winnie M. Li or Erin Kelly to help us engage with crime fiction that has a more personal and fully realized take on gender violence. It's not an easy subject to write about, but I hope this difficult conversation continues. I think we need it.
If you or someone you know has been sexually assaulted, call the National Sexual Assault Telephone Hotline at 800-656-HOPE (4673) or visit online.rainn.org.