Disney's "Grey Stuff" Dessert Comes In A White Chocolate Shell That Looks JUST LIKE CHIP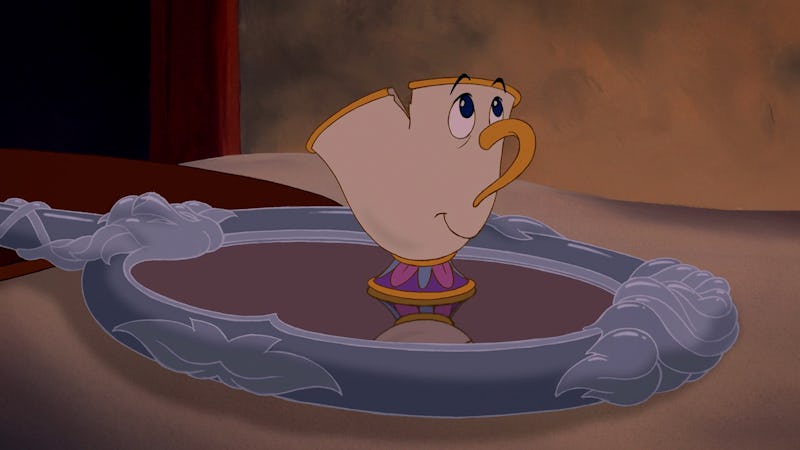 Disney
Man, Disney is really knocking it out of the (proverbial and literal) park with its food offerings lately — and the most recent to go viral is no different: There is now a dessert shaped like Chip from Beauty and the Beast at the Magic Kingdom's Be Our Guest restaurant in Walt Disney World, Orlando, Fla. As in, a fully edible teacup made of white chocolate adorned with Chip's adorable little face and filled with the infamous Grey Stuff of which Lumière boasts in the restaurant's namesake song. As you might imagine, people are super, super into this dessert, even though it won't be arriving until this summer. The hype, my friends, is real.
These days, the Be Our Guest Restaurant is the dining spot to hit when you're visiting Disney World. Initially opened as part of the huge New Fantasyland expansion that came to the Magic Kingdom in 2012, Be Our Guest is full of tricks and special effects that look like actual magic; scattered throughout the three dining areas — the Grand Ballroom, the West Wing, and the Castle Gallery — are details ranging from a portrait that changes back and forth between depicting the Beast and his human incarnation to a magic rose with gently falling petals. During the breakfast and lunch quick services, customers place their orders on touch-screen kiosks; the "magic roses" they receive after completing the order act as little homing beacons and let the servers know where to bring your food when it's ready. The dinner service is a more traditional sit-down experience; you'll also have the opportunity to go meet the Beast, and — as a bonus for grownups — adult beverages are available.
It is an incredible popular restaurant; it's therefore highly, highly recommended that you make a reservation for it if you want to go. The likelihood that you'll get seated without one is slim.
Back in February, Disney announced on the official Disney Parks Blog that starting this summer, Be Our Guest would be moving to an "enhanced prix fixe menu" during the dinner hours. Consisting of a three-course meal, this menu will give you your pick of several appetizers and entrées, along with a "personal dessert platter." Appetizer options include French onion soup, charred octopus, and escargot; meanwhile, entrées on offering will include things like filet mignon, seafood bouillabaisse, and tortellini.
The "personal dessert platter," however, was the thing that really fired up the imaginations of Disney foodies everywhere — and now we've finally got details: A new post on the Disney Parks Blog notes that the platter will, in fact, be a trio of sweets, consisting of "a raspberry macaron with lemon filling and fresh raspberries, a whole Amarena cherry dipped in dark chocolate with hazelnut topping, and a white chocolate Chip cup with our signature Grey Stuff." And, I mean, the macaron and chocolate covered cherry sound good… but it's kind of hard to beat a dessert that is actually shaped like Chip. A fully edible Chip, at that.
The Grey Stuff, by the way, apparently really is delicious. According to the Disney Food Blog (which is fan-run and unaffiliated with Disney itself), the Grey Stuff has been available since Be Our Guest opened at the end of 2012; however, at the time, it was only brought out for special occasions — think birthdays, anniversaries, things like that. In September of 2013, however, the first fully available Grey Stuff dessert arrived: The Master's Cupcake, which consisted of a chocolate cupcake topped with Grey Stuff and a few cute little edible pearls.
Disneyland, meanwhile, doesn't have a branch of Be Our Guest, so for quite some time, the Grey Stuff was absent from the Anaheim, Calif. park. In February of 2017, however, Pinocchio's Village Haus Restaurant, a counter service food spot in Disneyland Park's Fantasyland, was made over into the Red Rose Tavern in honor of the release of the live-action Beauty and the Beast starring Emma Watson — and the restaurant's new menu finally brought the Grey Stuff to Southern California. This dessert is called the Grey Stuff Gateau; it consists of "a white chocolate mousse and red velvet cake with a sweet raspberry center," according to the Disney Parks Blog. (Also: I keep reading that the redesign was meant to be temporary, but given that it's over a year later and it's still known as the Red Rose Tavern, my sense is that "temporary" means something a little different in this case than you would normally think it does.)
Of course, the big question is this: What exactly is the Grey Stuff? Personally, I'm having a little bit of trouble adjusting to the idea of it being sweet; I'd always been under the impression that it was whipped pâté or something like that. Apparently, though, I was wrong: It appears to be a sort of cookies-and-cream mousse.
BuzzFeed's Crystal Ro was able to try Disneyland's Grey Stuff Gateau in March of last year, and according to her, the Grey Stuff itself is "white chocolate mousse with chocolate cookie crumbles blended into it." The Gateau as a whole consists of red velvet cake filled with raspberry jam and topped with a fresh raspberry, all of which is covered with Grey Stuff and topped with edible chocolate pearls. The whole thing is served on a shortbread cookie, which seems to function as a sort of edible plate.
What I'm not totally clear on yet is whether the Grey Stuff in the Chip-shaped portion of the dinner dessert trio will include cake. My sense is that it won't; the Disney Parks Blog post probably would have mentioned it if it was part of the plan. On the other hand, though, I suppose it's not totally out of the question, given that the other two notable Grey Stuff offerings at both Disney World and Disneyland include cake.
Also, though, there's… well, this: As adorable as the whole thing is, I can't help but feel like there's something a little unsettling about it as well. I mean, think about it: You're literally eating Chip. And although Chip is shaped like a teacup because of the curse, he is actually a human child.
That's… weird. Right?
…Right?
Anyway.
The new dinner menu, including this fabulous dessert trio, will be arriving at Be Our Guest in the Magic Kingdom on July 27, 2018. Reservations for the restaurant can be made up to 180 days in advance.