The 'Grey's Anatomy' Owen-Teddy-Amelia Love Triangle Might Not Go The Way You Think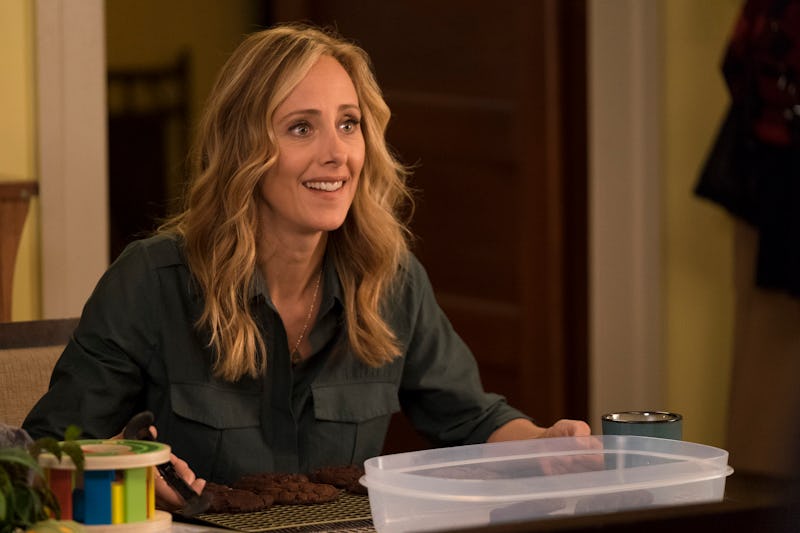 ABC/John Fleenor
Grey's Anatomy has seen its fair share of love triangles, but Kim Raver promises the Owen-Teddy-Amelia love triangle on Grey's will be different. In fact, she insisted on it. With this new Season 15 relationship drama, Raver told Entertainment Tonight that she wanted to make sure it didn't pit women against one another, but focused on their shared hopes for the guy they both care about, and most importantly, for themselves.
Raver's return to Grey's in Season 15 comes with a baby bombshell. Teddy is pregnant with her ex Owen's baby, but he doesn't know it yet. And neither does Amelia, who was just starting to get back on good terms with Owen. Certainly, this will put a wrench in their reunion, but Raver thinks Teddy's pregnancy is actually going to bring these three closer together.
In an interview with ET, Raver said that she wants to see Teddy and Amelia have an understanding instead of a catfight, which is all too common when it comes to these kinds of complicated love stories on television. "I feel like both Amelia and Teddy are really watching out for the other person and how can we navigate through this and where is Owen at?" she said. "We'll see how that goes, but that's definitely the direction that I'd like to head into."
For right now, it's all a little complicated with Teddy not wanting to reveal her pregnancy to Owen, concerned about how it will affect everyone. "Teddy doesn't want to tell anyone because I don't think she wants to break up anything if something is there," Raver says. "I think that's an interesting thing, that everyone is being mindful of one another." But, she added, "Again, it's messy and complicated and juicy and difficult, but also rewarding and hopeful and definitely the feels."
What Teddy is wrestling with is how she's going to raise this child. Is she going to stay in Seattle and raise this child with Owen's help? Or, is she going to do it on her own? Don't worry, fans won't be left waiting for answers, as Raver earned series regular status for Season 15. And for her part, Raver hopes is that Owen, Teddy, and Amelia can become a new kind of modern family. One, that has its ups and downs, but still cares about one another. After all, there's a baby in the mix.
That said, the actor isn't sure who will end up together in the end, but she's open to Teddy raising this child as a single mom with Owen's help. "What makes it so interesting is that we are searching for a relationship, but a modern concept is: We're also fine on our own and I think we're actually better partners when we do become stronger alone," Raver told ET of Owen and Teddy's relationship. "Maybe that is the journey. Maybe Teddy is gonna be alone, I don't know. Maybe it is about her finding what her path is on to become a stronger person, a stronger mom."
With Teddy's return, Raver is trying to do things differently and maybe show other women that they can do the same in their own lives. It wouldn't be the first time Grey's Anatomy has ditched the cliché and gone for a more subtle, nuanced, and realistic resolution.