'About A Boy' Has A 'Game of Thrones' Connection You Forgot About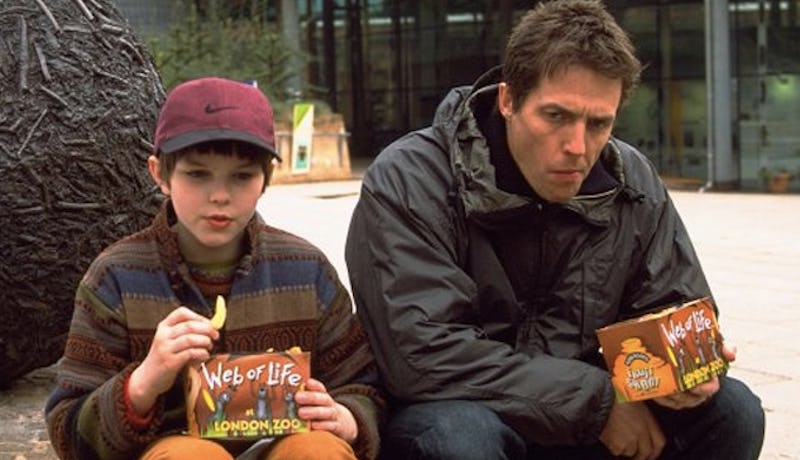 Universal Pictures
Within the magical worlds of Harry Potter and Game of Thrones there is bound to be some crossover when it comes to actors — especially considering all those British accents. Yet, one actor has not only been in both of those epic franchises, but was also in one of the most charming and underrated movies to ever grace the screen (in my opinion). While any self-respecting fan of Harry Potter and Game of Thrones knows that the actress who played Tonks and the actress who played Osha are one and the same, not everyone may remember that Natalia Tena was also in About a Boy. For About a Boy's 15 year anniversary, it's time to focus on Tena's unsung character from this unsung movie — although, fair warning: There is plenty of uncomfortable singing in the actual film.
The entire cast of About a Boy is stellar. From romcom staple Hugh Grant to the perfectly eccentric Toni Collette, to the effortlessly alluring Rachel Weisz, the film's adult characters are an obvious draw. However, it is the titular boy Marcus who — along with winning over Grant's character Will — really captures audiences' hearts. Marcus is played by a young Nicholas Hoult, and my mind was blown when I saw him next as Kenny in A Single Man opposite Grant's Bridget Jones' Diary rival, Colin Firth. Despite Hoult being the most memorable child actor in the cast, the person that had captured Marcus' attention in About a Boy was an older, punk girl from his school named Ellie — and Ellie was portrayed by none other than Tena.
The younger Hoult (Tena has five years on him) had roles before being cast in About a Boy, but the 2002 film was Tena's first professional acting credit. She explained in interviews how she got the job after her drama teacher at her boarding school caught her smoking a cigarette and sent her into the audition unknowingly. "I walked in and there was a room full of loads of little boys around the age of 10, and I was like, 'What the f*ck is this, babysitting?' and it turned out to be an audition for About a Boy. That was my first role which got me an agent, and it's all gone on from there," she told the UK publication Essential Surrey & SW London.
She also talked to Australia's The Advertiser in 2016 about her first film role. "I was 16, dreads and piercings, and it was an audition and I got it," Tena said. "I haven't seen it in years because I'm a bit embarrassed, but it was a strange introduction to acting. I remember having so much fun with all the people who were my gang and the little boy [Hoult], only now he's not so little."
While the movie inspired an America TV series, it hasn't received as much love as it deserves since it was released 15 years ago. Of course some elements are dated, but the 2002 movie still holds up as it explores Will and Marcus' struggles when it comes to growing up. It's also far more endearing and nuanced than the TV show.
The film and the TV series are based off of the Nick Hornby book, but the movie initially took some liberties with its source material since the book title is a play off of the Nirvana song, "About a Girl." Ellie and Marcus bond over the grunge band — rather than Mystikal, like in the film — and the book's climax takes place when Kurt Cobain dies. In the movie, the climax takes place at a school talent show with an ill-advised performance of "Killing Me Softly" that pulls at your heartstrings while simultaneously leading you to cringe and laugh.
Still, even with the baffling swap of Nirvana to Roberta Flack, Ellie's alternative roots are still in place for the movie. (Ellie is not in the TV series, but the character Shea is loosely based on her.) Tena — who went by the name Nat Gastiain Tena for her first movie — used a similar hard-ass persona for the Wildling Osha on Game of Thrones. Like Ellie, Osha was tough on the outside, but had a soft spot for an unconventional boy — Bran.
Tena was also in the Harry Potter films before she landed Game of Thrones, and she was a bad-ass in those as well — except this time she was a much more genial and outwardly charismatic character as Nymphadora Tonks. Tena was in four of the eight Harry Potter films — Order of the Phoenix, Half-Blood Prince, Deathly Hallows: Part 1, and Deathly Hallows: Part 2 — as she embodied the metamorphmagus, fan-favorite character.
Unfortunately — unlike About a Boy, which has a happy ending — Tena's two well-known fantasy characters met untimely fates as both Tonks and Osha were murdered.
If you're missing Tena since Ramsay Bolton killed Osha during Season 6 of Game of Thrones, you're in luck. Tena is very much alive, and is not only continuing to act, but is also performing as the frontwoman of her band, Molotov Jukebox.
So as you wait for Tena to return to the screen again, like in her CBS pilot Wisdom of the Crowd with Jeremy Piven, you have plenty of ways to get your Tena fix. Though, may I suggest, that you spend the 15th anniversary of About a Boy watching Tena in her first ever film role. She may not be in the movie for very long, but she still manages to have a big impact on Marcus — and the audience.