The First Trailer For The 'Harry Potter' Mobile Game Is Here & You Will Lose Your Muggle Mind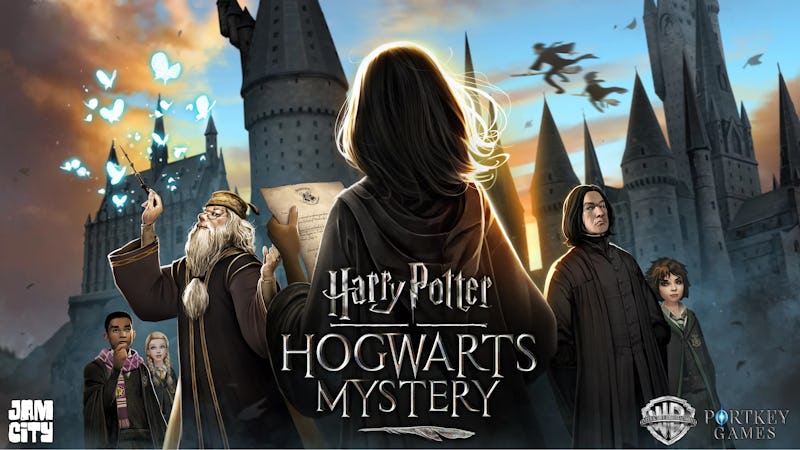 Courtesy of Jam City
Double-check the seatbelt on the enchanted flying Ford Anglia you stole from your parents, because 2018 is shaping up to be quite the trip for Harry Potter fans. At the end of 2017, Pottermore announced the anticipated mobile app game "Harry Potter: Hogwarts Mystery," a collaboration between Warner Bros. Interactive Entertainment's Portkey Games division and game developers Jam City that — for the very first time — will allow fans to virtually "attend" Hogwarts on their mobile phones. The hype is officially real, because not only is the game coming out in 2018, but the creators just released a trailer for "Harry Potter: Hogwarts Mystery" that is about to blow your Hufflepuff socks off.
This game isn't just unprecedented in that it is the first mobile app that fans can use to attend Hogwarts; it's unprecedented in that the collab has allowed for the game to include all kinds of nods to the universe we know and love. And as the trailer reveals, the animation for it is nothing short of magical. It took us long enough, y'all, but it looks like we're all finally heading to Hogwarts — admittedly, many years behind the curve of the rest of the first years in our "class," but better late than never.
Before the release of the trailer, we knew that we would be seeing familiar places and characters, but now, at the very least, we have confirmed that we will definitely be seeing Queen — er, Professor McGonagall, everybody's favorite groundskeeper, Hagrid, and Actual Nightmare Of A Human Being Whose Apologists Have No Ground To Stand On, Severus Snape. Evidently, you'll also be able to interact with your own "friends and rivals," which means that all the one-liners and zingers you wrote in that Harry Potter fan fiction in 2005 won't go to waste after all. Congrats, us!
The factor that is decidedly the most worth losing your snitch over, though, is that the game allows you to design your own character and then guide them through all the years at Hogwarts. It being Hogwarts, though, there is almost always bound to be some other kind of trouble lurking in the shadows — hence, the "mystery" alluded to in the title of the game.
The game, which will be available on mobile devices using the App Store, Google Play, and the Amazon Appstore, has yet to set a solid release date, but eager owls can register via the game's website to be the first in the loop on updates.
Of course, this is only half of the hype coming our way in 2018. Shortly before "Harry Potter: Hogwarts Mystery" was announced, Pottermore released news that another Harry Potter mobile game, "Harry Potter: Wizards Unite," would also be released in 2018. This game is yet another release from Portkey Games, this time in collaboration with Niantic, the same game developers responsible for "Pokemon GO". Similar to its famous predecessor, this game will use augmented reality, letting players explore their towns and neighborhoods while casting spells, encountering legendary beasts, discovering mysterious artifacts, and interacting with other players. Seeing as "Pokemon GO" has only gotten more and more community-based since its launch — if you've been out of the loop since the summer of 2016, players meet up for "raids" to battle legendary Pokemon together in their neighborhoods on the daily — it's safe to say that "Harry Potter: Wizards Unite" has the potential to be just as community-based and immersive.
But seeing that neither of these highly anticipated games has a release date yet, we're just going to have to wait this one out until we receive an owl with the good news. In the meantime, if anybody needs me, I'm going to be clearing out space on my phone for these two games faster than Gilderoy Lockhart accidentally cast a backfired memory charm on his own brain.