The 'Hocus Pocus' Cast Is Reuniting For A 25th Anniversary Special Just In Time For Halloween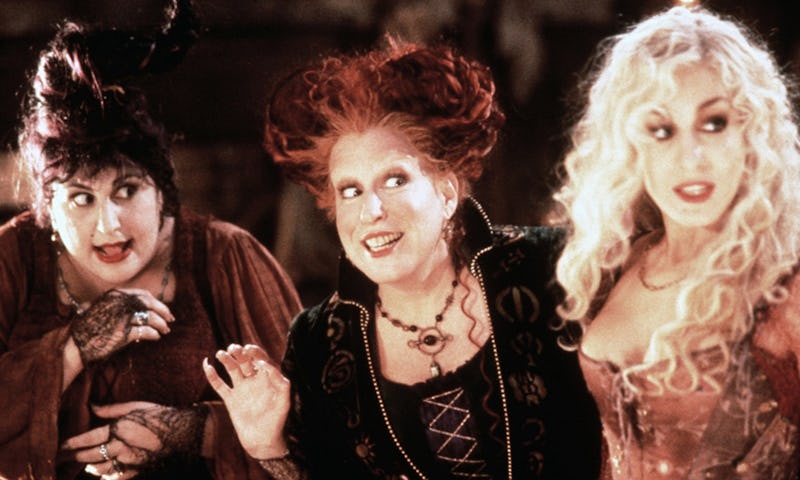 Disney
'90s kids, mark your calendars. The Sanderson sisters are headed back to town, and they're celebrating another quarter-century of immortality with a (mostly virtual) blowout for the ages. In other words, Freeform just announced that it's set to host the Hocus Pocus reunion special, according to a Sept. 27 report from E! News. In honor of the beloved Halloween classic's 25th anniversary, everyone's favorite band of witches will return to the screen for a well deserved, not to mention highly anticipated, victory lap worth two-and-a-half decades.
OK, so Hocus Pocus' 25th birthday technically passed over the summer, around mid-July. But, given the film's rich contributions to All Hallows Eve celebrations far and wide since its release — honestly, who didn't spend most of their formative years marathoning Hocus Pocus in preparation for Halloween night? — it seemed only fitting to hold off on the actual reunion shindig until now. So, for a little extra treat this Halloween season, Freeform is throwing it back to Salem, Massachusetts, circa 1993.
Per E! News' report, the reunion special is, quite appropriately, called the Hocus Pocus 25th Anniversary Halloween Bash, and it will air about three-quarters of the way through Freeform's 31 Nights of Halloween. Which, as its name suggests, will span the entire month of October. For those who really do want to mark their calendars, the Hocus Pocus crew's upcoming Halloween Bash is reportedly slated to take place in just a few short weeks, on Saturday, Oct. 20.
As far as the reunion special's attendees are concerned? Fans of the spooky cult classic will probably be quite pleased to learn that at least two of the three Sanderson sisters (well, their real-life counterparts, anyway) will reportedly take part in Freeform's event. In fact, according to E!, the film's 25th anniversary celebration will see a whole roster of familiar faces — in the movie itself, obviously, but also courtesy of a few present-day interviews from members of the Hocus Pocus cast and crew.
Lucky for fans, those familiar faces include Sarah Jessica Parker and Kathy Najimy (AKA Sarah and Mary Sanderson, respectively), as well as Omri Katz, Thora Birch, Doug Jones, and Amanda Shepherd, according to E!. In addition to present-day interviews from the Hocus Pocus cast, the film's director, as well as its writers and choreographer, are also set to speak on-camera about the movie and its enduring pop cultural legacy. No word yet on whether Bette Midler will take part, but here's to seriously hoping that she does. Or is there a spell for that?
And, to make matters delightfully witchier, Hocus Pocus' big-time anniversary bash will reportedly also feature a "costume contest," presided over by dream team mother-daughter duo, Sharon and Kelly Osbourne. Oh, and there's going to be live music too.
But perhaps the sweetest treat of all? Seems like a tie between Freeform's Halloween House (which is partly Hocus Pocus-themed) and the anniversary special's official day of filming. Why's that? Per an announcement from On Camera Audiences, west coast fans can actually attend the anniversary gathering in person on Oct. 2. Yes, that's right; if you're able to make the trek to L.A.'s Hollywood Forever Cemetery next Tuesday evening, then you can literally watch each of the anniversary special's wonderfully spooky components play out in real time.
Of course, those of us who can't make the trek will still be able to watch the event on Freeform just a little more than three weeks later, when Hocus Pocus' 25th Anniversary Halloween Bash kicks off on Oct. 20. And, honoring the film's dedicated fanbase in maybe the most perfect way, the network will air a Hocus Pocus marathon of its own on Halloween day. As far as paying homage to the film, and its enduring mark on the hallowed holiday, is concerned, it seems there couldn't be a more perfect way to celebrate.