There's A New POTUS In Town In The 'House Of Cards' Season 6 Teaser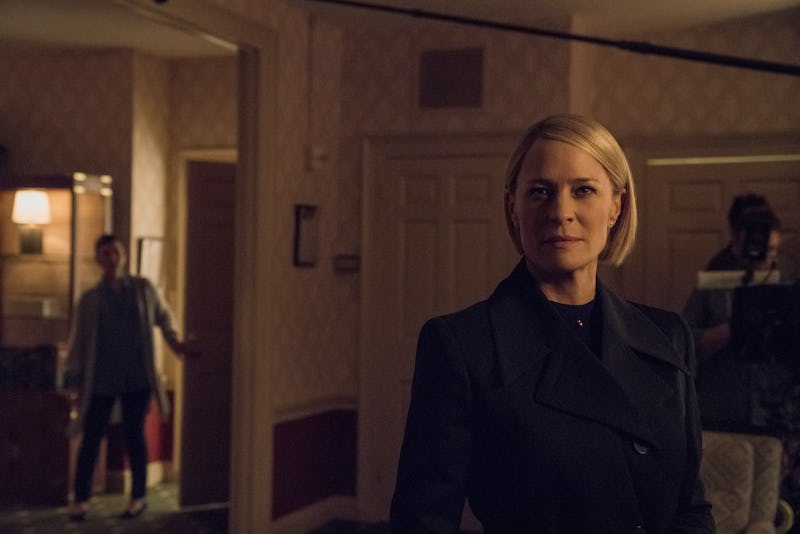 Netflix/David Giesbrecht
Claire Underwood has emerged on Twitter to wish everyone an happy Independence Day. But not Independence Day for America, Independence Day for herself. On Wednesday, in the spirit of July 4th, Netflix released a House of Cards Season 6 teaser with a message from Claire. The short yet daunting video promises that she'll return to Washington with guns blazing. It's as terrifying as it is exciting.
The tweet is simply captioned, "A message from the President of the United States." In the video, Claire sits in Abraham Lincoln's place on the Lincoln Memorial statue in D.C. She looks into the camera and chillingly delivers the one line: "Happy Independence Day... to me." After the message comes a blank screen with the hashtag #MyTurn. Claire's taking over Washington with no holds barred, and there's no telling where she'll go or what she'll do without Frank by her side.
In June, the first House of Cards Season 6 photos were released by Netflix, and the stills teased Claire's (Robin Wright) fierce determination. But fans were already terrified and thrilled back in March, when the first Season 6 teaser trailer was released. In it, busy chaos ensues in the White House, as Claire, posted up in the Oval Office, calmly stands from her chair and tells the audience, "We're just getting started."
Wednesday's special Fourth of July teaser got fans even more riled up.
Audiences are so excited to call Claire their president and can't wait to see what kind of twisty plans the mastermind has up her sleeve.
And of course, while acknowledging the allegations against him, some fans are disappointed that Kevin Spacey won't return as Frank Underwood.
Ironically, the teaser, which may or may not be a dig at Spacey's real-life firing, was released just a few hours before three new assault allegations against Spacey emerged on Wednesday. Variety reported that newly-surfaced allegations against Spacey, which are from 1996 to 2013, were being investigated and confirmed by police. The allegations all come from men and all reportedly took place in London.
Last year, Spacey was fired amid sexual assault allegations against him. His downfall began when actor Anthony Rapp came forward to BuzzFeed about allegedly being assaulted by Spacey as a minor in 1986. Following the piece more allegations came out, and some were from HoC employees. Within two days after it was published, Spacey's firing was announced, as was the House of Cards production suspension. (Spacey responded to the allegations on Twitter, writing, "I'm beyond horrified to hear this story. I honestly do not remember the encounter... I owe him the sincerest apology for what would have been deeply inappropriate drunken behavior.")
In December 2017, fans learned that Wright would take Spacey's place as the political drama's lead. "It'll be an eight-episode season that'll start production early '18, and it will not involve Kevin Spacey," Netflix chief content officer Ted Sarandos announced in an NYC conference. "It will star Robin Wright. And we're really excited about bringing some closure to the show for fans."
As of now, it still remains uncertain just when House of Cards will return for its sixth and final season (or how Frank will be killed off). According to Digital Spy, Season 6 was originally supposed to premiere in spring 2018. But fans are ready to see Wright, who earned the Golden Globe for her deeply complex and finessed performance in 2014, take center stage.
In November of last year, Claire had fans rallying for her, including actor Jessica Chastain, who tweeted, "Can #RobinWright just be the lead of @HouseofCards now? We're ready for it." Actor Greg Poehler also rooted for Claire, writing, "Robin Wright should have always been the lead."
Now it's finally her turn, and America is hers for the taking.