The Funniest 'Infinity War' Spoilers Without Context Tweets That Even Non-Fans Will Enjoy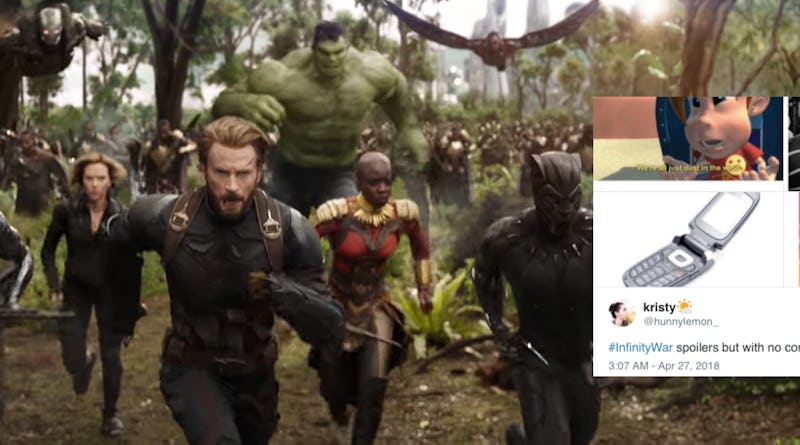 Disney/Marvel; hunnylemon_/Twitter
During the time between when a movie you want to see is released or an episode of a show you love airs and when you actually watch, Twitter can prove to be a minefield of spoilers. However, now that the Marvel movie is out, fans have been tweeting Avengers: Infinity War spoilers with no context — posting photos, videos, and GIFs, that tell different parts of the story in a way only people who have seen the movie would understand.
The memes are confusing, hilarious, and in typical social network fashion, have spread like wildfire in a matter of hours. The Marvel blockbuster opened Friday, but previews on Thursday night brought in a whopping $39 million, the fourth-highest preview total ever, according to Variety.
The film's story starts two years after where 2016's Captain America: Civil War left off. The Avengers team up with the Guardians of the Galaxy to take down villain Thanos, played by Josh Brolin. The cast is a who's who of superheroes, including Chris Evans as Captain America, Scarlett Johansson as Black Widow, Mark Ruffalo's Hulk, Robert Downey Jr. as Iron Man, Chadwick Boseman's Black Panther, Chris Hemsworth as Thor, Chris Pratt's Star-Lord, and Benedict Cumberbatch's Doctor Strange.
If you haven't seen the film though — which was fodder for the meme factory, even in the lead-up to its release — you're cleared to hop back on social media. As pointed out by BuzzFeed, these Infinity War posts are spoiler-free by design and give hints in a kind of code. Outside the context of the film, they are seemingly random collages that subtly reference specific scenes, making it possible for any user to enjoy the memes.
Below are some of the funniest and most creative ones, showing the lengths people are going to avoid giving any information away.
1. This Dramatic Moment
Remember when the rabbit got ahold of the donut and its owner put gloves on but she burned her hand anyway? Ouch.
2. The Spongebob & Parks & Recreation Crossover
Who? Squidward, Andy, and characters from The Simpsons. Where? Inside a glass dome. Why? Only fans who have seen the movie will get it.
3. The Exististential Crisis
Life has its ups and downs. Remember that moment when Jimmy Neutron came to terms their his own mortality while George and Mary from It's a Wonderful Life fell in love? Wile E. Coyote also took a bad fall, and there's also a flip phone, if anybody wants to talk about it.
4. The Slow-Fade
Then that one character peaced out. Literally.
5. The Hero
Remember when that one character was scared, but he tried to help anyway? Now that's a hero.
6. The Capture
Then, just when they thought half a ship would still fly well enough to get away, Darth Vader caught up to them.
7. The Quiet Game
"Dude, thunderstorm or no thunderstorm, you really need to be quiet because Squidward's back and he has great hearing."
8. Shhh!
Thank you.
9. The Battle
Then the Grim Reaper found them anyway, and that one character did not want to go, but he took out his weapon and fought him to the death. He took down Voldermort, too. Turns out neither of them likes bubbles very much.
10. The Moment It All Gets Cleared Up
Then they whipped out a broom and dustpan to sweep up any disparate plot points.
Don't worry, after finally seeing the movie, fans can revisit these tweets and decipher their hidden meanings. It'll give you a whole new appreciation for the creativity that went into each and every one.