Chris Hemsworth & Chris Pratt Are Proof Two Celebrity Chrises Can Truly Love Each Other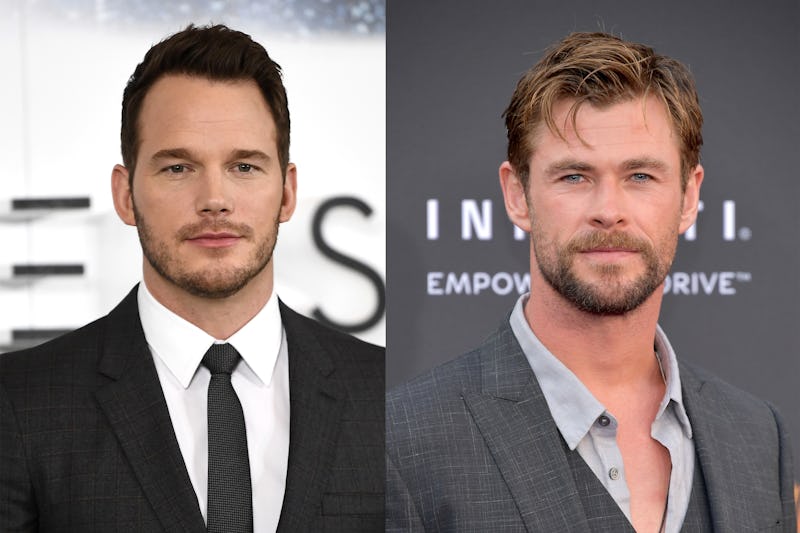 Gareth Cattermole/Getty Images Entertainment/Getty Images; Neilson Barnard/Getty Images Entertainment/Getty Images
After watching the two actors join forces to fight evil in Avengers: Infinity War, fans probably know if Chris Hemsworth and Chris Pratt are friends in real life. The two Chrises have definitely spent a ton of time together lately — what with the filming of the new superhero crossover flick, and then on the press tour that followed — and it appears as if all that on-set Q.T. has blossomed into a bit of an off-set bromance.
According to an August 2017 interview Hemsworth did with Elle, he and Pratt hadn't really crossed paths until they started filming scenes together for Avengers: Infinity War. When Hemsworth — who plays the super-buff, hammer-wielding Thor, god of thunder — was asked about the last time he felt intimidated by another man, the 34-year-old replied,
"The first time I really met Chris Pratt — and went on set with him and the Guardians — I was weirdly shaken. [Laughs] I don't know why. He's just so charismatic. And good at what he does."
Hemsworth's admiration for Pratt — who plays Star-Lord in the Guardians of the Galaxy movies —  became even more abundantly clear in an October 2017 Instagram post, which showed the Australian actor in a contemplative pose.
The subject of his deep thoughts was a brightly-colored framed print of Cary Grant, who was saying via speech bubble, "Everyone wants to be Chris Pratt. Even I want to be Chris Pratt." "It's true," Hemsworth captioned the snap.
Later that month, Entertainment Tonight brought up the Pratt-dedicated Instagram post while speaking to Hemsworth on the red carpet of a screening of Thor: Ragnarok. "I mean, [Pratt's] just awesome, isn't he?" the god of thunder said. "He's lovely, he's just the nicest bloke on the planet. I love him. He's awesome." Not just like — love! He said love! Bromance confirmed.
At this point, however, the bromance between the two stars may look a little one-sided. Hemsworth had been mentioning his love for Pratt a lot. But in January 2018, Pratt proved to fans that the whole thing was totally mutual, with an amped-up tweet about Hemsworth's then-new war drama, 12 Strong.
"So pumped to see #12strong opening this weekend!!!!" Pratt exclaimed. "Trailers look so awesome! I'm a die hard @chrishemsworth fan. Especially post Thor 3 I'll see anything he does. LETS GO!!!" Hemsworth noticed Pratt's sweet tweet and replied, "Right back at you!" Aww. These guys! So supportive of one another.
While doing press together a few months later in April 2018, Hemsworth and Pratt proved to USA Today that they'd gotten so close while filming the new Avengers flick, that they could even finish each others' sentences now. When the two stars were asked which one of them was the best Hollywood "Chris," Pratt looked over at Hemsworth and said, "I think at the end of the day, it's kind of a 50-50 tie."
"I'm happy to leave it to you," Hemsworth conceded. "I'm happy for you to take it. I just don't want that other guy [Chris Evans aka Captain America] in there," he joked. Pratt agreed with his co-star and declared, "It's a good time to be a ... " — Hemsworth jumped in, laughing, and said, "Chris." Indeed it is, Chrises. Indeed it is.
Hemsworth and Pratt, having just recently met, definitely appear to be in the honeymoon phase of their superhero friendship. But the social media love that they've shown each other, in addition to their friendly ribbing in interviews show that this Chris-to-Chris friendship is the real deal off-screen. Perhaps they should cement things on-screen, too, and give fans a bro-mantic buddy comedy? Just something to consider, guys