The 'Kimmy Schmidt' & 'Orange Is The New Black' Crossover Is A Netflix Dream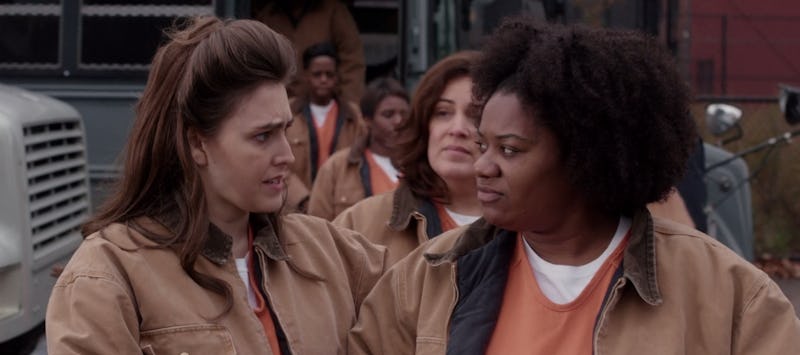 Netflix
The Netflix shows Unbreakable Kimmy Schmidt and Orange is the New Black are both hits on their own, but what happens when you put them together? SPOILERS ahead for Kimmy Schmidt Season 3. Fans will find out the answer to that question in the Kimmy Schmidt and Orange is the New Black crossover on Season 3 of Unbreakable Kimmy Schmidt, which is a great combination of the streaming service's two best female-empowered series.
The crossover starts at the end of the fifth episode of the third season when Kimmy's former bunker-mate Gretchen (Lauren Adams) gets arrested and jailed for starting her own undeground cult filled with young men. Gretchen gets sent to OITB's Litchfield Penitentiary, where she meets Cindy (Adrienne C. Moore), an inmate who has a Justin Bieber-style haircut, and a quiet inmate named Elaine. Gretchen shares some wisdom about protection from men and Cindy responds that "once I stabbed my boss at Sea World." Yikes. When Gretchen asks Elaine why she's been quiet, the fellow inmate responds: "The Yakuza cut out my tongue." Instead of reacting with horror, Gretchen says to no one in particular: "I am loving this!" Unfortunately, that one scene is the last viewers see of Gretchen and the OITNB crossover in Season 3, but who knows, it could continue into Season 4 of Kimmy Schmidt.
It's definitely sad that Gretchen has ended up in jail and feels the most comfortable in confinement (which she confessed to Kimmy earlier in the episode), but this ways also a fun way to bring two of Netflix's hit shows together for a crossover for at least one episode — and perhaps some more in the future.