If You're A 'Game Of Thrones' Fan, You Need These Gold Sneakers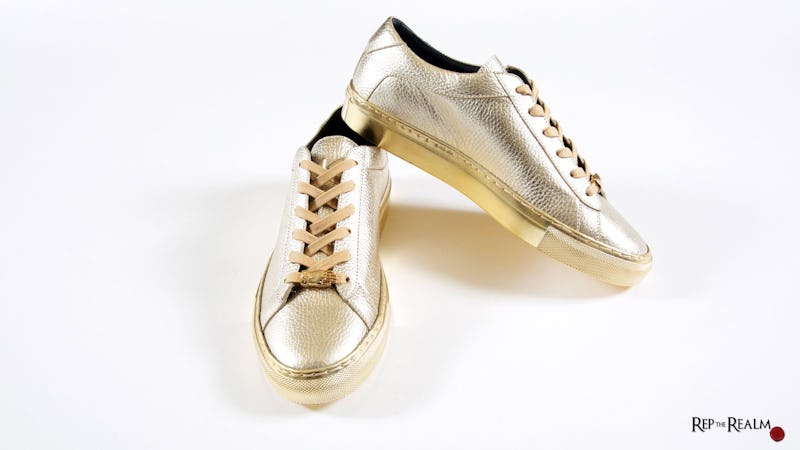 Koio on Twitter
When fashion decides to collaborate with a movie or show you are extremely passionate about, you know you need it, whatever it is. Case in point: GOT fans will go nuts over the Koio x Game Of Thrones sneakers dedicated to none other than Jamie Lannister.
Called "The Kingslayer," these Game of Thrones-inspired shoe is a limited-edition piece that lets you wear your fandom on your feet. Koio, a New York City-based shoe company and HBO teamed up to create these wonderfully shiny set of kicks.
The shoe, which is in the shape of Koio's signature Capri low-top form, is made with Italian leather. On Aug. 31, Koio posted a photo on Instagram announcing the collaboration and showing off their first look.
Here's the catch, though: They're not actually for sale. Bummer, yes, but not as bad as the many cliff-hanging moments Game of Thrones has left its viewers with.
Yeah, this will be breaking hearts everywhere. But, a lucky contest winner will be able to snag a pair. On the Instagram post, the caption tells contestants to repost the photo with the hashtags "#kingslayer" and "#myentry" along with your shoe size and tagging @koiocollective.
Obviously, fans are freaking out in the comments section, writing "Very neat sneakers, hope i win then 😮" and "I. Must. Own!!!" The want makes sense — the fabulous sneakers are both stylish and comfy.
Aside from being gold, a nod to Jamie Lannister's golden hand, which he lost back in season four, the shoe also has a metal hand on the front laces, as well as House Lannister's sigil printed on the back of the shoe.
These Koio x Game of Thrones sneakers are actually part of a larger collective called "Rep The Realm." For the seventh season of the show, seven designers will be creating limited-edition, micro-collections that "Rep the Realm."
Search the hashtag on social, and you'll find more about these collections, from seeing the designs, to learning more about the whole movement. Items include a hoodie, biker jacket, pins, and more. These sneakers are the final item in Rep the Realm.
Dope, right?
Obsessed with this print.
The coolest way to rep your house.
A minimal, yet cool sweatshirt.
These pins are for hardcore fans.
And a practical tote!
Obsessed with these sneakers yet? Well definitely get your contest entry in! These metallic gold sneakers are the perfect shoe to start the school year with or add to your fall/winter wardrobe. Lannister lovers, this one's for you.