The Latest Jordan & Jenna Update Will Make 'Bachelor In Paradise' Fans' Heads Spin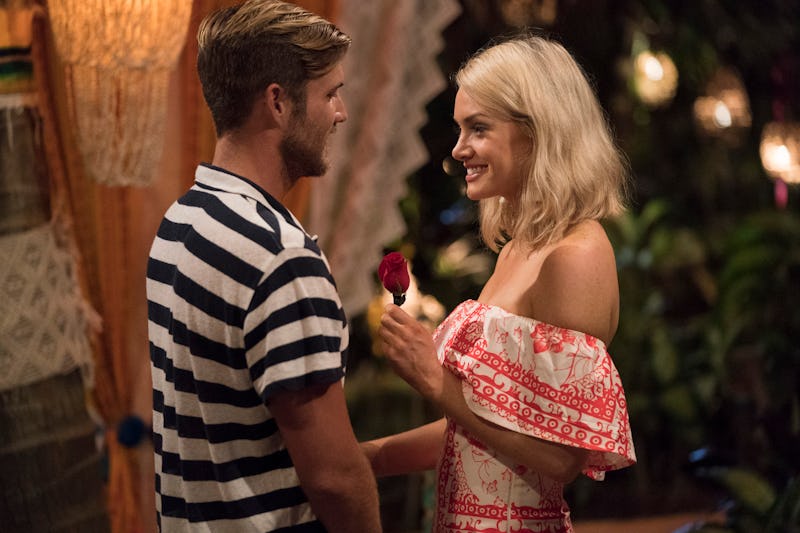 ABC/Paul Hebert
The phrase "trouble in paradise" is a gross understatement for one formerly engaged Bachelor nation couple. Days after promising a "huge twist," Bachelor in Paradise's Jenna claimed Jordan sent the text messages that indicated she'd been cheating on him, according to an Instagram post from Jordan on the evening of Friday, Oct. 5. (Bustle reached out to Jenna's attorney Justin Apple for comment, but has not yet received a response.)
The social media photo — a screenshot of an e-mail allegedly sent by Jenna's lawyer to Jordan's legal counsel — included the latest bombshell against Jenna's former fiancée whom she met this summer on the ABC reality TV dating show. Also named as a potential defendant in a possible lawsuit, per Jordan's post: Reality Steve (real name: Stephen Carbone), the blogger responsible for publishing the texts on his website in September 2018. (Bustle reached out to Apple in regards to the possible lawsuit and to verify that the email is real, but has not yet received a response.)
In the e-mail, Jenna's North Carolina-based attorney Apple claimed he'd called Jordan "multiple times, at different times, so that we can discuss the clear and convincing forensic results (ie; Jenna did not send those texts published by Reality Steve)." According to Apple, he presumed he had yet to receive a callback "likely because you know what we know (ie; that you created the fabricated texts posted by Stephen Carbone)."
For anyone who hasn't kept up with the ongoing drama, here's a refresher. One whole day after his Bachelor in Paradise finale proposal aired on ABC, Jordan announced his and Jenna's breakup to Entertainment Weekly on Wednesday, Sept. 12, in light of the text screenshots published by Reality Steve. In one of the messages to an unidentified man who Jenna had reportedly met before appearing on BiP — and continued to be involved with following her engagement to Jordan — she allegedly wrote: "Me and Jordan aren't together for real. I don't even like him let alone love him."
Regarding the text messages, Jenna has maintained her innocence and issued the following statement to People on Sept. 11:
"I am aware of the allegations being made against me and they are simply untrue. I am choosing to focus on my relationship right now. Thank you for respecting my privacy at this time."
According to the new e-mail posted by Jordan on Instagram, Apple gave a deadline of 12:00 p.m. ET on Oct. 6 for the male model to "publicly state that you have satisfactory evident and you know that Jenna did not send those fabricated texts and you apologize for being quick to judge."
What could happen if he fails to comply? Apple allegedly wrote that the consequences would be two-fold. First, he said he would release past texts between Jordan and Jenna "which the public can compare to the fabricated texts and make their own conclusions." (The e-mail stated that Jordan was the only man who ever called Jenna "princess" and used other key phrases in the texts, which Apple said "appear to be a 'cliffs notes' version" of messages Jordan had exchanged with Jenna.) Second, Apple threatened to file a lawsuit against Reality Steve "in which he will be compelled to produce all of his communications, files, etc."
As for potential deal breakers: If Jordan contacts Jenna or releases Apple's e-mail to anyone other than his lawyer, "this opportunity is gone and I will respond accordingly," read the e-mail, which also said Apple was giving Jordan "an easy 'out.'"
While Jordan didn't include a caption on the post, he did write in the comments section: "PSA- I'm the wrong one to come sideways at." Jordan also claimed that Apple had called him as well and "chose to shout rather than speak." He further defended himself, responding to fan comments that did everything from questioning the authenticity of the e-mail to accusing Jordan of pulling a cheap publicity stunt. Among the Bachelor Nation members who posted supportive comments were: Chris Randone, Kevin Wendt, DeMario Jackson, Connor Obrochta, Nick Spetsas, and Bekah Martinez.
Hours before sharing the e-mail, Jordan used his Instagram Story to impart the following message: "I don't think anyone quite understands what I'm going through lately," a seemingly incensed Jordan said in the video post. "Be careful with who you choose to put in your life ... I won't be talking about this matter anymore."
Reality Steve, however, had plenty to say in a biting tweet, also posted on Oct. 5. "Yes, I've seen [Jordan's] IG post of the letter Jenna's lawyer sent him," he wrote. "Same lawyer that sent me a letter that we responded to within 24 hrs and never heard back from. Jordan and I had a good laugh over this."
On Oct. 1, Jenna teased the latest revelation on Instagram. She wrote:
"Obviously, like I already knew...the forensic analysis of my electronic devices and iCloud account prove that the fraudulent text messages posted by "Reality" Steve were not mine. There is growing and compelling evidence pointing to who was behind this attack on me, and it is very sad. Given the legal issues and ongoing investigation, I am delaying posting the forensic data until the investigation is fully completed. One thing is for sure, there is a huge twist and it is killing me keeping it quiet while the investigation is completed. You WILL be hearing more about this in the next few weeks, but I am going to attempt to start moving on with my life. #TheWaitIsWorthIt #JusticeServedCold"
In another Instagram post last month, Jenna issued a statement saying that she'd gotten her lawyers involved to compel Reality Steve to produce "the actual files of the fake texts" for forensic examination. She said that the blogger denied the requests via his lawyer.
So much has changed in less than a month. After the news of the text messages came to light, Jordan asked fans not to attack Jenna on an episode of Reality Steve's podcast, saying that "it's awful that she's getting attacked by America right now." For her part, as recently as mid-September, Jenna intimated she hoped to reconcile with Jordan.
With the revelation of this most recent bombshell allegation, this truly may be the most dramatic breakup in Bachelor Nation history.