Jenna & Jordan's 'Bachelor In Paradise' Breakup Just Got Even More Complicated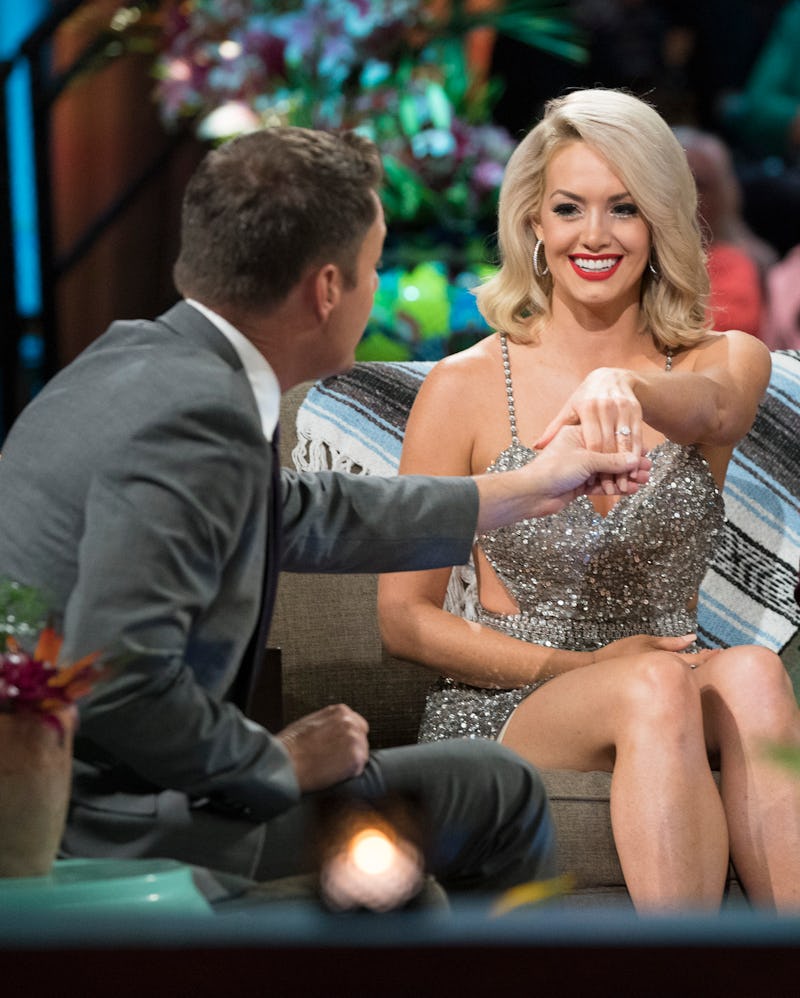 ABC/Paul Hebert
Jenna Cooper and Jordan Kimball's Bachelor in Paradise engagement may be long over, but the aftermath of the drama is still unfolding. In an Instagram post over the weekend, Jenna again denied authoring the texts published by reality TV spoiler blogger Reality Steve. Apparently, lawyers are involved in Jenna's Bachelor in Paradise drama now, and it doesn't sound like either side is backing down.
In her Instagram message, Jenna denied the veracity of the text messages, which she also did shortly after their release two weeks ago. The screenshots, which Stephen Carbone shared on his blog Reality Steve on Sept. 11, seemed to suggest that Jenna was seeing someone else during her engagement to Jordan. One of the alleged texts reads "I love you the most," and another allegedly says, "Me and Jordan aren't together for real."
The blogger hasn't revealed who allegedly sent him the screenshots. Jenna issued a statement on Sept. 12, writing in an Instagram post:
"My attorneys have begun an investigation which included requesting that Stephen Carbone [Reality Steve] give the actual files of the fake texts to us so that the files may be forensically examined. My attorneys also requested that Stephen Carbone identify whoever provided the fake texts and tell us how he claims to have "vetted" the texts that I know I didn't send... Stephen Carbone had his lawyer respond by denying the requests."
At that time, Jenna also wrote on Instagram that she "did not cheat on Jordan." In her new statement, Jenna wrote that her attorneys contacted Carbone and asked him to reveal the source of the screenshots. She also wrote that her team requested the "actual files of the fake texts" so that the screenshots could be "forensically examined."
After Jenna shared her Instagram message, Carbone posted a response on Twitter, via several Notes app screenshots. Carbone noted that Jenna's legal team didn't provide evidence that the screenshots weren't real. The blogger added that when his lawyer responded to Jenna's attorneys, he noted that Carbone doesn't have to identify his source to them.
For his part, Jordan has stayed fairly silent about all of the drama. The model revealed on Instagram that he's ended his engagement to Jenna. And after Reality Steve published the screenshots, Jordan said he believes Jenna sent the texts, telling People, "I know my Jenna, and I read those texts and in my heart, I know it's her."
But Jordan hasn't been overly critical of Jenna. And aside from his initial statement and his Reality Steve podcast interview, Jordan hasn't said much about the situation. His Instagram posts after the engagement news include several photos of him doing some modeling work on a recent trip to New York, as well as a picture of him with fellow Bachelorette alums Blake Horstmann and Jason Tartick.
Other members of Bachelor Nation have voiced support for Jordan, too. When the model shared his Instagram post about ending the engagement, Bekah M., Chris, Krystal, Leo, Kevin, Wells, Chelsea, Jade, DeMario, Colton, Nick, Bibiana, Connor, Christen, and Kenny all left encouraging messages for Jordan via Instagram comments.
Bekah also commented on Jenna's new Instagram post, writing, "presumption of innocence applies to criminal trials, not cheating screenshots." Jenna has at least one high-profile fan in her corner, though. Amanda Seyfried has voiced her support for Jenna on Twitter, writing that the screenshots "are obviously lazy fakes."
Even though Paradise ended almost two weeks ago, this drama is far from over. Based on his recent Instagram posts, it sounds like Jordan isn't going to address the situation further. But for Jenna and Reality Steve, the back-and-forth might continue.
In the meantime, Jenna seems to be laying low. The Instagram account for her local business reviews hasn't been updated since August, and the account for her social club is down entirely. It's not clear what the future is for Jenna's business endeavors, but based on these updates, her fight with Reality Steve is far from over.